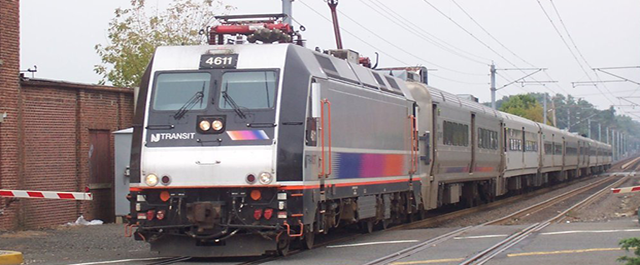 By Claus Hetting, Wi-Fi NOW CEO & Chairman
Great passenger Wi-Fi on trains will need dedicated trackside networks. It's still early days, but first deployments have already begun in the Eastern US and elsewhere, says transit connectivity expert and CEO of Xentrans, Jim Baker. And Wi-Fi is required for trains to stay competitive in the age of Uber, he says.
Rail commuters have thus far been treated to an either non-existent or fairly awful Wi-Fi experience. This is because nearly all train Wi-Fi is based on systems using commercial cellular data networks for backhaul and because in the US, mobile coverage along most stretches of rail tracks is spotty at best.
Solution: Private trackside networks
The right way to deliver a consistent, high-capacity Wi-Fi experience on trains and light rail is to deploy a dedicated wireless trackside network, says Jim Baker, CEO of Xentrans.
Among a slew of transit connectivity projects, Jim Baker and Xentrans are consulting to Amtrak's trackside network pilot project. The test network is right now operating along a 40 mile stretch on Amtrak's Northeast Corridor between Washington, D.C. and Boston, combining fibre and wireless equipment to deliver more than 200 Mbps of wireless connectivity to trains travelling at speed.
"There's no doubt that rail operators need to deliver excellent Wi-Fi and possibly real-time entertainment services to stay competitive. And to do that, by far the best technical solution is to deploy new trackside wireless infrastructure," says Jim Baker.
The economics of train Wi-Fi
But the business case for delivering passenger Wi-Fi is far from crystal clear. While cellular-based systems may cost a few million dollars to deploy and can be justified by a small increase in ticket sales, trackside networks – depending on length – run into the tens or hundreds of millions of dollars in CAPEX, says Jim Baker.
"Using free Wi-Fi to attract more commuters will generally not be enough to justify big trackside network costs. Instead, new networks should support not just Wi-Fi but all operational connectivity needs, including on-board safety control systems, security systems, remote condition monitoring, and more," he says.
FCC grants a waiver
Today's trackside systems are impressive examples of adapting Wi-Fi technology to suit extreme use cases. Amtrak's trackside system – delivered by RADWIN – uses a variant of the 802.11ac (5 GHz) Wi-Fi standard to beam backhaul to the speeding train. As the train races past a base station, the system hands off to the signal to the next base station without interruption.
In April of last year, the FCC granted a waiver allowing Amtrak to aggregate a 160 MHz band across the UNII-I and UNII-2 bands in 5 GHz and operate at higher power as a point to point network. "This has set a precedent for other rail operators in the US and is clearly indicative that the FCC takes the needs of the rail industry seriously," says Jim Baker.
For more on opportunities & challenges in mass transit Wi-Fi, join us at Wi-Fi NOW USA in San Francisco on May 15-17.
/Claus.