By Claus Hetting, Wi-Fi NOW CEO & Chairman
A test report just released by Miercom – a third-party testing and certification company – says that WatchGuard's Wi-Fi solutions protect against all six know Wi-Fi security threat categories. WatchGuard APs also deliver the same threat protection when used as an overlay to existing networks, the report says.
Getting your Wi-Fi network hacked is still high on the list of nightmare scenarios for both enterprise and service provider IT managers all over the world. Unfortunately, there are still at least six ways for your Wi-Fi network to end up compromised- unless of course you're serious about wireless intrusion protection (WIP) and decide that that's not going to happen to you.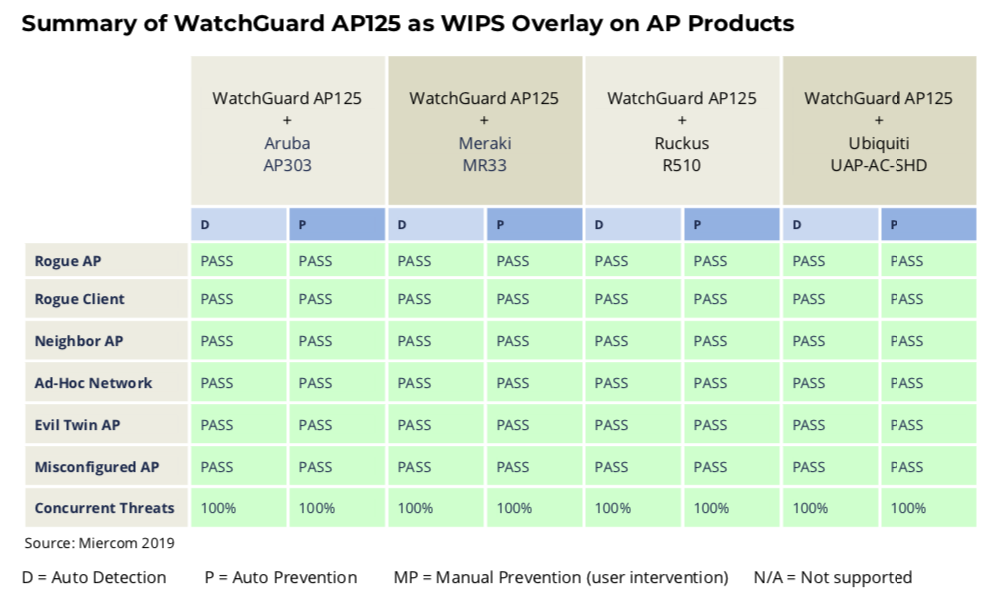 And fortunately there exist cost-efficient means to protect your Wi-Fi network against evildoers. A new report (commissioned by WatchGuard) verifies that WatchGuard's Wi-Fi solutions protect against all six categories of threats and sets WatchGuard apart from the competition as the only AP provider to deliver both automatic detection and prevention. But there's more good news: You don't even need a full WatchGuard Wi-Fi network to get the same result.
An overlay Wi-Fi network – for example configured on top of your Aruba or Meraki infrastructure – will do the job just as well, the Miercom report says. All six threat categories can be averted by using a WatchGuard AP125 – WatchGuard's most affordable AP product – next to your already installed network. In practice this could turn out to be one of the most affordable insurance policies against all types of Wi-Fi hacking on the market today.
WatchGuard late last month released two new medium-density Wi-Fi 5 APs: Model AP225W designed for MDUs such as dorm rooms, shared office spaces, smart apartments and condos, assisted living, military housing units, and hotel, and model AP327X intended for the outdoors and extreme conditions.
The report from Miercom is available for download here.
WatchGuard is a Wi-Fi NOW Partner. For more about WatchGuard, read here.
/Claus.