By Claus Hetting, Wi-Fi NOW CEO & Chairman
Wi-Fi sensing leader Cognitive Systems – known for its WiFi Motion solution for ISPs – says it is now working with Wi-Fi SoC chipset providers to equip Wi-Fi client devices with sensing capabilities. Embedded Wi-Fi sensing technology will enable a host of new use cases from security through to smart home IoT and smart building applications, said Cognitive Systems CEO Taj Manku at WWC Toronto last month.
Canada-based Cognitive Systems is well known for its Wi-Fi sensing solutions, which have been deployed by more than ten tier-one ISPs and more than 150 tier 2 and 3 ISPs in 110 countries. Cognitive's WiFi Motion service is typically accessible as an application allowing subscribers to monitor movement within the home from within their home broadband services app.
Now the company is expanding the case for Wi-Fi sensing by enabling Wi-Fi clients to become motion sensors by forming motion sensing networks, for example within the home. Previously the Wi-Fi sensing application has resided only in the AP or home gateway, Cognitive explains.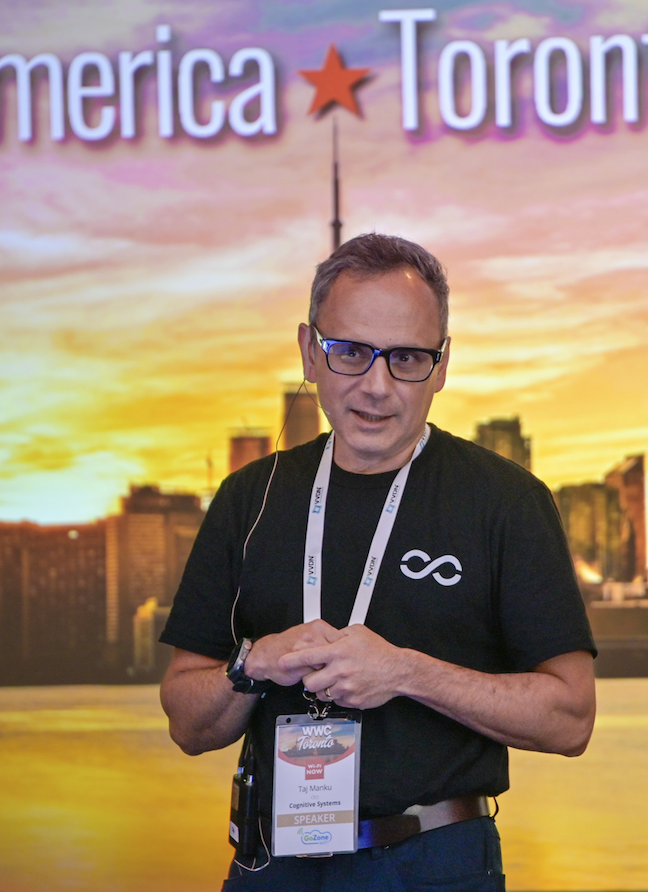 The solutions is based on embedding Wi-Fi sensing software into third-party Wi-Fi SoC chips such as for example those used in smart home IoT devices including smart plugs, smart lightbulbs, and security panels, said Cognitive Systems CEO Taj Manku at WWC Toronto last month. At least in theory the new approach opens up for an addressable market of perhaps hundreds of millions of devices, Taj Manku said.
"We're already now working with a couple of Wi-Fi SoC chipset vendors to incorporate Wi-Fi motion capabilities into client devices, which will then be capable of forming a sensing mesh or 'motion network' with other sensing clients while of course still operating normally as Wi-Fi client devices. As an example a security panel and a smart bulb can be used to detect motion passing between them," he said.
Cognitive Systems also says that moving sensing capabilities into clients opens up for a multitude of new use cases through the application of different network topologies. "Client-based sensing can for example be used to form a very resilient motion network between a number smart electrical plugs and a security panel or in a star-topology between smart lightbulbs and a smart switch. In the latter case the use case is of course turning lights on and off dependent on motion in the room," Taj Manku said.
For smart building applications a daisy chain can be formed between smart switches across a whole building for example to make sure there are no people in the building in case of a fire or smoke alarm. In other cases some client devices may not be equipped for sensing but can still be used as part of a motion network because they still send out beacons, he said.
Using Wi-Fi clients for motion sensing will often provide less coverage per unit than when APs are used because sensing coverage depends strongly on antenna size. But Cognitive says localisation is very good with an accuracy of more than 90% and Cognitive's extensive tests found no false detections at all. Cognitive Systems believes that on-chip motion capabilities gives chipset vendors a competitive edge towards winning more business with OEMs as well as a likely first-mover advantage for entering the expanding Wi-Fi sensing world.
WWC Toronto also featured a well-attended workshop on the new IEEE Wi-Fi sensing standard – dubbed IEEE 802.11bf – conducted by sensing technology experts from Intel and Cognitive Systems. The sensing standard is expected to be finalised by early 2025.
Cognitive Systems WiFi Motion software is today deployed in 9 million APs and home gateways. Taj Manku says the current most common sensing use case is a reliable 'light' security system that keeps a watchful eye on your home. But there is big potential for adding layers of other use cases in the future as the technology expands, he says.
/Claus.