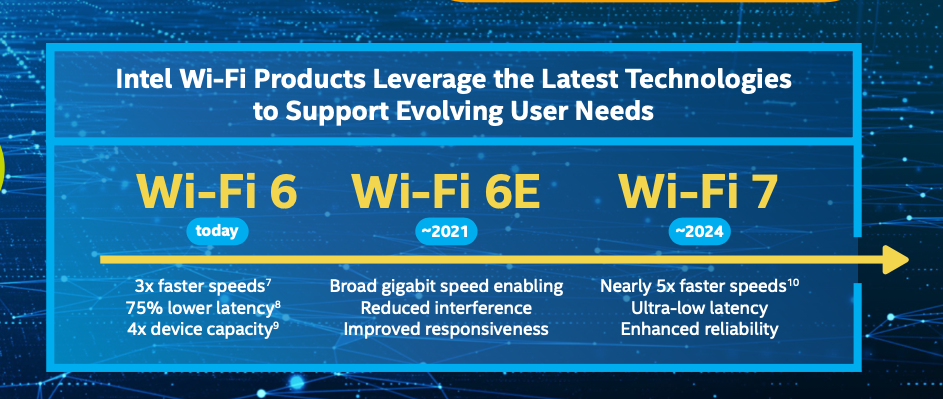 By Claus Hetting, Wi-Fi NOW CEO & Chairman
Intel is already the hands-down leader in laptop Wi-Fi connectivity and then a couple of weeks ago, the company likely extended their lead: Intel released two 11th generation core processors both featuring integrated Wi-Fi 6 and Wi-Fi 6E capabilities. As a first, Intel's 5G connectivity solution is now also supported, the latter delivered in partnership with Taiwan's chipset giant MediaTek and China's Fibocom. The two new solutions were released at Computex 2021. 
Need a light laptop with both Wi-Fi 6E and 5G? Chances are there could be one coming to your local IT retailer soon – at least if you live in the US. Intel just released two new 11th generation core Intel Core processors for 'thin and light' Windows laptops and they both support Wi-Fi 6E. Interestingly, Intel also released a 5G module for laptops – in partnership with MediaTek and Fibocom – and Intel says that more than 30 laptop designs with both 5G and Wi-Fi connectivity are expected in 2022.
Intel also says that more than 60 laptop designs based on the new Intel Core i7-1195G7 and Intel Core i5-1155G7 processors just released are expected to hit the markets by this holiday season, with new laptops from Acer, ASUS, Lenovo and MSI available launching already this summer. Wi-Fi 6E – also denoted 'Gig+' by Intel – delivers investment protection because it enables operations in the new and clean 6 GHz spectrum as well as legacy Intel Wi-Fi 6 (Gig+) functionality where (or when) 6 GHz band Wi-Fi operation is not available or permitted, the company says.
Enjoying this story?
Leave your email here and we'll get you all the latest Wi-Fi news.
Intel's Wi-Fi 6E (Gig+): Three times faster at home – and nearly six times faster at the office
Intel is pushing Wi-Fi 6/6E technology for homes, businesses, and not least for gaming. The company says consumers can experience nearly three times faster speeds in the home – 2.8 times faster to be exact – when using Wi-Fi 6/6E compared to legacy Wi-Fi 5 systems because typical 2-stream PC clients using 160 MHz channels for Wi-Fi 6/6E will run at a 2.402 Gbps maximum bitrate. Typical legacy 2-stream Wi-Fi 5 clients today operate at a maximum of 867 Mbps using 80 MHz bands.
On managed Wi-Fi networks – meaning for corporate use – Intel says Wi-Fi 6E delivers up to six times faster connectivity compared to legacy Wi-Fi 5 devices based on the adage "80 is the new 20": Corporate IT networks based on the legacy Wi-Fi 5 standard typically use 20 MHz (or 40 MHz) channels in the 5 GHz band while future Wi-Fi 6E corporate networks will be using 80 MHz (or 160 MHz) channels.
Two-stream PC clients using Wi-Fi 6E and 80 MHz bands will operate at a 1.201 Gbps maximum bitrate. That is a whopping 6.9 times greater than Wi-Fi 5 operating with 20 MHz channels, Intel says. The company also says that Wi-Fi 6 and Wi-Fi 6E enable 75% lower latency and up to 4 times greater capacity compared to legacy Wi-Fi 5 systems.
Intel has even fully documented all of their performance benchmarks and statements about Wi-Fi 6/6E in this comprehensive resource, which is well worth having a look at for more detail. A big thumbs up to Intel for painstakingly documenting and explaining how they come up with their performance numbers and statements – as far as we know, they are the only company doing it in this fully transparent manner.
Finally: For all the thought-leadership details on Intel's vision for Wi-Fi in 2030 don't miss Intel's Eric McLaughlin, VP Client Computing & GM Wireless Solutions, speaking at the recently held Wi-Fi World Congress Europe 2021 Open Leadership Summit, now available here for viewing on demand.
/Claus.