By Claus Hetting, Wi-Fi NOW CEO & Chairman.
Great whole-home Wi-Fi managed by ISPs doesn't have to be costly and complex – neither for subscribers nor for the ISP. Seattle-based startup Vilo is taking on established Wi-Fi giants with a whole-home solution that uniquely combines affordability with manageability – and the platform is already making waves, specifically among WISPs. The startup was founded by three women serial entrepreneurs.
What do you do if your newly developed smart home product doesn't connect to home Wi-Fi? Well – if you're Jessie Zhou, Amie Hsu, and Man Zheng – you build another startup to fix the home Wi-Fi problem, of course. Seattle-based mesh Wi-Fi startup Vilo is taking on the established giants of the Wi-Fi industry with highly affordable mesh systems.
The platform comes complete with a remote management system for ISPs, which terms of features and capabilities is designed very specifically according to customer preferences.
Today consumers can still buy Vilo's 3-unit mesh system on the Vilo website or on Amazon for US$99.99 but arguably more important is that Vilo is making inroads into the market for ISP-managed Wi-Fi. Their sweet spot is the WISP market but many larger ISPs have a similar need for affordability, Jessie Zhou says.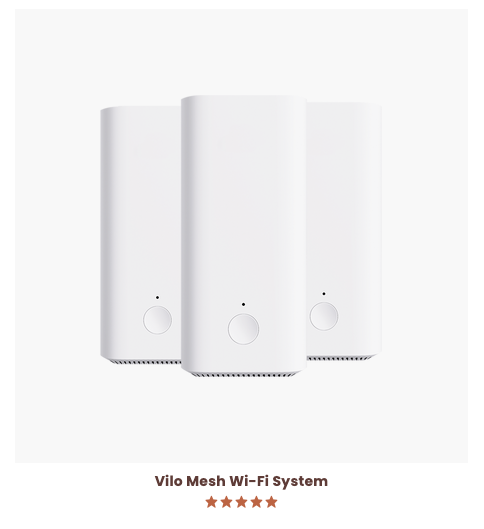 "There are a lot of WISPs and smaller ISPs across the world who don't have the financial clout to invest into Wi-Fi management systems from the large established vendors. We believe we're right in the sweet spot of what thousands of ISPs around the world really need in terms of affordable hardware, an easy to use app, and remote manageability. Our approach is no frills but both technically effective as well as cost-effective," Jessie Zhou says.
WISPs in particular have been quick to adopt Vilo's solution because Vilo offers specific features that WISPs nearly cannot function without. "As a unique feature we allow WISPs to select the home Wi-Fi channel and channel width for every subscriber. Many WISPs use unlicensed Wi-Fi bands to deliver Internet signals to homes, which means this feature is critical to avoid home Wi-Fi interfering with the outside signals delivering the Internet connectivity in the first place," Jessie Zhou says.
Vilo's remote management system is already deployed among ISPs but also continuously evolving. As a unique approach the Vilo product roadmap – including features – for the management backend is public and anyone can comment or request new features. "We want to communicate openly with our clients and work closely with them to understand what they want and need. This is to us the right approach for developing products and why not do this openly? It's the right way," says Jessie Zhou.
/Claus.
As of this week we're delighted to announce that Vilo is our new partner:

"It is always exciting to work with entrepreneurs and startups of the kind exuding lots of contagious positive energy and commitment. Jessie and her partners are the kinds of people who make the world go around because they delight in creating and competing. And they understand that technology and business innovation comes in many forms. We look forward to working with Vilo to promote and showcase their innovative Wi-Fi solutions," says Claus Hetting, CEO & Chairman of Wi-Fi NOW.