By Claus Hetting, Wi-Fi NOW CEO & Chairman
Yesterday Qualcomm conducted its yearly 'Snapdragon Summit' and the Wi-Fi news was substantial: The new Snapdragon 8 Gen 2 released this week comes with FastConnect™ 7800 Wi-Fi 7 platform integrated. This likely means that the first Wi-Fi 7 phones will be released at Mobile World Congress in Barcelona at the end of February 2023. Note that Qualcomm's High Band Simultaneous Multi-link signature Wi-Fi 7 feature is not only beneficial in countries and regions where 6 GHz is available. Explanation follows below. 
When will the first Wi-Fi 7 phones be released? We get this question nearly every day. Now we finally have what we believe – by inference – is likely an accurate answer: By the time Mobile World Congress 2023 rolls around in Barcelona, Spain, we'll probably see the first Wi-Fi 7-capable phone launched.
Enjoying this story?
Leave your email here and we'll get you all the latest Wi-Fi news.
This week Qualcomm released the Snapdragon 8 Gen 2 platform and the main Wi-Fi news is that it now comes with FastConnect 7800 integrated – meaning the new platform is born with Wi-Fi 7 capability. And since the first phones featuring the latest Snapdragon processors are usually released at the following Mobile World Congress this leads us to believe that yes, Wi-Fi 7 phones will be here by end of February 2023. Although of course Qualcomm has said nothing about this directly.
This also means that the Wi-Fi 7 ecosystem is rolling out faster than most of us expected. Earlier this week TP-Link released no less than eleven Wi-Fi 7-capable APs including products for the home, gaming, mesh, as well as routers for ISPs and enterprise APs. Last month the first enterprise-grade Wi-Fi 7 AP was introduced by upcoming vendor IO by HFCL – also powered by Qualcomm Wi-Fi 7 chips.
Wi-Fi 7 is of course about faster speeds driven by high-order modulation and 320 MHz channels. But probably more importantly Wi-Fi 7 is about Multi-Link Operation or MLO. Qualcomm's 'High Band Simultaneous Multi-Link' – or HBS Multi-Link – aggregates two 160 MHz channels in (for example) the 6 GHz band for higher speeds, lower latency, and much better reliability.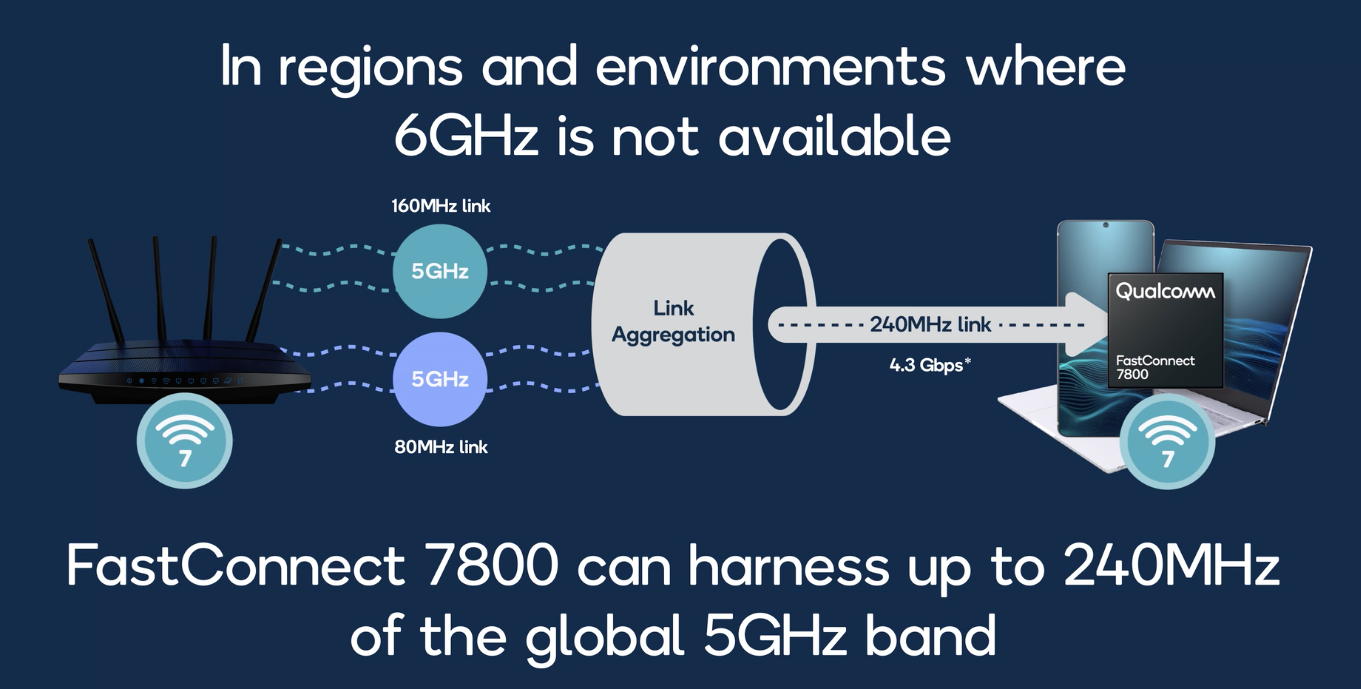 But Qualcomm also points out that availability of the 6 GHz band is not actually a prerequisite for benefitting from HBS Multi-Link: The feature can also aggregate one 80 MHz and one 160 MHz channel both within the 5 GHz band to deliver similar low-latency, ultra-reliable performance, Qualcomm says (see graphic below). In this way Qualcomm is banking on delivering the absolute best possible Wi-Fi 7 performance for example for smartphones aimed at the Chinese market.
Last but not least: Qualcomm also released the Snapdragon AR2 Gen 1 platform with FastConnect™ 7800 integrated. The AR2 platform is designed – as the name says – for augmented reality-type applications, such as smart glasses. So when will we see a Wi-Fi 7-connected smart glasses product? Such products have been on the drawing board and at the prototype stage for a long time. Let's hope 2023 is the year for a new and revolutionary AR product.
/Claus.