By Claus Hetting, Wi-Fi NOW CEO & Chairman
US regulator FCC begins AFC testing

After Canada's announcement of the world's first approved & operational AFC system yesterday – read more here – the US now oddly finds itself behind on the introduction of standard power 6 GHz Wi-Fi services with AFC – especially since AFC is a spectrum sharing solution originally created and adopted by the FCC itself and introduced as part of new 6 GHz regulation, which was signed into law in April of 2020. Perhaps prompted by the Canadian announcement yesterday, the FCC's Office of Engineering and Technology now says that testing of AFC systems has begun and has issued a public notice on the testing process.
Previously the FCC has conditionally approved thirteen organisations as AFC operators. "Once the conditionally approved AFC systems have successfully completed the testing process, OET will approve them for full commercial operation," the FCC says, adding that testing of various AFC systems can take place in parallel. The FCC also says it will not delay approving any of the thirteen pre-qualified organisations once one or more of these has completed and passed the testing process.
In the meantime Europe and the CEPT region still lags disappointingly far behind on allocation of any 6 GHz standard power unlicensed spectrum and has thus far only initiated a regulatory study group to examine the upper 6 GHz band for unlicensed operation. AFC testing is proceeding in other parts of the world including Brazil, Saudi Arabia, and Australia.
ASUS announces gaming motherboards prepared for Intel's Wi-Fi 7 platform
Taiwan-based consumer-grade networking gear provider ASUS has for years been a frontrunner when it comes to incorporating the latest in Wi-Fi connectivity into their routers and gaming computers – and now they're at it again with another Wi-Fi 7 announcement: At Gamescom 2023 in Cologne, Germany ASUS announced three new Intel Z790-based motherboards under the ROG ('Republic Of Gamers') brand – and two of them include Wi-Fi 7 capability powered by Intel. The two new Wi-Fi 7 motherboards are ROG MAXIMUS Z790 DARK HERO and ROG STRIX Z790-A GAMING WIFI II.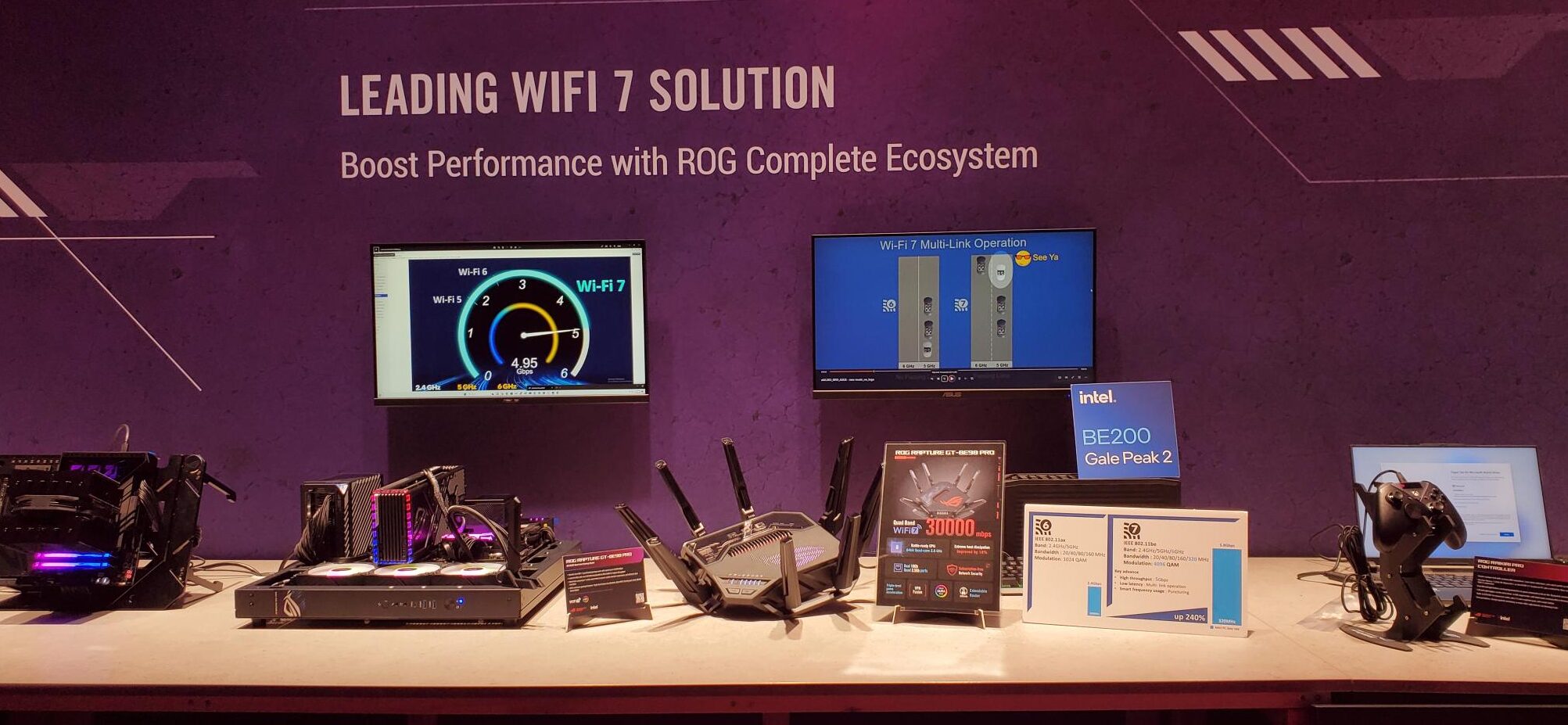 "Offering link speeds up to 5.8 Gbps, this motherboard is perfect for users with a multi-gigabit Internet connection or for those who want a high-speed wireless connection to a network-attached storage (NAS) unit," ASUS says in a press release here. ASUS is also introducing a new Wi-Fi antenna design called 'Q-Antenna' into their motherboards for improved data rates, the company says. ASUS earlier this year released the the 19 Gbps BE19000 tri-band Wi-Fi 7 gaming router – read more here.
ASUS is also working with Intel in other ways as one of the first partners of Intel's 'Engineered for Intel Evo™' program, which means some ASUS routers – including the AX6000 and AX5700 – are interoperability tested and certified for use with laptops powered by Intel's Evo processor platform. The other current 'Engineered for Intel Evo™' partner is TP-Link and there are more coming, says Intel. For more read here.
Officially Intel Wi-Fi 7 solutions are not out yet but Intel is widely supporting Wi-Fi 7 demonstrations, such as the ASUS ROG demo at Gamescom. Many avid gamers still prefer wired over wireless for connecting gaming PCs – usually because of fear (real or imagined) of problems with connectivity latency – but that could change soon. Wi-Fi 7 is likely to entice many gamers to adopt Wi-Fi based on the new standard's higher speeds and in particular multi-link operation (MLO) for extreme low latencies and data stream redundancy.
Kinetic by Windstream selects RouteThis for improved home Wi-Fi
Arkansas-based US operator Kinetic by Windstream has selected a solution by RouteThis "to enable the highest Quality of Experience across their rapidly expanding fiber-to-the-home installed base," RouteThis says. Windstream has chosen the 'RouteThis Certify' product "to guide Kinetic technicians to install an optimized WiFi network, delivering flawless Wi-Fi on every device, in every room, from day one." RouteThis is – as far as we know – the only company offering a solution that allows service providers to carry out a home Wi-Fi quality certification when home gateways and other Wi-Fi equipment is installed.
"Working with RouteThis provides us greater reliability, visibility, and consistency in our home Wi-Fi network installation and support processes to ensure that all of our customers receive the speed, reliability, and security they need," said Barry Bishop, senior vice president of field operations, Kinetic by Windstream. "The Certify platform empowers our field technicians with the tools they need to deliver exceptional high-speed internet, without exceptions."
For more about RouteThis and their solutions also view this recent Wi-Fi NOW Special Event featuring RouteThis on the topic of Wi-Fi 6E & Wi-Fi 7 quality management. You can also meet RouteThis in person at WWC Toronto on September 18-20 – read more here.
US cableco Midco launches Plume's Workpass platform for businesses
Plume is mostly know for their quality-of-experience management platform for residential Wi-Fi and other home broadband services but their portfolio also includes solutions for small and mid-sized businesses. Now South Dakota-based cableco Midco is applying Plume's platform to deliver B2B services in the US mid-west region and has dubbed the service 'Midco Business Wi-Fi Pro powered by Plume WorkPass®', the company says in a press release here.
The solution is in many ways similar to Plume's residential service but has been adapted and expanded for businesses. It includes managed Wi-Fi, security, guest access control, management of staff profiles, and even a Wi-Fi sensing service. The service uses Plume-designed Wi-Fi mesh pods for coverage of the entire business premise, Midco says.
/Claus.