By Claus Hetting, Wi-Fi NOW CEO & Chairman
Qualcomm Wi-Fi 7 chipsets power connectivity in laptops from Acer and MSI
Qualcomm's FastConnect™ Wi-Fi platforms are well-know as the world's most popular Wi-Fi technology for smartphones – but now Qualcomm is also making inroads into the Wi-Fi 7 chipset market for laptop PCs. At Computex last month two high-end laptops were released featuring Qualcomm's FastConnect 7800 Wi-Fi 7-capable platform. MSI's revamped Alpha 17 now includes FastConnect 7800 for Wi-Fi 7 connectivity a peak rates of 5.8 Gbps and latencies as low as 2 milliseconds based on Qualcomm's High-Band Simultaneous (MBS) multilink (MLO) functionality. Meanwhile Acer released their Swift Edge 16 super thin and light laptop also featuring the FastConnect 7800 platform and Wi-Fi 7. The certification program for Wi-Fi 7 is expected to be released by Wi-Fi Alliance later this year.
Newracom releases second-gen Wi-Fi HaLow SoC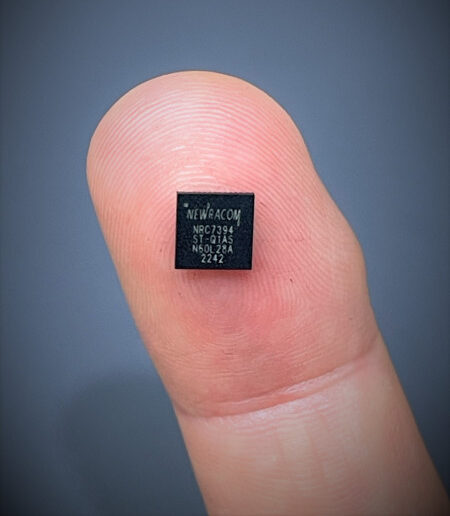 The ecosystem for Wi-Fi HaLow – the sub-GHz Wi-Fi standard designed specifically for IoT – is developing quickly with chipset provider Newracom releasing their latest Wi-Fi HaLow SoC last week. The new NRC7394 is a tiny 6×6 millimetre chip supporting Wi-Fi HaLow low-power connectivity at 1, 2, and 4 MHz channel widths within a frequency range of 750-950 MHz.
"The NRC7394 is ideal for integration into Wi-Fi HaLow devices across various applications such as smart home, building automation, smart city, smart grid, healthcare, surveillance, drones, and more. The NRC7394 is a complete System-on-chip with the ability to run applications directly, without any external microprocessor," Newracom says. For more read here. The Wi-Fi HaLow standard has been verified to provide IoT connectivity over a range of 1.5 kilometres.
Ruckus (CommScope) launches unified Ruckus One unified management platform and new NaaS offering
Once again Ruckus Networks – a part of CommScope – is reinventing itself, this time as a leader in Cloud-based unified enterprise network management (including Wi-Fi of course) as well as one of the first vendors to offer enterprise networking as NaaS. Last week the company launched Ruckus One as a new platform for unified service assurance, service delivery, and business intelligence for enterprise networking. For more about Ruckus One also read here.
At the same time Ruckus introduced their new NaaS offering intended as "a new operational and financial model for businesses to consume networking solutions and services delivered on a subscription basis." The service will be delivered together with Ruckus partners. Ruckus also launched a "multi-access public and private (MAPP) solution" (also available as NaaS), which brings together Wi-Fi, 4G/5G cellular enterprise technology, wired, and IoT into a single solution.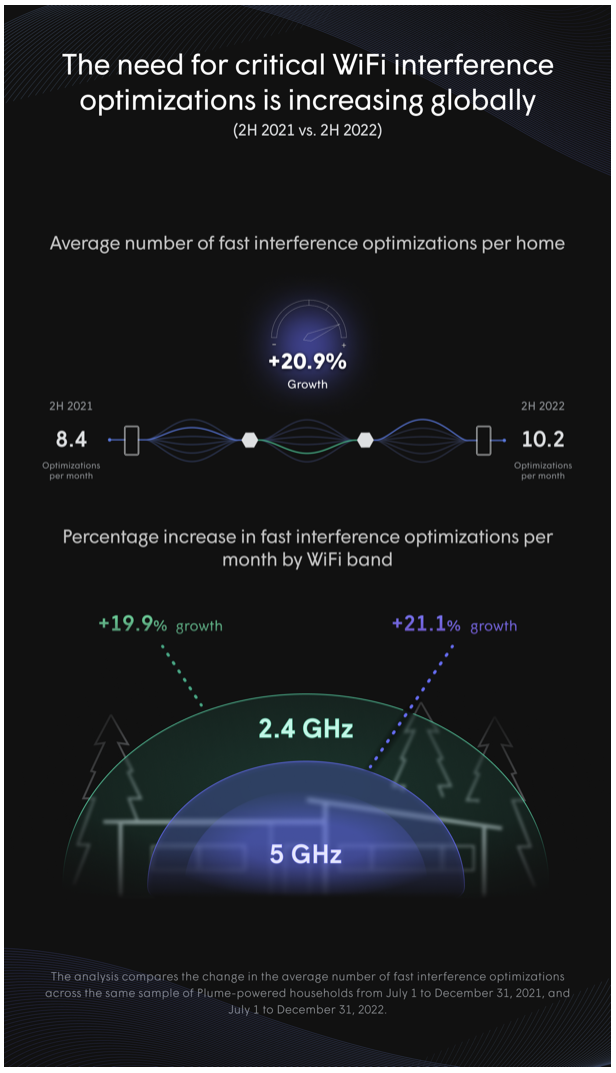 Wi-Fi interference within the home rising 20+% year-on-year, says Plume IQ
Plume IQ – the data analytics service by smart home platform provider Plume – says that Wi-Fi interference within the home rose more than 20% year-on-year from 2H2021 to 2H2022. And how do they know that? Because of the number of optimisations that the Plume platform performs on average per household per unit time. According to Plume, 'fast interference optimisation' reacts to interference events according to need – and the frequency of this type of interference was about 10 times per month during 2H2022, up from 8.4 times a month on average during 2H2021. In essence this means that networks are being loaded heavily and spectrum is gradually running out. The Plume IQ finding is another good argument why the full 6 GHz band will soon be needed to support home broadband traffic – or else.
/Claus.