By Claus Hetting, Wi-Fi NOW CEO & Chairman
Enjoying this story?
Leave your email here and we'll get you all the latest Wi-Fi news.
Qualcomm – a leader in silicon platforms for Wi-Fi and much more – posted late yesterday  another set of outstanding financial results, this time for Qualcomm's third fiscal quarter (2021-2022). Revenues landed at US$10.9 billion in total for the quarter with the IoT segment (which includes compute and Wi-Fi platforms) reaching revenues in excess of US$1.8 billion. That is 31% YoY growth for the IoT segment.
One of the leading indicators of growth across the Wi-Fi industry – the financial results of semiconductor giant Qualcomm – was released late yesterday, and we're delighted to report that the present and future of the Wi-Fi industry continues to look very bright. Qualcomm posted US$10.9 billion in total quarterly revenues (36% year-on-year growth) with the IoT segment representing US$1.8 billion of the total. Qualcomm's IoT segment includes Wi-Fi chipsets and compute platforms.
The year-on-year growth of the IoT segment (that's Qualcomm parlance for Wi-Fi, compute, and some 5G IoT platforms) was an impressive 31%, Qualcomm reports. Qualcomm doesn't single out exactly what part of this might be related to Wi-Fi products alone – at least not directly. But a financial revenue breakdown chart shows that about 8% of revenues can be attributed to Wi-Fi and Bluetooth, which would land Wi-Fi & Bluetooth's contribution to Qualcomm's Q3 result at around US$800-900 million.
Qualcomm also says revenues of US$1.0 billion resulted from sales of RF front end components, a segment that includes front-end modules (FEMs) for Wi-Fi and Bluetooth. The growth for this segment year-on-year was 9%, Qualcomm reports. The full set of Qualcomm financial results can be found here.
Qualcomm's contribution to the Wi-Fi industry has been big for years – and it continues. In May of this year Qualcomm's new family of Wi-Fi 7 platforms were released with capacities reaching 33 Gbps for the top-of-the-line Networking Pro solution designed to power high-end home and enterprise networking equipment. Qualcomm is currently one of three silicon vendors with complete end-to-end (network and device-side) solutions supporting the new and latest generation of Wi-Fi technology.
At Wi-Fi NOW we are honoured and delighted to have Qualcomm as a partner. For all our coverage of Qualcomm, read more here.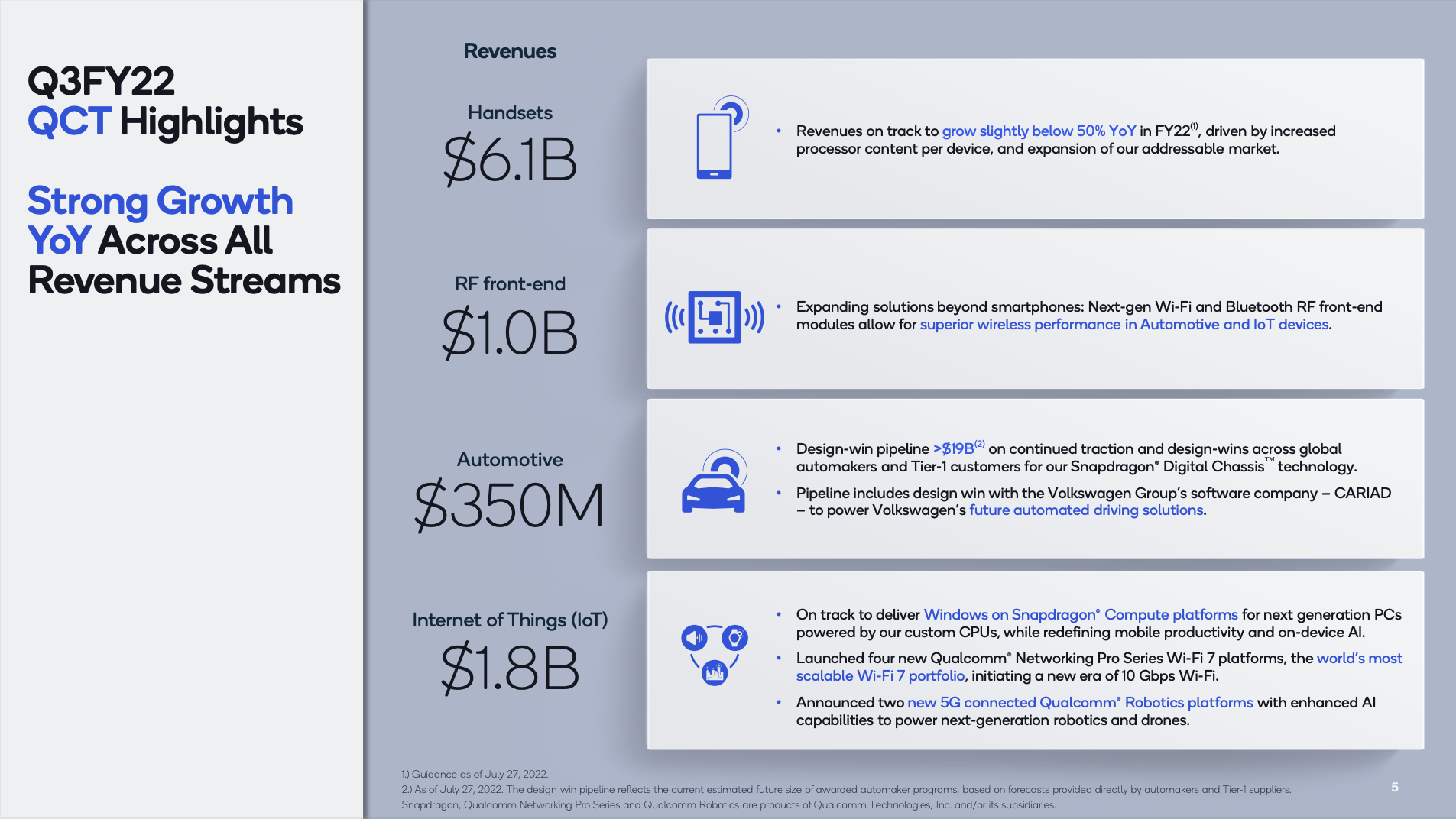 /Claus.