By Claus Hetting, Wi-Fi NOW CEO & Chairman
Enjoying this story?
Leave your email here and we'll get you all the latest Wi-Fi news.
Yesterday TP-Link released a raft of new Wi-Fi 7 products: Seven consumer-grade APs – including new systems for gaming and whole-home mesh – and two AP types for each ISPs and enterprises, respectively. The launch is arguably the most aggressive and comprehensive push by any Wi-Fi AP vendor into the market for next generation Wi-Fi. TP-Link is by far the world's largest AP provider by number of routers sold.
China-based Wi-Fi solution provider TP-Link – still by a wide margin the world's largest Wi-Fi vendor by number of Wi-Fi routers sold – yesterday released a total of eleven new Wi-Fi 7 AP solutions covering practically every known Wi-Fi segment except perhaps outdoor enterprise. The TP-Link launch is also a signal to the market that the company is investing heavily into 6 GHz Wi-Fi but appears to have decided to skip Wi-Fi 6E altogether – even as Wi-Fi 7 end-user devices have yet to arrive.
The top-of-the-line quad-band (two 5 GHz radios, one 2.4 GHz radio, and one 6 GHz radio) Archer BE900 offers 24 Gbps of data rate and features a new, distinctive design with internal antennas. The Archer BE800 and BE550 routers also released are tri-band units of virtually the same appearance and serve up 19 Gbps and 9.2 Gbps, respectively. For more also see here. The Archer BE900 will retail for US$699 on the US market – TP-Link says – and is powered by Broadcom.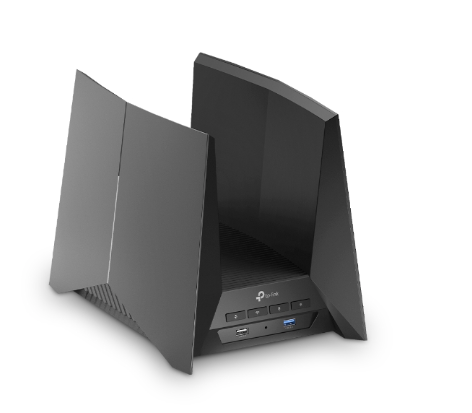 TP-Link also announced their first Wi-Fi 7 AP aimed at the gaming market dubbed Archer GE800 (and for some reason also called BE1900). The unit is a little reminiscent of Netgear's iconic Nighthawk router except this one looks even more like the Starwars upsilon-class command shuttle used by Kylo Ren. The tri-band unit delivers a peak data rate of more than 18 Gbps, TP-Link says.
For whole-home Wi-Fi mesh TP-Link released three new 'Deco' systems including top-of-the-line quad-band BE95 delivering a whopping 33 Gbps of peak data rate. The BE95 includes two radios for 6 GHz, one for 5 GHz, and one for 2.4 GHz. The lesser BE65 and BE85 systems are tri-band offering 11 Gbps and 22 Gbps of peak data rate, respectively. The new BE95 Deco quad-band mesh Wi-Fi 7 system will retail for US$1199.99 on the US market. The new Deco systems are powered by Qualcomm's Networking Pro chipset platform for Wi-Fi 7.
TP-Link has long been catering to the ISP market but have generally not made much noise about it. TP-Link says two new 'Aginet' (a TP-Link sub-brand aimed at ISPs) Wi-Fi 7 routers are now available supporting 5G as well as fibre-based backhaul. TP-Link also released the 'Omada' EAP780 and EAP770 tri-band APs for the enterprise market also powered by Qualcomm's Networking Pro series platform.
/Claus.