By Claus Hetting, Wi-Fi NOW CEO & Chairman
Wi-Fi 6E is here and the race is on for service providers to deliver the best performing Wi-Fi 6E product on the market. One way to ensure the best quality of experience is to make sure your Wi-Fi 6E solutions are thoroughly tested. And how to do that is the topic of a recent & highly informative webinar by Keysight.
Pre-deployment testing of Wi-Fi 6E services under real-world loading conditions is key for ISPs to realise the full potential of the new technology and new bands. Correct testing under the right conditions (and resolution of quality issues) is likely to lead to reductions in customer service calls and truck rolls for ISPs – which is why testing is business critical, says Keysight in a new Wi-Fi 6E testing webinar.
"ISP increasingly need to ensure that Wi-Fi 6E technology is performing correctly in each AP and in Wi-Fi 6E this means verifying more channels, testing high-density scenarios, verifying simultaneous tri-band or quad-band loads, optimising speed and latency, and testing realistic mixed-client scenarios," says Keysight.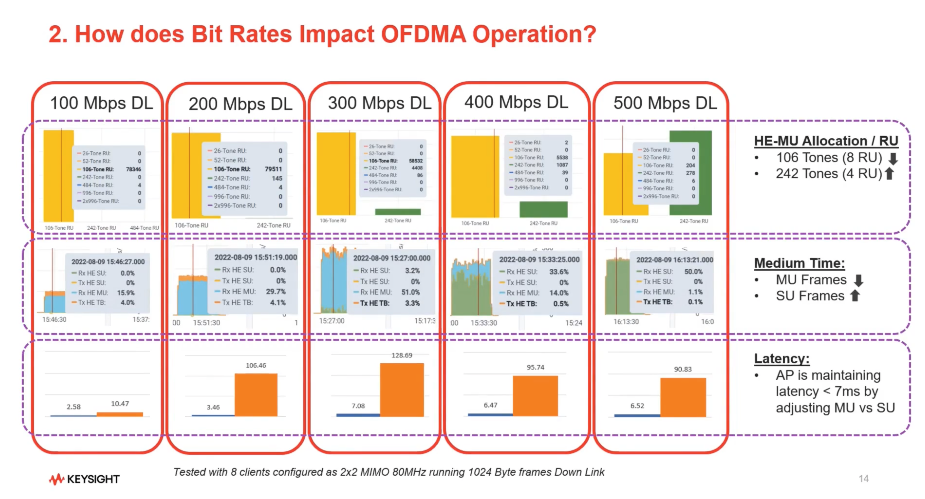 One of the strengths of the Keysight test system is the ability to configure in detail emulated clients for the tests (based on FPGA) – instead of using real clients based on commercial Wi-Fi chipsets, which in mosts cases offer much less granular control and hence less visibility into Wi-Fi performance. Among the benefits of the test is a detailed view of OFDMA performance including characterisation of the scheduler.
The Keysight webinar demonstrates typical test cases for Wi-Fi 6E: Throughput versus frame size, latency versus frame size, detailed breakdown of OFDMA performance as a function of bit rate with a load of eight clients or more. The webinar also examines what happens to latency performance for a particular AP when loaded with 4 to 32 concurrent clients.
For all the details access the Keysight webinar by filling out the form below.