By Claus Hetting, Wi-Fi NOW CEO & Chairman
AI will impact all of our lives profoundly as the average cost of training AI computing platforms plummets. The impact of AI on enterprise networking including – of course – Wi-Fi services will continue to be huge. The result is that AI has become critical for delivering 'purpose-driven networks,' said Bart Giordano, President of CommScope's Networking, Intelligent Cellular and Security Division at WWC Toronto last month. 
"Wi-Fi 7 is not the most exciting technology right now – Artificial Intelligence is," said RUCKUS Networks' Bart Giordano at WWC Toronto last month. CommScope's RUCKUS-brand enterprise networking solutions are now fully vested into AI and there are very good reasons for that, Bart Giordano said.
"We're seeing the cost of training AI systems go from halving every year to being reduced by a factor of ten per year since around 2010. The cost to train for example a GPT-3 platform has reduced from $4.6 million to $450,000 in just two years – and is projected to plummet to as little as $30 by 2030," he said, citing forecasts by investment management firm ARK. The result is mass adoption of AI chatbots, generative AI, and not least better usage of training data, he said.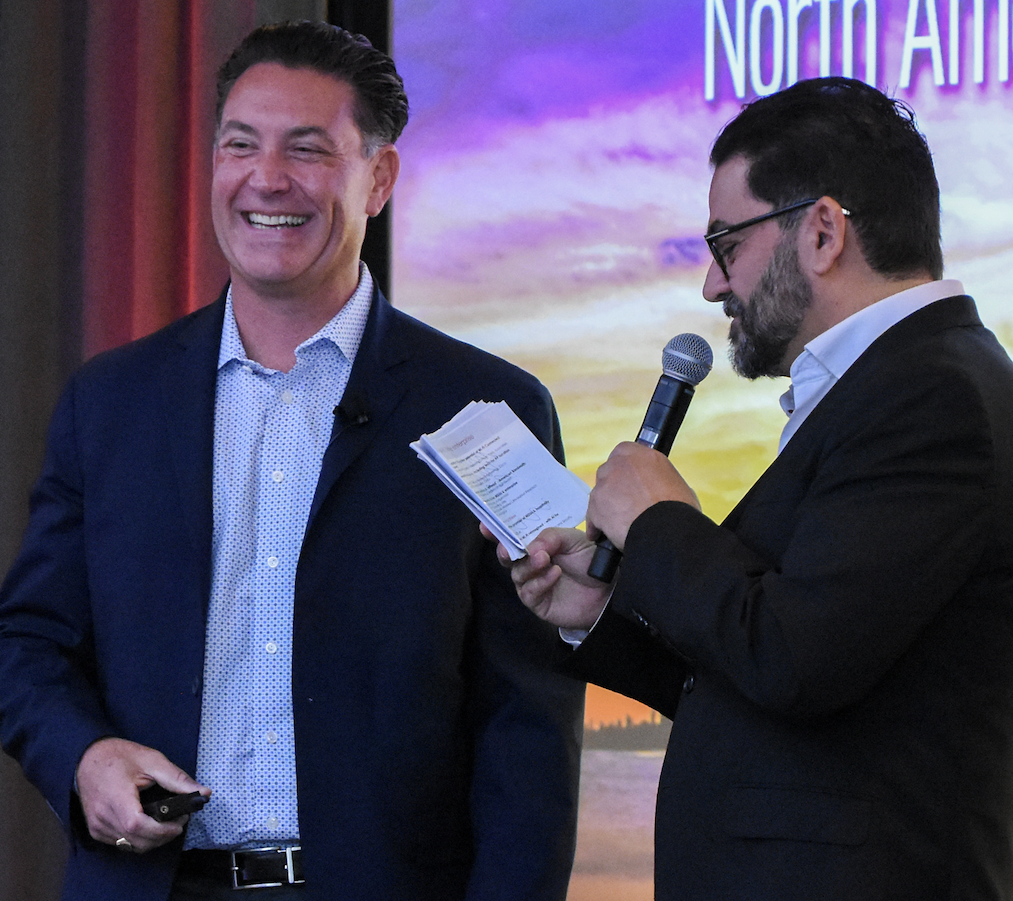 For RUCKUS this means using AI to deliver highly operationally efficient enterprise networks. "We're using AI to automate the actions needed to maintain and operate networks systems based on learning from real time and historical data and continuous performance analysis," Bart Giordano said. The end result is what RUCKUS today calls RUCKUS One – an 'AI-driven converged multi-access network assurance and business intelligence platform' – which features RUCKUS AI as an integral part.
RUCKUS says much of the work of the AI platform is predictive and – of course – analytical. "The challenge is that nearly every networking issue presents itself in the same way – as broken Wi-Fi. AI resolves this by detecting anomalies and identifying issues before they blow up the service. Then it adds recommendations on changes that will improve performance, plus AI-driven Cloud radio resource management that drives up capacity, and much more," he said.
And RUCKUS confirmed that yes, they are really using AI – specifically in the form of machine learning, statistical analysis, and even something called Graph AI – read more about that here. Network planning, anomaly detection, root cause analysis, app QoE scoring, and predictive analytics are all part of the AI solutions palette, Bart Giordano said.
"The truth is that AI will not remain optional. All enterprises will need to embrace AI soon. The final goal is to achieve autonomous networking so that by far most networking issues can be resolved automatically. Don't forget that many IT organisations are under pressure and many are frankly struggling to find the right resources and skills. In many cases they prefer to focus their resources on specific strategic areas, such as cyber security. The rest should be automatic," Bart Giordano said.
Radio resource management: A perfect problem for AI to solve
Meanwhile Wi-Fi network planners are under pressure following the advent of the 6 GHz band. "There is no doubt that the 6 GHz band will fuel the Wi-Fi industry for the next 20 years – but it has also driven the complexity of channel selection and planning options beyond the capabilities of humans. Fortunately, it's a perfect problem for data science and machine learning to solve," he said.
The goal of AI-driven radio resource management is to minimise co-channel interference, which leads to greater capacity, higher client throughput, and overall more reliable Wi-Fi services. "The result is 10-20% higher AP capacity, which means you're extracting more value from your network investment. It is actually even possible to reduce co-channel interfering links to zero using AI-based RRM. In short this is the biggest leap forward in radio management since RUCKUS Beamflex® technology," Bart Giordano said.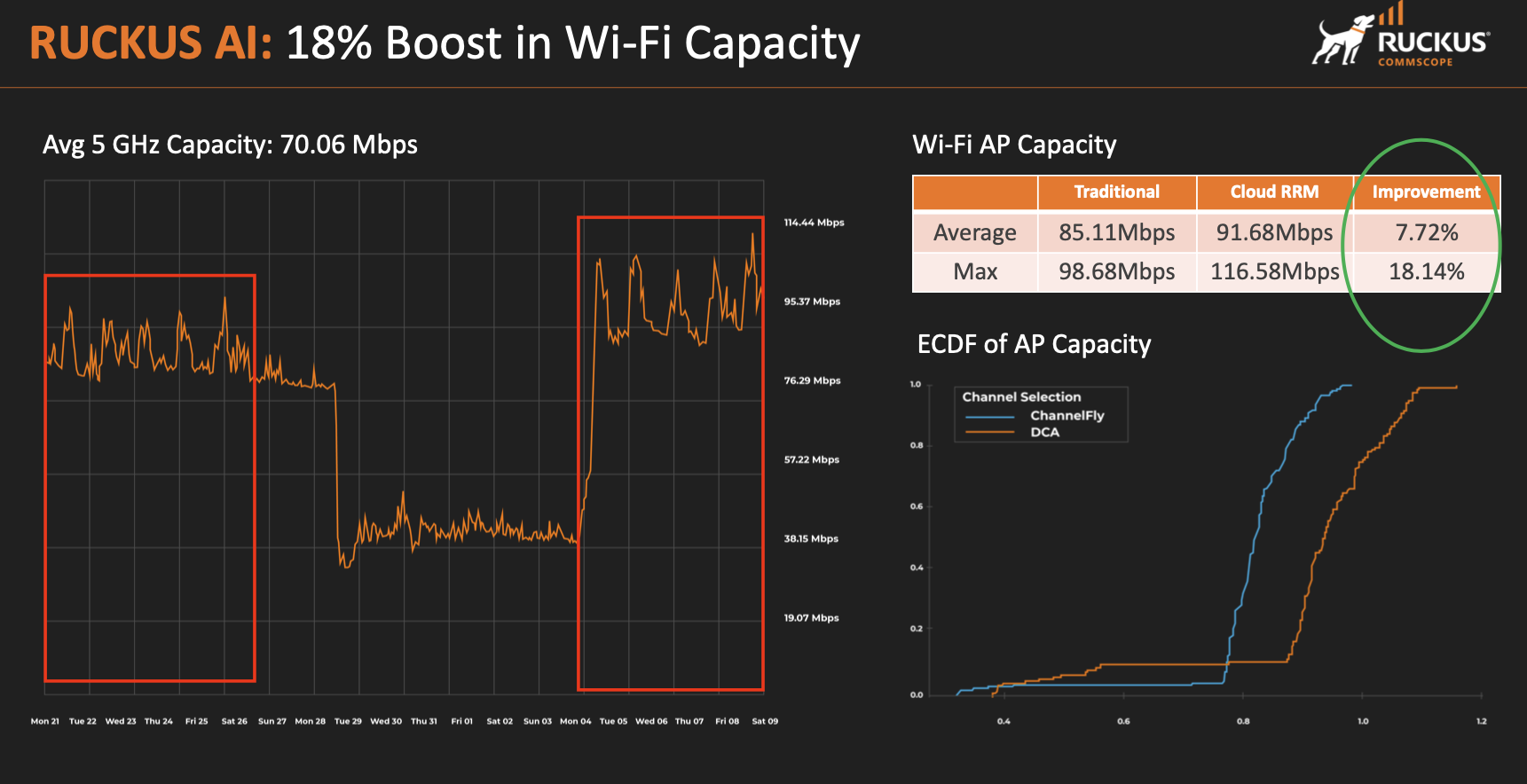 RUCKUS says dramatic increases in overall operational efficiency are common once AI has been installed. One client reported up to 67% reduction in mean time to resolution and 80% reduction in customer churn – and that's with no new hardware. The client simply deployed the RUCKUS AI platform over the top of the existing network, RUCKUS Networks says.
/Claus.