This live stream will begin at 10 AM PST (7 PM CET) on October 8, 2020. To reserve this in your calendar click on the calendar icon above. If you have questions please write to our producer Maria Thomsen at [email protected] and we will do our best to answer.
Affordable Connectivity:
Welcome to Day 6 – Claus Hetting, Wi-Fi NOW CEO & Chairman
Keynote by Chris Marra, Facebook Connectivity
Wi-Fi service provider presentation TBA
Delivering Wi-Fi-based services in South African – with Ian Thomson, CEO of TooMuchWiFi
Connecting Lagos with Wi-Fi – with Akin Morinho, Fiam Nigeria
Opportunities & challenges: Financing wireless ISPs – with Jim Forster, Connectivity Capital
Q&A panel featuring Tim Genders of Project Isizwe, South Africa
Open architectures:

Introducing Google's Orion WiFi – with Raj Gajwani, Director, Area 120 @Google
More program items TBA
To download a copy of the the day's program click on the graphic below.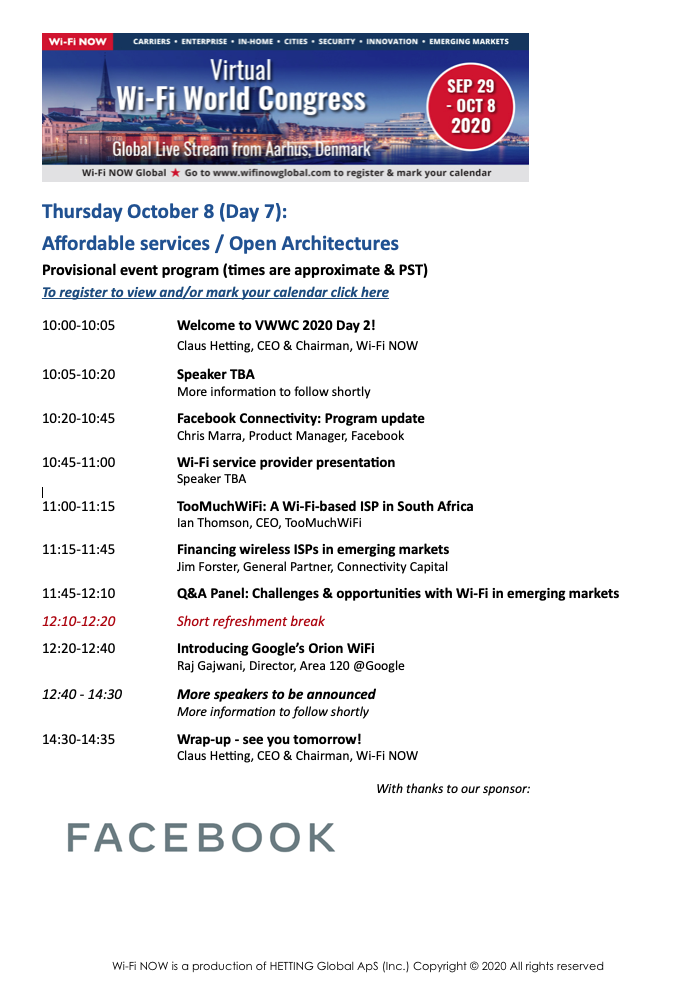 Thanks to our sponsors:

 – and to our great speakers: