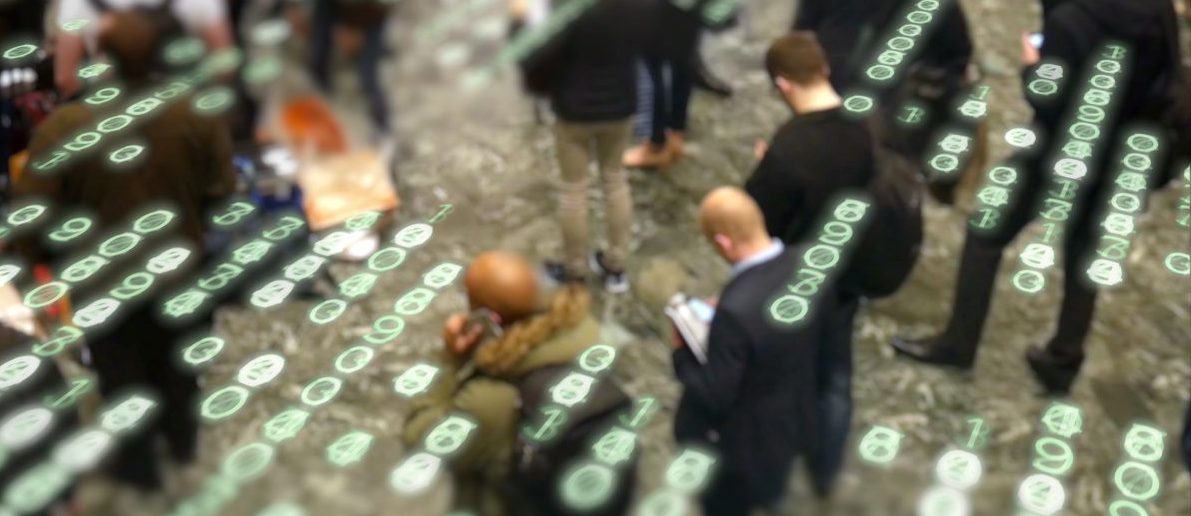 By Claus Hetting, Wi-Fi NOW CEO & Chairman
As mobile markets mature service providers of any kind (and enterprises) will be looking for ways to make wireless data delivery substantially more efficient. Wi-Fi is an obvious choice and is getting more attractive – especially with Wi-Fi 6 here today and 6 GHz coming up within a year or two. Analogy: We won't need supersonic airliners. But we do need more airliners – and more airports, too. 
There's something important going on out there: Twelve years after the iPhone was launched, mobile markets are now maturing. That's no secret – although most mobile industry folks are understandably reluctant to talk about it. What may be even more alarming to some is this: Mobile data growth – the vanguard of a trillion dollar industry – may be showing the first signs of a slowing.
The cellular industry (especially the 5G folks) should be seriously worried about that.
Enjoying this story?
Leave your email here and we'll get you all the latest Wi-Fi news.
But let me be clear: If you're in Wi-Fi, you've got nothing to worry about for many years still. In fact, market maturity will likely benefit the Wi-Fi industry a great deal. The reason for that is fairly simple as will be explained below based on some reasonable assumptions.
Sources: Mature markets (outside US) converging to 30% growth
Let's clarify a few points first: 'Slowing' doesn't mean mobile traffic is not growing any more – it simply means that mobile is growing at a slower rate, in this case (see graphic below from Analysys Mason) typically around 30% per year in many cases. That 30% growth rate is about the same as the overall growth in IP traffic, says analyst Rupert Wood of Analysys Mason. This means mobile is no longer outpacing other (fixed) IP applications.
The 30% figure doesn't apply everywhere but it's a pretty good indication that past a certain point, consumers just can't consume any more streamed videos, games, and social media feeds on their phones. Makes sense. Sometimes you also have to work, sleep, eat, etc., right?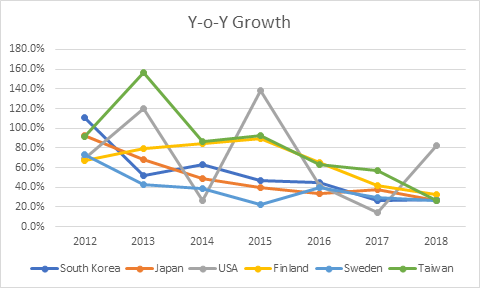 Above: Source Analysys Mason.
There are a few good sources on mobile traffic growth including this tweet and the embedded tweet below from Tefficient pertaining to Finland, one of the countries often referenced as a mobile broadband consumption world leader. The US (see chart above) is the outlier in this case – if the CTIA's numbers can be trusted (which we're not sure of, to be honest).
Finland is the country with the highest share of base on unlimited mobile data plans in the world – 67%. But the growth in mobile data usage is at its lowest point. Why isn't usage exploding when more and more people have unlimited? pic.twitter.com/uHaOKXhdLj

— tefficient ? (@tefficient) June 24, 2019
And to be clear: The chart here (and links to Tefficient tweets above) are for cellular traffic to and from phones only, meaning not including any Wi-Fi traffic that such devices consume.
So what will be the consequences?
When companies don't sell as much product as they used to, what do they do? There are a few answers to this of course – but one obvious strategy is to lower the production cost of your product. One of the best ways of lowering the delivery cost of mobile broadband is to use less cellular and instead use Wi-Fi to deliver it. Because Wi-Fi is much, much more capital efficient.
I don't have an exact number for the cost of Wi-Fi 6 vs. for example 5G (it's a bit like apples and oranges in some cases depending on the exact scenario) but I usually say about an order of magnitude at least. Example: The premium paid by consumers on mobile services is – according to this source – 37 times the cost of fixed (Wi-Fi) services.
Also note that most of the shift to Wi-Fi will probably happen naturally and outside the control of most operators unless the operators (fixed or mobile or of whatever category) decide to do something about that. Somewhere, somehow more Wi-Fi will be made available to consumers and businesses as a matter of course – and because the benefits are big while the cost per Wi-Fi bit continues to drop.
5G is not the answer – just like we didn't really need the Concorde
And while mobile (and IP) traffic growth continues on a trajectory of about 30% per year, 5G is not the answer – at least not the kind of 5G that wants to deliver hundreds of Mbps to your phone. A good analogy is aircraft speeds. And please note: I give full credit for this analogy to Dr William Webb who covered this analogy and 'The 5G Myth' in detail in his book of the same name – read more here.
The analogy runs like this: Way back in the sixties the aircraft industry thought that consumers wanted faster planes – and that this was a natural evolution of commercial flight. Except it wasn't, and the Concorde was both the beginning and the end of that dream. Airline speeds have actually not increased at all since the 1960's and instead have slowed by a little bit. Airline travel – of course – has grown tremendously and continues to grow.
And that's the point: We don't need 570 Mbps to the phone. We need more & better connectivity everywhere for everyone – and for machines, too – just like we still need bigger airports and more planes but nothing that delivers Mach 3 speeds. Wi-Fi fits this bill perfectly. 5G really doesn't. It was never designed for ubiquity and low cost.
Our predictions: Wi-Fi will grow faster – a lot faster – than mobile
If you buy the idea that efficiency will be the name of the game for wireless access here are what we believe are some of the most likely consequences as mobile markets continue to mature:
The Wi-Fi proportion of smartphone traffic will grow a lot faster than the mobile part aka more data will shift to Wi-Fi as markets mature (it probably already does but this trend will strengthen)
As a result more Wi-Fi infrastructure will be needed leading to more growth opportunities to keep up with 30% IP traffic growth
Since most data is consumed indoors (I don't have an exact number but would guess well above 90%) the home & enterprise Wi-Fi segments will continue to see strong demand for Wi-Fi solutions
Service providers will need to find ways to incorporate Wi-Fi into their services if they do not already (either that or give up and just let consumers offload naturally)
Spending billions on 5G at scale (given the slowdown) probably will not make a great deal of sense and even CEOs of big MNOs will gradually come to realise this… maybe 🙂
If you feel unduly provoked and threatened by this analysis (sadly, a lot of folks react to 5G criticism in precisely that way these days), please feel free to disagree. We are Wi-Fi advocates but we're not authoritarians. We believe in free speech and the voicing of qualified opinions and debates.
/Claus.