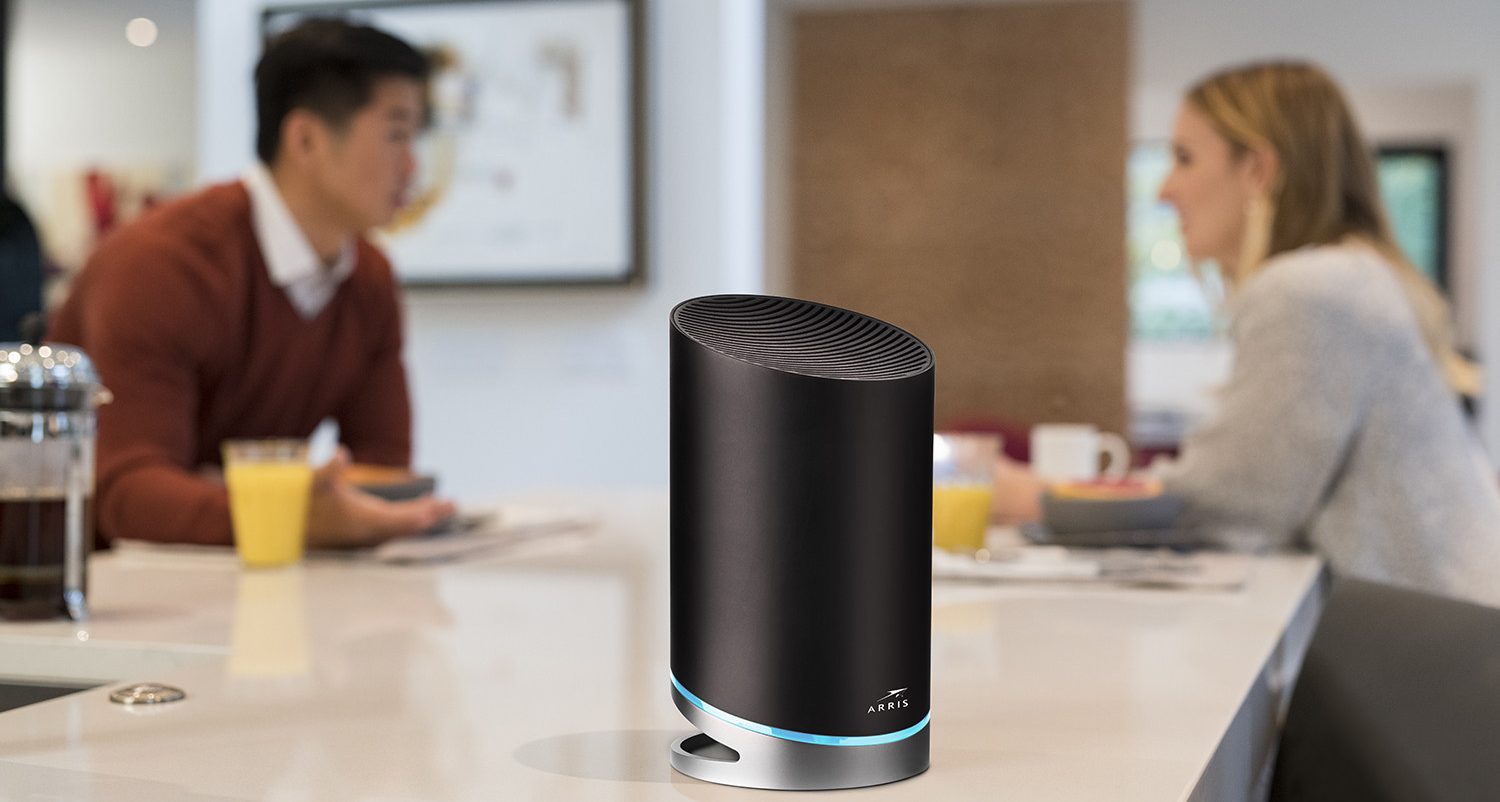 Above: ARRIS' new SURFboard mAX residential Wi-Fi router unit (source: ARRIS)
By Claus Hetting, Wi-Fi NOW CEO & Chairman
Never ever again want to worry about your home Wi-Fi not being up to scratch? This week ARRIS launched what we believe is probably the highest-performing residential Wi-Fi platform on the market today. The new kit packs a plethora of capacity-boosting Wi-Fi technologies into its cylindrical multi-AP casing. The launch is of course all about getting to the multi-billion-dollar residential Wi-Fi 6 market first.
With CES kicking off in Las Vegas on Tuesday of next week (and yes, yours truly will be there even though it is halfway around the world) big vendors are already lining up to launch a slew of new Wi-Fi products. Of course this year the Wi-Fi buzz is all about next generation Wi-Fi aka Wi-Fi 6.
And ARRIS may just have set the gold standard for what a state-of-the-art home Wi-Fi platform should incorporate. The new platform – called SURFboard mAX™ – features a tri-band multi-AP (mesh) system with 4×4 MIMO (on all three bands) with all of this operating on Wi-Fi 6. Wi-Fi 6 systems are up to 400% faster and deliver four times the range compared to the Wi-Fi 5 (802.11ac) technology most people are familiar with today, ARRIS says in their press release here.
ARRIS has done a lot to render the platform future-proof. The tri-band scheme uses the third radio (5 GHz) to establish either a backhaul link between meshed units or – in the case of a single SURFboard router – to serve more devices in the home. The company says the two-AP solution will cover 6,000 square feet (about 560 square meters) of floorspace while delivering multi-gigabit speeds to support 4k video and gaming today and 8k ditto in the future.
"As this is an all Wi-Fi 6 device we get the advantage of the efficiencies of ax [Wi-Fi 6] even in an ac [Wi-Fi 5] environment but in multi-AP mode using our tri-band radio to connect the 2 or more APs. In that way we get the immediate Wi-Fi 6 benefit for backhaul, which is key to leveraging Wi-Fi 6 even before the new clients really start to take advantage of the new standard," says Evan Groat, SVP and GM of Consumer Products Group, ARRIS.
ARRIS also believes that today's cutting-edge home Wi-Fi is at least as much about software as it is about hardware. The company says the system enables 'a seamless network that actively and automatically directs every single device to the fastest possible connection'. ARRIS uses a combination of a local Wi-Fi controller and Cloud-based management logic to arrive at a best-of-both-worlds approach to optimising home Wi-Fi, says Evan Groat.
Among a long list of upcoming Wi-Fi 6 business opportunities in 2019, managed residential multi-AP Wi-Fi is likely the biggest. Wi-Fi 6 device clients are expected to be released in the first half of 2019.
/Claus.