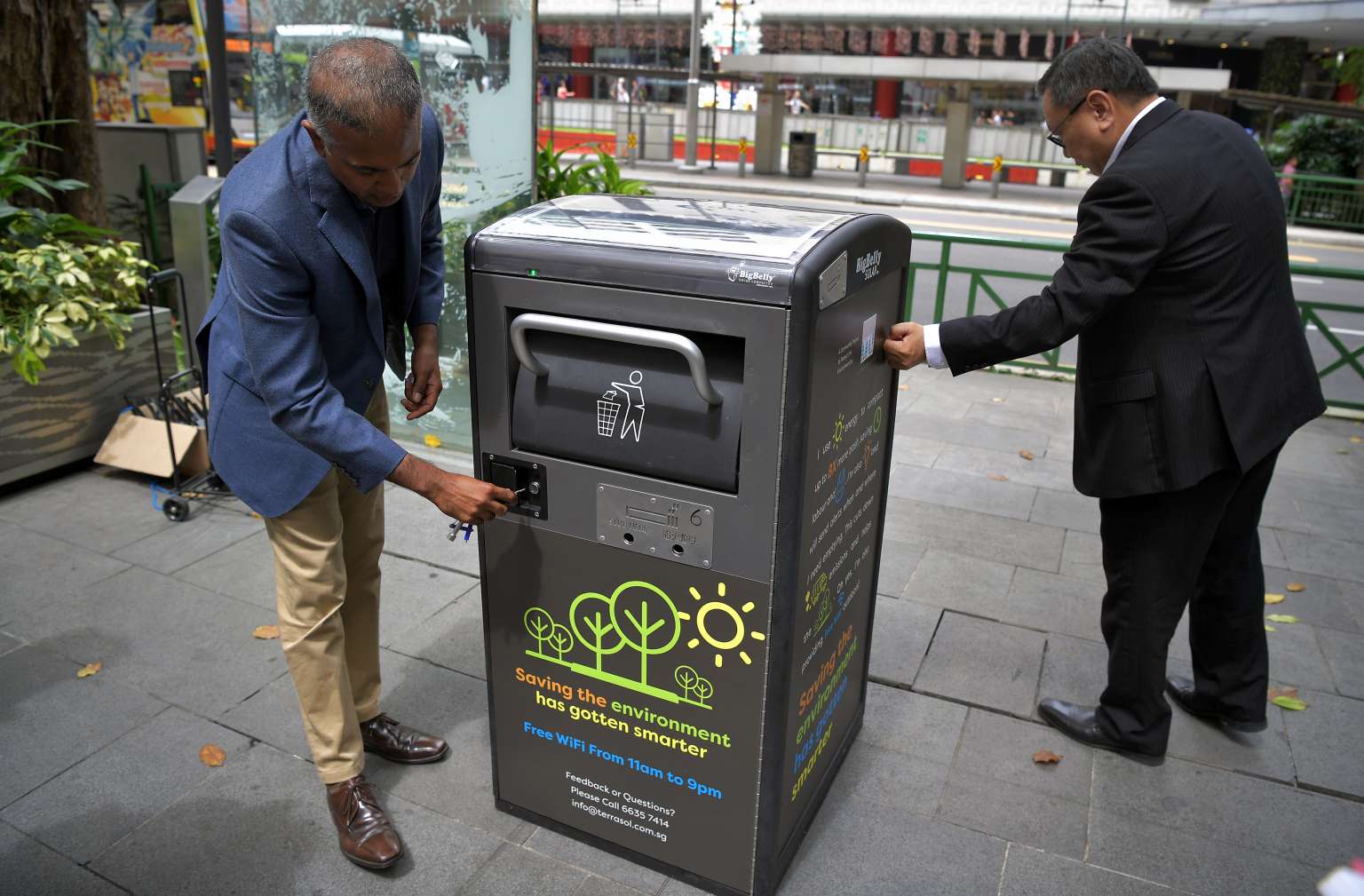 By Stephanie Kinch, Wi-Fi NOW Staff Writer
A Singaporean pilot project that has equipped public trash bins with Wi-Fi APs is so popular that its leaders are now looking for ways to provide more bandwidth to accommodate a surge in users.
The project is using the power generated from solar-powered trash compactors, adding Wi-Fi APs for public Internet access. It started last year with a trial of 10 bins on Orchard Road, Singapore's busiest shopping street. Project leaders said that the containers work well to improve productivity, cut down on waste collection, and eliminate overflowing bins.
The Wi-Fi service is also popular – so popular that the system now needs more bandwidth.
Trash bins: A backhaul challenge
The technology originates from Bigbelly Solar Inc., a US-based waste-management company. Smart sensors with 3G SIM cards help detect when the bins are full and send mobile alerts to city cleaning staff to empty them. They are solar-powered, with batteries to store excess power for nighttime operations.
As a pilot project, the bins on Orchard Road also contain integrated Wi-Fi APs from RansNet Singapore. The idea was to place APs in each container to provide Internet for shoppers and tourists up to 30-meters away and outside malls along Orchard Road. The APs get their power from the batteries in the bins.
The setup was brilliant and shoppers hopped on the network as soon as they hit the street. Great for business, but the technology still needs to be improved.
"The stability of the network when many people logged is not good enough," said one project leader. "We are working on ways to improve it that so that all shoppers can use the Wi-Fi."
Terra Sol, the company leading the project, partnered with AdZtream and Digimatic Solutions to allow Orchard Road retailers to provide promotions to consumers who log on to the local Wi-Fi network.
"Wi-Fi advertising in high footfall areas can help bring relevant brands better marketing outreach compared to outdoor advertising," says Jozua Lee, Managing Director of Digimatic Solutions. "We see a lot of potential in how the brands that have a presence on Orchard Road can utilize this new initiative to improve their promotional outreach."
Smart Cities use existing infrastructure
Forty-thousand Bigbelly bins are already in use across more than 100 cities globally.
According to an article in Forbes, Bigbelly recently changed its business model from "selling a product—waste and recycling stations—to selling a subscription-based service that could include Wi-Fi access, sensors, and digital advertising."
It's part of an ongoing smart city trend to use a city's existing resources and make them more intelligent. In New York City, LinkNYC takes old phone booths and turns them into Wi-Fi kiosks. Other places use streetlights for hotspots. In India, it's bus shelters.
The added use is especially beneficial when working with multiple government agencies. In Singapore, the waste management angle of the project could please the country's environmental agency. The Wi-Fi was a bonus to the tourist board.
Despite bandwidth issues, project leaders consider the project a success. As batteries and routers get stronger and retailers support the project through promotional outreach,  leaders say they are confident that the bins can be both waste management systems and strong Wi-Fi hotspots.
/Stephanie