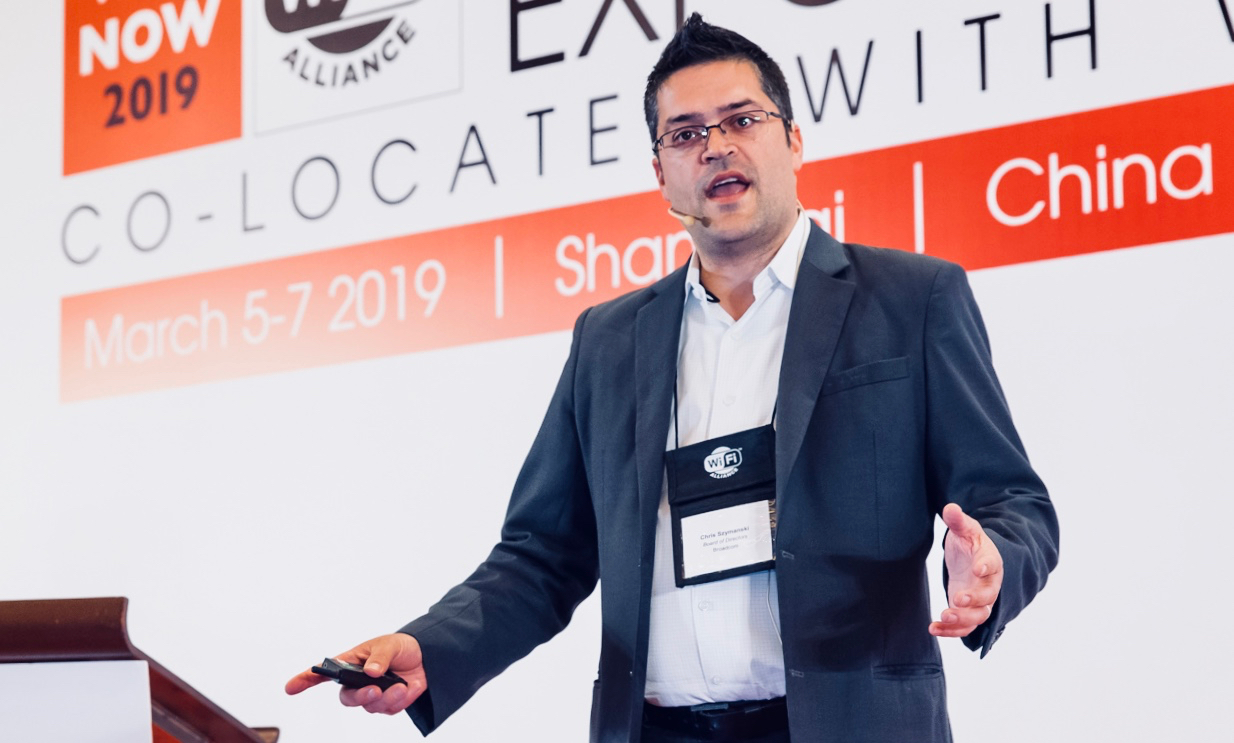 Above: Broadcom's Chris Szymanski speaking at Wi-Fi NOW APAC in Shanghai on March 7, 2019.
By Claus Hetting, Wi-Fi NOW CEO & Chairman
The release of the 6 GHz band for unlicensed use will result in Wi-Fi being used for a veritable smorgasbord of powerful new services. But extracting maximum value from the new spectrum will require a handful of significant – but sensible and fairly simple – changes to the FCC's proposed 6 GHz rules, said Broadcom at this year's Wi-Fi NOW APAC conference in Shanghai, China. 
Most Wi-Fi experts will tell you that releasing the 6 GHz band to Wi-Fi would result in what can only be described as a smorgasbord of new services. Now – and to our knowledge for the first time – we have a detailed view on exactly what such a litany of new services would look like, courtesy Broadcom's Director of Product Marketing & Government Affairs, Chris Szymanski.
Speaking at the Wi-Fi NOW APAC conference in Shanghai last week, Szymanski said 6 GHz Wi-Fi will result in a long list of attractive and remarkably powerful new services in practically every Wi-Fi segment and category and more. "We expect not just major enhancements in existing service categories but also innovative services for a range of new applications," Szymanski said.
A big boost to home, outdoor, & rural wireless
Applying the just released Wi-Fi 6 standard to 6 GHz would result in a huge boost in Wi-Fi performance. Broadcom says less than 1 millisecond of latency will be possible on 'QoS streams' while smartphones (with 2×2 MIMO) could be served at peak rates of 2.4 Gbps using 160 MHz channels. A single AP would be able to deliver 20 Gbps of bandwidth, Broadcom says.
But all of that is only a fraction of what could be in the pipeline. Outdoor Wi-Fi could be boosted to deliver more than 1 Gbps at 20 meters of distance using 160 MHz channels (non-LOS), vastly improving the utility of outdoor hotspots, smart cities, and mobile offload. New 6 GHz-based fixed point-to-point and point-to-multipoint systems could deliver as much as 1.9 Gbps at 1000 metres (line of sight), extending the reach of cable and fibre-based broadband, Szymanski said.
New & improved 6 GHz rules will be required
But realising Broadcom's vision will require changes to currently proposed 6 GHz rules, Szymanski said. Perhaps the most important rule change advocated by Broadcom – and likely supported by the majority if not practically all other Wi-Fi vendors – is permitting indoor low-power AP operation right across the full breadth of the 6 GHz band without the use of AFC.
Until now the FCC has not said whether low-power AFC-exempt indoor operation could be permitted in the UNII-5 and UNII-7 bands (for 1 W standard AP power applying the so-called AFC function for interference mitigation is a mandatory part of current proposed rules).
For the rule change to happen the industry and the FCC would need to coalesce around the reasonable conclusion that signals from indoor low-power APs are highly unlikely to interfere with a relatively few and widely scattered incumbent services in the UNII-5 and UNII-7 bands.
Broadcom also suggests adding a so-called 'Very Low Power Portable' class of 6 GHz Wi-Fi APs. The idea here is that very low power APs would be used for applications with a range of a couple of meters, for example for AR/VR in vehicles, mobile device tethering, and more. Very low power APs are already defined within the European Union (or CEPT) regulatory regime, Szymanski said, and hence the first steps towards international harmonisation are already in place.
Six gigahertz activities ramp up across the world
Meanwhile the wireless industry is beginning to gear up in preparation for the release of the 6 GHz band. Fierce Wireless reports that Facebook has applied to the FCC for temporary permission to use the band for testing of point-to-point radio at or around Facebook's headquarters in Menlo Park, California. Late last month Intel pulled off the world's first – as far as we know – public 6 GHz Wi-Fi demo at Mobile World Congress in Barcelona.
According to Broadcom's estimated regulatory process timeline the FCC's final ruling on the release of the 6 GHz bands could happen some time between fourth quarter this year and mid next year while a European ruling could come as early as July next year.

Above: An overview of Broadcom's suggested rules for 6 GHz Wi-Fi. Graphic courtesy Broadcom.
/Claus.