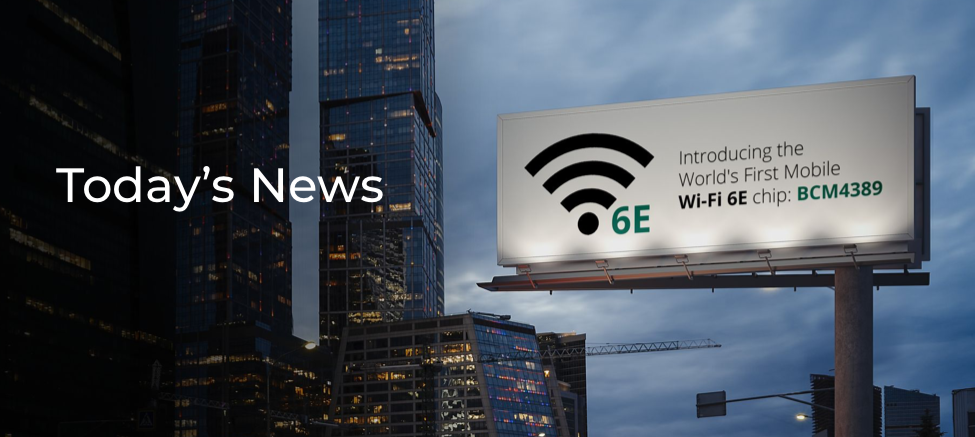 By Claus Hetting, Wi-Fi NOW
Already ahead of the Wi-Fi 6 chipset competition by a wide margin, Broadcom today announced availability of the world's first 6 GHz Wi-Fi 6 (Wi-Fi 6E) chip for smartphones. The new chip (dubbed BCM4389) delivers more than 2 Gbps of speed and even up to five times better battery utilisation, Broadcom says. 
Not sure you believe in the reality of 6 GHz Wi-Fi just yet? Time to think again: Today chipset vendor Broadcom just launched the world's first 6 GHz Wi-Fi chip for mobile devices. That means 6 GHz Wi-Fi (aka Wi-Fi 6E) is getting very real, very fast. Broadcom doesn't say anything about this in their press release but our best guess is that the first Wi-Fi 6E phones hit the markets late this year. And it's probably a pretty good bet that Samsung will be the first to launch a Wi-Fi 6E phone.
So what will this mean in terms of performance?
With the first phones in the pipeline it's high time to wrap your head around what Wi-Fi 6E will mean in practice. And a good deal of wrapping will be required because (as we also wrote in our editorial here) Wi-Fi 6E is not just another simple step up. It's a paradigm shift in wireless. Broadcom says tests show the new 2×2 chip delivering real speeds of 2.1 Gbps to your phone (on a 160 GHz channel) where 'normal' Wi-Fi 6 (on 5 GHz and an 80 MHz channel) delivers 'only' 400 Mbps.
Enjoying this story?
Leave your email here and we'll get you all the latest Wi-Fi news.
Another perhaps even more consequential feature of Wi-Fi 6E is consistently low latency – meaning very little variation on latency at all. This in turn means Wi-Fi 6E is exactly what gamers and plenty of new real-time use cases have been waiting for. Broadcom says their tests easily demonstrate this: While 5 GHz Wi-Fi 6 delivers a spread from 2 ms to 12 ms of latency, Wi-iFi 6E very rarely delivers anything but exactly 2 ms.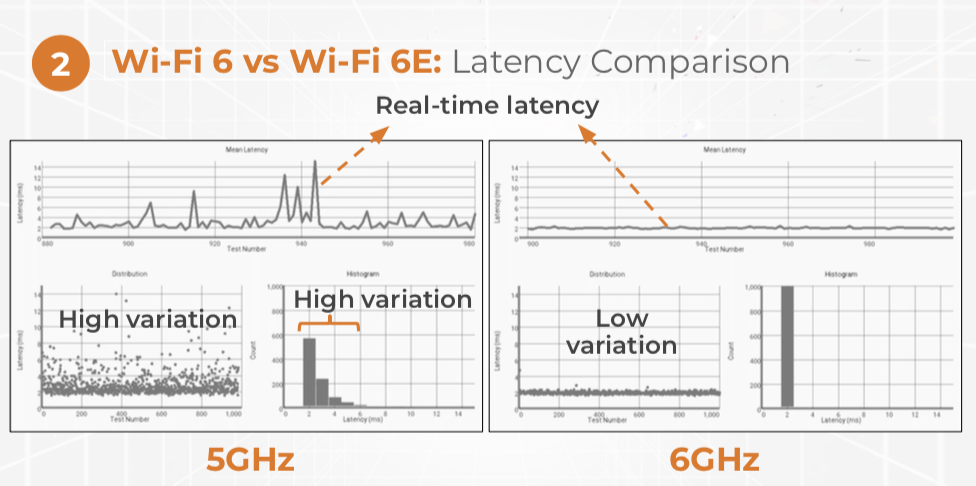 So all of this would mean that we need a lot more phone battery capacity to drive the new 160 GHz channels and higher speeds, right? Well, Broadcom says they've got that issue covered, too. In fact Broadcom says their tri-band simultaneous (called 'TBS') architecture – incorporating an ultra-low power third radio for performance optimisation – results in up to five times better batter utilisation (at 0.5 mA instead of 2.5 mA of electrical current).
FCC's final 6 GHz ruling is still pending – but imminent
All of this comes with one big caveat: We still haven't seen the FCC's final decision on what rules will apply to the new 6 GHz band. At this point most believe it unlikely that the FCC's big and visionary plan to set 1.2 GHz of new airwaves free will fail in any significant sense of the word. But the exact rules could still make or break particular use cases and create (or destroy) entire new unlicensed wireless markets. Our best bet is that the FCC will do the right thing – and let innovation reign.
Both Broadcom and Celeno launched networking (access point and router) chips for 6 GHz at CES Las Vegas in January. Broadcom says the new chip for mobile devices released today is already sampling. The FCC's final 6 GHz ruling is expected by most to happen within a few months.
/Claus.