By Claus Hetting, Wi-Fi NOW CEO & Chairman
Intel launches Wi-Fi 6E on new 11th generation Intel vPro laptop platform
Today at the Consumer Electronics Show (CES) Intel launched their first Wi-Fi 6E-capable (6 GHz Wi-Fi) chipset platform for laptops as an integrated subsystem of the latest Intel vPro release. This is the eleventh generation of Intel Core vPro processors and the first to support Wi-Fi 6E.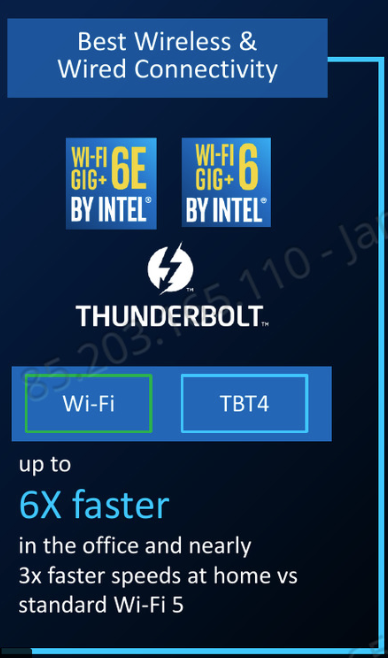 Intel is marketing this as 'the best thin & light laptop experience for business' as well as best platform for productivity and collaboration. At the pre-launch event Intel didn't specifically elaborate on the multiple benefits of Wi-Fi 6E except to say the new Wi-Fi 6E technology will be up to six times faster in an office environment and up to three times faster at home compared to standard Wi-Fi 5. The performance hike is predominantly driven by the availability of 160 MHz channels, Intel said.
Intel is still the dominant provider of processors and Wi-Fi chipsets for laptops. During the pre-launch event Intel said that they expect 60 new laptop products to feature the new vPro platform in 2021. We're thinking that not all of these will support Wi-Fi 6E (also due to the fact that many countries still need to release the band) although they will likely at least support Wi-Fi 6.
In November last year word was leaked that Intel had indeed made commercially available (from China) a unit that was technically the world's first commercially available Wi-Fi 6E-capable client device in the form of a desktop wireless kit. Read more here.
Finally: We're delighted to announce that Intel is a recent Wi-Fi NOW Partner, which means we will be working with Intel's Wi-Fi experts all throughout 2021 to disseminate the latest in business-critical Wi-Fi industry insights and information. Watch this space.
Enjoying this story?
Leave your email here and we'll get you all the latest Wi-Fi news.
CommScope expands ARRIS SURFboard family – but leaves out 6 GHz for now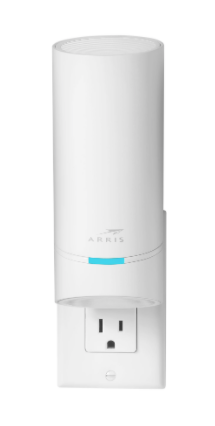 At CES CommScope announced it is expanding its popular family of consumer-grade ARRIS SURFboard routers. The company says it will be showcasing two new units: The SURFboard mAX and the SURFboard mAX Express. Both are mesh nodes intended to deliver whole-home Wi-Fi 6 performance with the SURFboard mAX delivering tri-band capability with up to 6.6 Gbps of speed per router and covering an impressive maximum living area of 5,500 square feet with two routers (510 square meters).
CommScope's new ARRIS SURFboard mAX Express Wi-Fi 6 capable tri-band extender is a smaller wall-socket pluggable extender unit (see photo to the left). Both new routers are tri-band where the third band is a dedicated 4×4 Wi-Fi 6 radio usually dedicated to backhaul. None of the routers are thus far Wi-Fi 6E (6 GHz) capable. CommScope will also debut its new SURFboard Central app for self-management of home Wi-Fi networks. The new SURFboard mAX starts at US$249.99 (single unit) and is available at SURFboard.com. The full press release is available here.
/Claus.