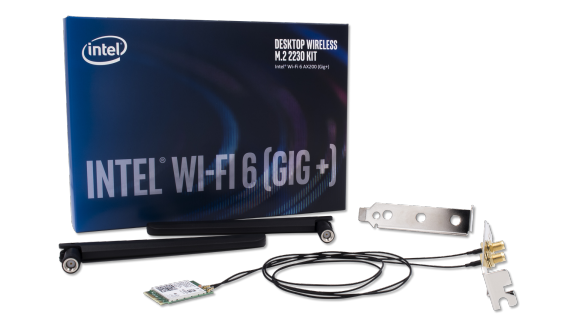 By Claus Hetting, Wi-Fi NOW CEO & Chairman
No announcement, no press release, no fanfare of any kind – but it does appear that Intel last week released what we believe is the world's first Wi-Fi 6E (6 GHz) client device. Meanwhile reliable rumour has it that Samsung's new Galaxy S21 Ultra will be 6E-capable. The new Samsung phone will be released inside of a couple of months, Android Police says.
With no announcement of any kind, it emerged last week (from various sources including this one) that Intel has begun delivering what we believe is the world's first Wi-Fi 6E capable device in the shape of an M.2-format card that can be installed into compatible desktops or laptops.
The product has been named 'M.2 2230 Desktop Wireless Kit' and ships from China – you can order it from this online reseller. If you want your desktop or laptop PC to actually connect to a network using 6E technology, your are of course going to need a Wi-Fi 6E Access Point. The only 6E-capable Wi-Fi AP thus far released – that we know of – is this unit from ASUS released just a few weeks ago. So yes, if you want to get started on 6 GHz Wi-Fi networking already today, it is indeed already possible with commercially available equipment.
Meanwhile – as we've already alluded to in a previous post – Samsung is as expected on track to become the world's first phone maker with a 6E product. According to exclusive fresh rumours from the Android Police publication Samsung will incorporate 6 GHz Wi-Fi into their flagship Galaxy S21 Ultra product. Android Police says the Galaxy S21 launch is just 'a few months out'.
The Wi-Fi chipset platform for the Samsung Galaxy S21 Ultra is – as always – provided by Broadcom, who also supplies Wi-Fi technology to Apple. Thus Broadcom continues to supply the world's two largest phone manufacturers with Wi-Fi technology.
/Claus.