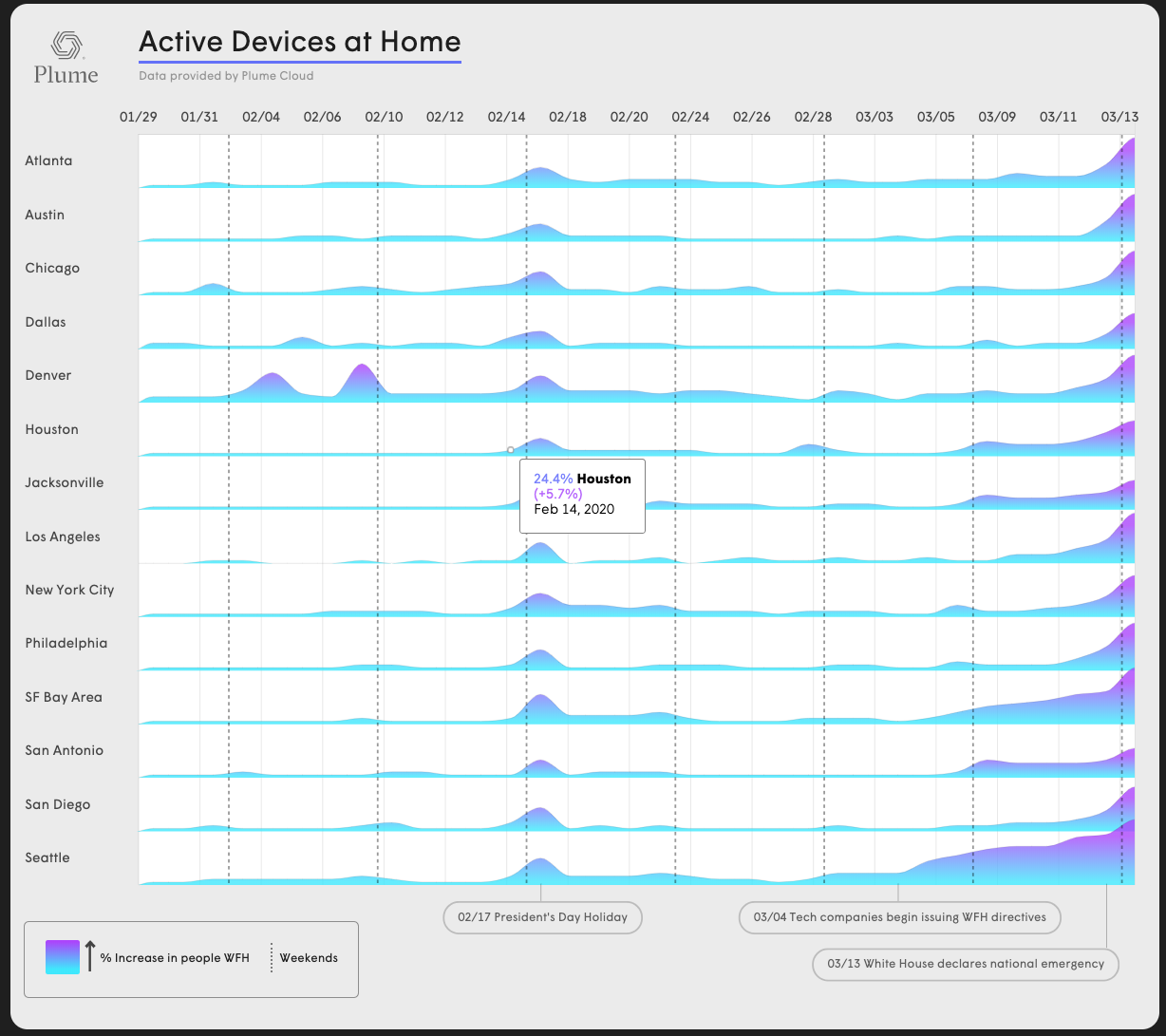 By Claus Hetting, Wi-Fi NOW CEO & Chairman
The effect of the corona pandemic on telecoms services and traffic should be unsurprising but now we have our first batch of actual data: Number of connected mobile devices as measured in previous heavy traffic areas has dropped dramatically, while home usage surges in the US and Denmark. Here's what we know.
It's all very predictable: When people stay at home – and presumably work from home, too – number of connected mobile devices drops and home Wi-Fi usage soars. Now we have the first reports and numbers confirming exactly that. According to this news report by Bloomberg number of connected mobile devices in Korea at Seoul's MyeongDong shopping district dropped 67% compared to 4 weeks earlier (the numbers are from March 6).
In Italy the numbers are a little better for March 3: Number of mobile devices connected at Milan's fashion district Qaudrilatero della Moda drop 38% compared to a month before. We can only imagine that the numbers  today – following drastic corona-curbing measures in Italy – are likely a lot lower. The Italian and Korean numbers are provided by mobile analytics company UberMedia.
Meanwhile Wi-Fi optimisation and home broadband middleware platform leader Plume reports that the number of Wi-Fi connected devices in the home in the US is up between 52% to more than 90% in the US depending on city. The highest surge in home Wi-Fi connections is in the Seattle area, where the increase in connected devices is 90.2% compared to the average level before the corona crisis.
Connected home Wi-Fi devices in the San Francisco Bay Area is up 85.3% and in Philadelphia the number is 73.4%, a Plume spokesperson says to Wi-Fi NOW.  "This is part of Plume's ongoing work with ISPs to ensure home Wi-Fi is reliable and supported – particularly important during a time when many people are moving to remote working," says Plume.
For a graphical overview of all the statistic collected by the Plume Cloud, see this link. The Plume Cloud manages 650 million Wi-Fi devices across 14 million households in the US and elsewhere, the company says. Read more about Plume's vision for home services here.
Regional Danish WISP Skywire reports 40+% increase in home ISP traffic since the corona outbreak.
/Claus.