By Claus Hetting, Wi-Fi NOW CEO & Chairman
The European Commission last week announced the final batch of WiFi4EU grant giveaway winners as well as a map of the end result of the entire multi-year free Wi-Fi grant program. A total of 8,900 municipalities have now received 15,000 EUR each to build free Wi-Fi hotspots. Still the question remains: Can the EC's ambitious free Wi-Fi project be declared a success?
Last week the European Commission (EC) announced the final batch of winners and proudly announced the final result of the giant €120 million EUR free Wi-Fi grant giveaway: A total of 8,900 municipalities across Europe have each received €15,000 (in the form of vouchers) for building WiFi4EU-branded free Wi-Fi hotspots. The EC also released the map (see below) showing the locations of participating municipalities (individual country maps are also available here).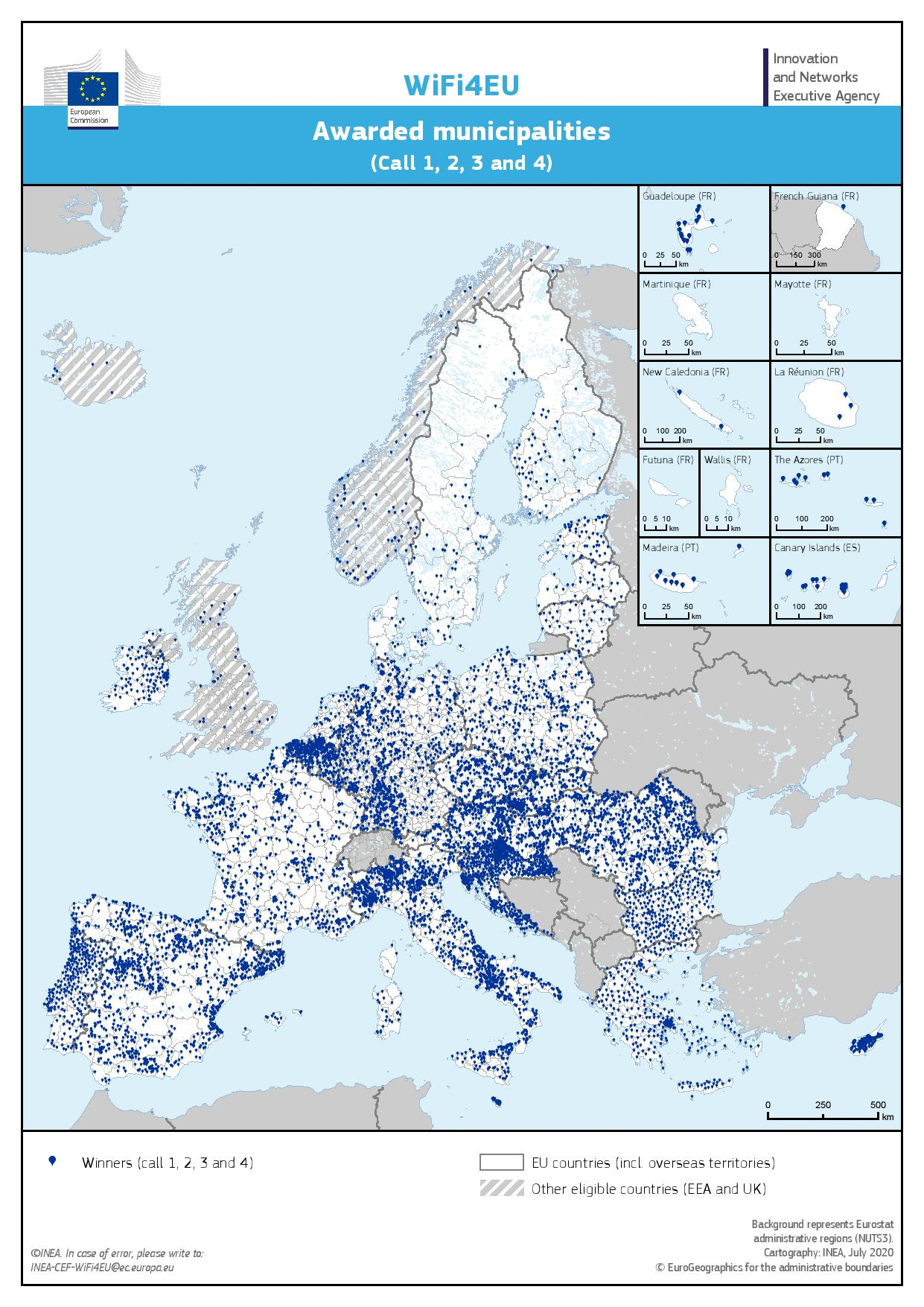 Can the EC's ambitious free Wi-Fi project be declared a success? Thus far the EC has succeeded in safely giving away €120M to thousands of municipalities and in this sense, the project has arguably been (despite a few glitches) an administrative success, which is sure to delight the EC's leadership. It has obviously also been a popular success in terms of demand: More than 29,000 municipalities across Europe registered to receive grants, the European Commission says on the WiFi4EU portal here.
But while the map does look impressive the EC has not as yet indicated where prospective European travellers can find operational free WiFi4EU hotspots. In other words: We simply don't know (although we have asked) which WiFi4EU networks are currently up and running and how much these networks are being used.
We also don't know (although we have asked) whether or not the EC's WiFi4EU single authentication system procurement and deployment process (we wrote about it here) in any part has been concluded although it appears that last year's tender has been duly closed.
The authentication service is arguably key to the wider success of WiFi4EU. It would work like this: Once a user has created credentials for using one the free WiFi4EU service in one location that user should be able to use the same credentials (and hopefully securely auto-connect) at another. This may sound like a detail but actually is the one feature that will transform WiFi4EU from a thousands of random hotspots into a consolidated, pan-European Wi-Fi service. Other key components of a successful service include effective network monitoring, technical support, and maintenance.
We've asked the European Commission leadership a number of questions and hope to be able to update this story for you in short order.
/Claus.