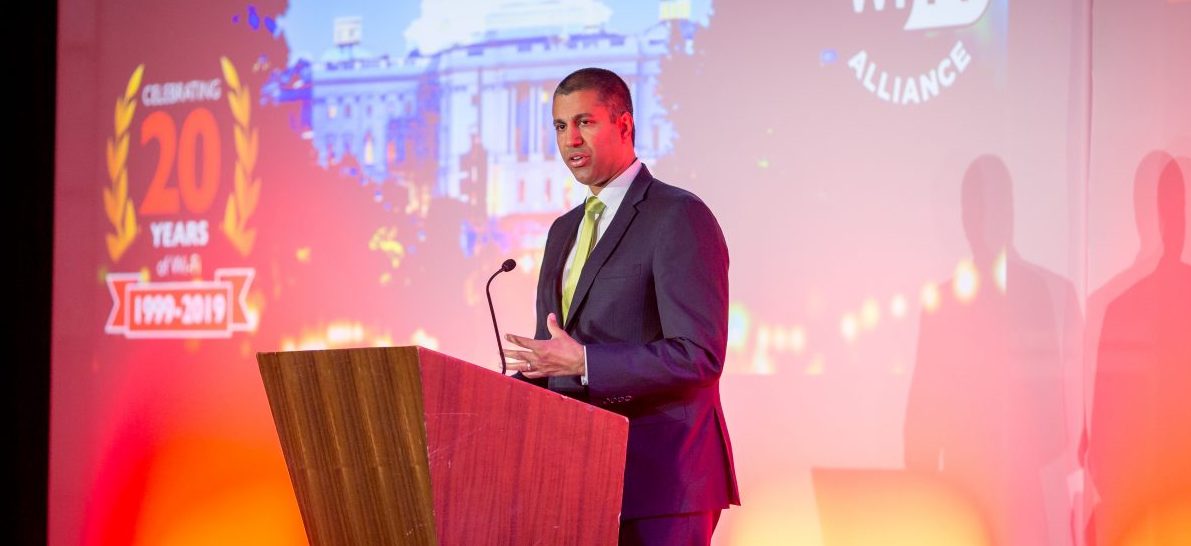 Above: FCC Chairman Ajit Pai speaking at Wi-Fi NOW USA in Washington DC last week
By Claus Hetting, Wi-Fi NOW Chairman & CEO
The 5.9 GHz band lies in the sweet spot between existing 5 GHz (Wi-Fi) bands and prospective new 6 GHz (Wi-Fi) bands – and now it's finally time to push for a fresh set of rules for 5.9 GHz, said FCC Chairman Ajit Pai at Wi-Fi NOW USA last week. Among the options is rendering this spectrum unlicensed, Pai said.
FCC Chairman Ajit Pai is reopening the case for reallocation of the 5.9 GHz band to new uses including possibly Wi-Fi. Chairman Pai made the announcement in a speech to about 300 attendees at the Wi-Fi NOW USA expo and conference held at Tysons Corner, Virginia last week.
The 75 MHz of band in 5.9 GHz has been a contentious issue for years because the current licensee – The US Department of Transportation – since 1999 has left the band largely unused by so-called DSRC (Dedicated Short Range Communications for vehicle-to-vehicle applications) technology.
"I believe that the time has come for the FCC to take a fresh look at this band. We should open up a rulemaking proceeding, seek comment on various proposals for the band's future," Chairman Pai said in his prepared statement. He also highlighted various options for its utilisation.
Enjoying this story?
Leave your email here and we'll get you all the latest Wi-Fi news.
"We could allow for sharing between unlicensed devices and automotive communications technologies in the lower 45 MHz of the band, while reserving the upper 30 MHz exclusively for vehicle-to-vehicle technologies. We could split the band, with the lower 45 MHz allocated exclusively for unlicensed and the upper 30 MHz allocated exclusively for vehicle-to-vehicle technologies. Or we could allocate the entire 75 MHz band exclusively for unlicensed use," Chairman Pai said.
He also urged the Wi-Fi industry to offer help towards freeing the 6 GHz band to Wi-Fi. "We're working through some complex technical issues both internally and with outside stakeholders, and that includes many in this room. I appreciate your input. But questions remain and the clock is always ticking, so I urge you to help us find creative solutions," Chairman Pai said.
In fall of last year, FCC Commissioner Jessica Rosenworcel also called for the reopening of case for Wi-Fi in the 5.9 GHz band. Chairman Ajit Pai's remarks on 5.9 and 6 GHz delivered at Wi-Fi NOW USA on May 14 can be found in their entirety here.
/Claus.
The 5.9 GHz band is valuable mid-band spectrum that's been largely fallow for two decades. It's time to launch a comprehensive review of the future of this band, make a sober assessment of the facts, and then make a timely decision on the best way forward. https://t.co/cN7zDAzFpT pic.twitter.com/bi0mOUSQ7D

— Ajit Pai (@AjitPaiFCC) May 14, 2019