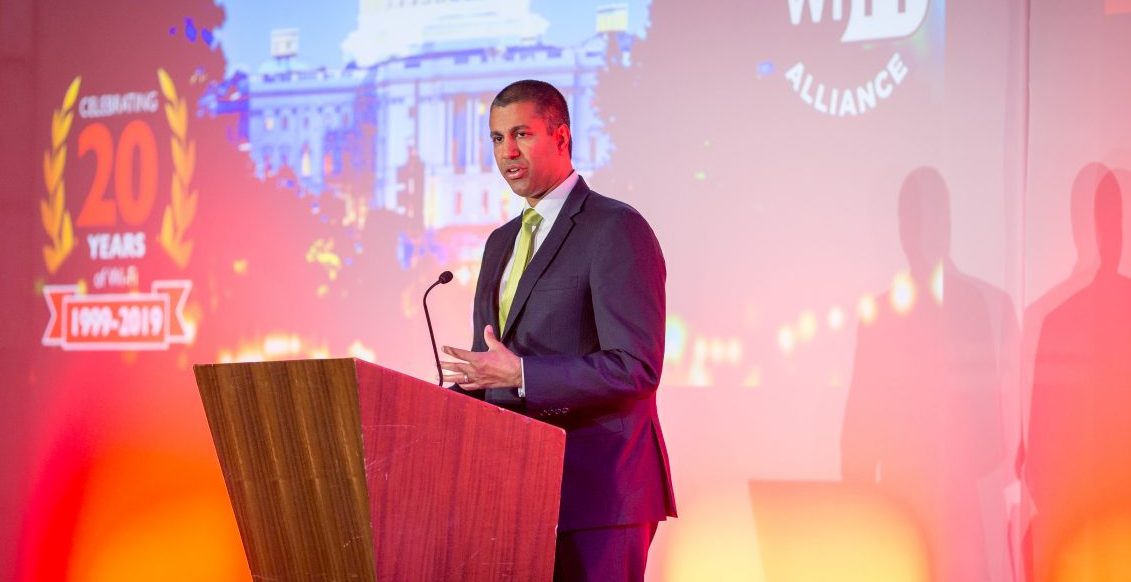 Above: FCC Chairman Ajit Pai speaking at Wi-Fi NOW USA in Washington DC, May 2019.
By Claus Hetting, Wi-Fi NOW CEO & Chairman
Speaking at the 8th Americas Spectrum Management Conference held at the National Press Club in Washington DC yesterday, FCC Chairman Ajit Pai reiterated the US regulator's intent to release the 6 GHz band to Wi-Fi and other unlicensed uses. The exact rules for the new regulation remain pending.
FCC Chairman Ajit Pai has reiterated the FCC's intent to release all of 1.2 GHz more spectrum to Wi-Fi (and other unlicensed) use. The statement was made in a speech to delegates at the 8th Americas Spectrum Management Conference held in Washington DC yesterday.
The exact wording of the statement was as follows:
"This past October, the FCC began to explore opening up 1,200 megahertz of spectrum in the 6 GHz band for different types of unlicensed uses. This band is currently populated by microwave services that are used to support utilities, public safety, and wireless backhaul. But studies have shown that sharing this band with unlicensed operations is feasible—and can put massive amounts of new spectrum into the hands of consumers," Chairman Pai said.
Enjoying this story?
Leave your email here and we'll get you all the latest Wi-Fi news.
Database lookup scheme could stifle benefits
But for consumers – and businesses – to extract maximum value from the huge new Wi-Fi bands, the devil is very much in the regulatory detail: The exact rules for 6 GHz spectrum sharing remain pending. Many experts believe the future success of 6 GHz Wi-Fi will be determined by extent to which the FCC will allow a simple method by which Wi-Fi can share the 6 GHz band with incumbents.
As Chairman Pai alluded to above both recent European and US studies demonstrate the feasibility of incumbent users sharing the spectrum with Wi-Fi. While some parties have proposed that a database lookup scheme – called AFC or Automatic Frequency Control – be deployed to avoid any remnant of interference risk, others argue strongly that such a scheme would be an unnecessary hindrance for the adoption of low power indoor (LPI) and very low power (VLP) applications.
It is now up to the FCC and the wireless industry to strike the right balance between reaping potentially enormous socio-economic rewards from 6 GHz Wi-Fi and protecting incumbent users from what at this time appears to be a small risk of interference.
The importance of Wi-Fi spectrum to 5G success
And although the technical standards for Wi-Fi and 5G are unrelated, the two wireless technologies will impact each other. Many believe the availability of sufficient Wi-Fi offload and device tethering (meaning Wi-Fi backhauled by 5G) are instrumental to the future success of 5G.
"Opening the 6 GHz band to low power indoor (LPI) and very low power (VLP) portable applications is key to onramp 5G services in America. Under the leadership of Chairman Pai, we're optimistic the FCC can move quickly to open this important band, as there's been unprecedented technical and engineering work already done to ensure protections for incumbent operations and that unlicensed technologies can coexist with other users," says Chris Szymanski, Director of Product Marketing and Regulatory Affairs at Broadcom.
For more about 6 GHz regulation and opportunity in the UK and Europe, don't miss our 6 GHz symposium taking place at Wi-Fi NOW International in London on November 12-14. Go here to register now.
/Claus.