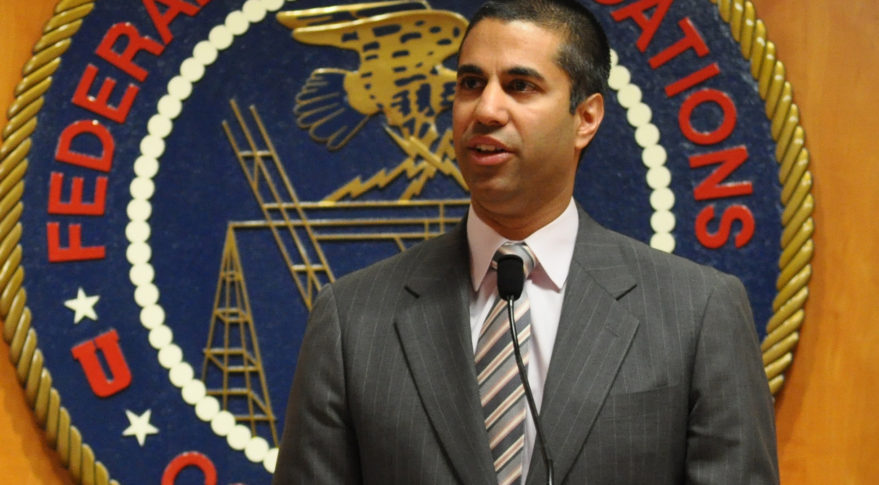 Above: FCC Chairman Ajit Pai
By Claus Hetting, Wi-Fi NOW CEO & Chairman
The FCC steps closer to allowing unlicensed (Wi-Fi) operation in the 6 GHz band: In a FIFA World Cup-themed blog released June 20 – mostly dedicated to 5G spectrum issues – Chairman Ajit Pai says the FCC will move forward on rule making for the 6 GHz band "this fall". 
The statement holds enormous promise for the Wi-Fi industry and for Wi-Fi-hungry consumers everywhere. A study from last year commissioned by the Wi-Fi Alliance concluded that more than 500 MHz of additional spectrum is needed for Wi-Fi by 2025 lest common Wi-Fi services should begin deteriorating and lose their effectiveness and value.
Tech giants pushing hard for Wi-Fi in 6 GHz
Ajit Pai's statement is thus far the culmination of a rule making process that began with the FCC issuing a 'NoI' (Notice of Inquiry) on July 14 last year. In response to the NoI a conglomerate of tech giants including Google, Apple, Facebook, Microsoft, Broadcom, Qualcomm and many others filed a comprehensive report with the FCC in support of 6 GHz for Wi-Fi.
In January of this year a report commissioned by the same conglomerate and authored by Maryland-based consultancy RFK Engineering Solutions concluded that unlicensed use of 6 GHz would have negligible impact on the current applications in the band. That prompted FCC Commissioner Michael O'Rielly to tweet that he would like to see the FCC issue a 'Notice of Proposed Rule Making' (NPRM) already this summer. That date has now been pushed into the fall of 2018 by Chairman Pai.
So what's next?
The 'Notice of Proposed Rule Making' is not the final step in the FCC's regulatory process. "The NPRM is the FCC's proposal for rules in 6 GHz for which the Commission will seek public comment. Subsequently, based on input received, FCC will issue a Report and Order. That will finalize their decision," says Alex Roytblat, Senior Director of Worldwide Regulatory Affairs at Wi-Fi Alliance.
Alex Roytblat says he is hopeful that the FCC's regulatory process to allow unlicensed use of 6 GHz will be completed by end of 2019 – if all goes well.
A windfall for wireless
Opening the 6 GHz band for Wi-Fi use in the USA would arguably be a windfall for the Wi-Fi industry, for businesses, and not least for consumers. A 6 GHz rule making by the FCC could potentially double the amount of Wi-Fi spectrum available today. It addition to being a huge boost to Wi-Fi speeds and capacities, such a decision would doubtless spark another surge in wireless innovation.
/Claus