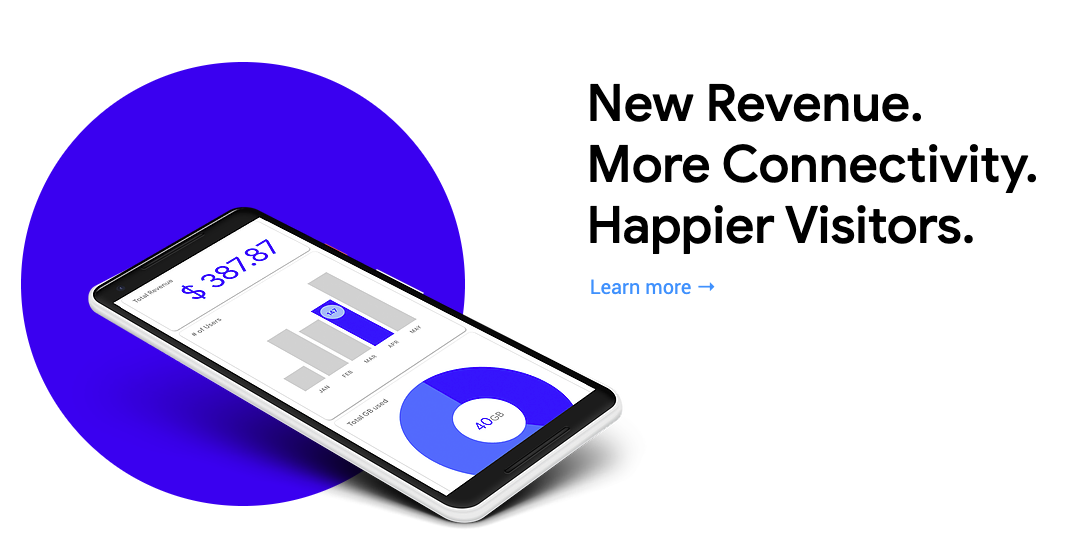 By Claus Hetting, Wi-Fi NOW CEO & Chairman
A new initiative from Google's in-house incubator Area 120 launched today means Google could be about to pull off what no Wi-Fi offload scheme has done before (or at least not at scale): Empowering venues – anything from a mall to a grocery store – to make money on Wi-Fi offload. If Google is successful, 'Orion WiFi' could be the first step towards a brave new world in ubiquitous indoor wireless – using Wi-Fi, of course. 
A brand new Wi-Fi offload scheme from Google's in-house incubator Area 120 launches today and if all goes well, 'Orion WiFi' could be the harbinger of a paradigm shift in indoor wireless powered by Wi-Fi. Many have tried but here's the key difference between Orion Wi-Fi and everything else: Google is facilitating that privately owned public venues – in principle anything from a grocery store to Disneyworld – be paid for making Wi-Fi available to mobile service providers.
Signing up for Orion WiFi – and making it work
Here's roughly how it works: If you're public venue – say a restaurant or a conference centre, for example – and you want to make your Wi-Fi available to people with phones walking into your facility, you can sign up to become part of the Orion WiFi service on the new Orion portal available here.
Basically you connect with your Google account to set up your enterprise Wi-Fi network to work with Orion WiFi. Google says Orion WiFi works with 'most commercial and enterprise Wi-Fi systems,' by which they presumably mean most Wi-Fi APs and (more importantly) controllers.
Enjoying this story?
Leave your email here and we'll get you all the latest Wi-Fi news.
Once your Wi-Fi network is part of the Orion WiFi service, Google Fi and Republic Wireless subscribers walking into your venue will auto-connect to your Wi-Fi network – provided that quality and price is in order, Google says. "Orion WiFi helps the local network tell the carrier about its price and quality. If the carrier decides the connection is good enough, we'll auto-connect you. If the quality is too low, we won't," Google says in their blog. The venue will then receive payment "based on foot traffic, network quality, and other factors", Google says on the Orion WiFi website here.
Google has with this scheme – at least in theory – fixed perhaps the two biggest Wi-Fi offload roadblocks: Quality (meaning not handing calls off to bad quality Wi-Fi) and auto-connect (smartphone users have to do exactly nothing on their phone to connect). If all of this works as intended, Orion WiFi could attract interest not just from a few MVNOs but all mobile carriers in the US. Google has not yet revealed the deeper technical details of the service, but says it is working with vendor partners CommScope, Mist, and Cisco 'to make Wi-Fi roaming even more powerful'.
Will venues buy into this?
So will Orion WiFi be successful? Depending on how well the technology – meaning auto-connect and quality control – works, this could work out well for mobile carriers, i.e. satisfy the demand-end of the Orion WiFi business model. The remaining question is whether a new revenue stream and auto-connect is enough reason to make the Wi-Fi supply (meaning venues) to sign up at scale.
Google is betting big on the idea of automatic access to great Wi-Fi is more valuable to venues than the alternative, which is usually a less than convenient captive portal signup. Most venues do not allow guests to auto-connect to Wi-Fi because a captive portal is one of the few ways to engage with guests by for example asking them for personal information in return for Wi-Fi access.
Venues will have to weigh whether what Orion WiFi is offering is better or worse than the benefit they receive from using captive portals. In the end what a venue chooses to do will depend on how effective they are at using captive portals to their benefit, the type of venue (congress facilities, trains, etc. may not care at all), and what Orion WiFi is offering as a substitute.
The ultimate solution – of course – would be for venues to benefit from both guest engagement and auto-connect. No word yet on the possibility of Orion WiFi introducing something along those lines.
Here's what's coming for sure: A paradigm shift
Whether or not Google is spectacularly successful with Orion WiFi – and for the record we hope they are and we do believe they will amass support at scale for this – a paradigm shift is coming. And by that we mean that Wi-Fi without a doubt and by a wide margin will extend its lead as the preferred ubiquitous technology for indoor wireless. We've covered it here.
There are a number of fairly obvious reasons for this including a great new standard (Wi-Fi 6) and so much new Wi-Fi spectrum (1.2 GHz in the 6 GHz band) that it frankly boggles the mind. Nearly any 5G signal will have a difficult time reaching the indoor users. Add to this that indoor cellular systems of 5G (or any G) will be prohibitively expensive and will never serve up capacity in the right copious amounts.
Kudos to Google for understanding that the right time for a paradigm shift in wireless – is now.
/Claus.
Don't miss Orion WiFi's Raj Gajwani speak at the Virtual Wi-Fi World Congress on October 8 – more information about this session to be provided shortly.