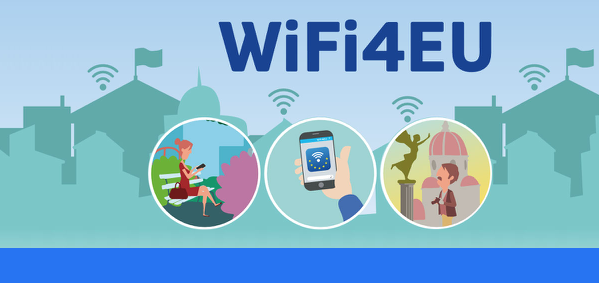 By Claus Hetting, Wi-Fi NOW CEO & Chairman
Public service notice: If you're a municipality within the EU and you're interested in receiving a €15,000 grant from the European Commission (EC) towards building free Wi-Fi then this week is your chance: On Thursday April 4 at exactly 13:00 hours CEST the European Commission will reopen the application portal. This time the EC intends to give away €51 million in WiFi4EU grants.
This week the European Commission will open up for another round of WiFi4EU grants. And if you are interested, you have better get a move on: The portal for grant applications will open at exactly 13:00 CEST on Thursday April 4. The EC will issue Wi-Fi CAPEX grants to the tune of €51 million, which means a total of 3,40o municipalities across the EU will receive grants of €15,000 each.
In order for a municipality to participate in the WiFi4EU grant bonanza you will need to go to the WiFi4EU main page here and first register your interest. Then as soon as the portal opens on Thursday, you can log in and apply for the grant. During the first attempt at a call of this type in early 2018, the grant portal buckled under the traffic load but the issue has since been fixed.
During the previous call for WiFi4EU applications – which happened in November 2018 – a total of 2,800 municipalities were awarded a €15,000 grant each totalling a cash out of €42M for the European Commission. The EC says that at the time more than 13,000 municipalities applied, hence leaving more than 10,000 empty-handed. This time the total grant amount has been increased to €51M in order to accommodate the huge interest, the EC says.
As far as we know at Wi-Fi NOW none of the WiFi4EU grants already awarded have as yet resulted in live, free WiFi4EU-branded Wi-Fi services. If you have information to the contrary, we would be delighted to hear from you. The EC intends to begin a procurement process for a common authentication and roaming service to serve WiFi4EU networks although this activity appears to be delayed and is only likely to conclude by the end of the year, the EC says.
/Claus.