By Claus Hetting, Wi-Fi NOW CEO & Chairman
Well – you can't accuse Qualcomm and Japanese electronics giant NEC Platforms of procrastination: Last week Japan's telecom regulatory authority released (part of) the 6 GHz band to Wi-Fi and then this week NEC Platforms announced Japan's first two Wi-Fi 6E home gateways powered by Qualcomm chipsets. Qualcomm says end-user devices from Sony and NEC are in the pipeline for second half of this year or first half of next. 
Last week Japan's Ministry of Internal Affairs and Communications (MIC) formally announced that Wi-Fi operation in the 6 GHz band is now permitted, which means Japan joins 21 other countries in adopting Wi-Fi 6E and future Wi-Fi 7. Then this week Japanese electronics giant NEC Platforms announced their first Wi-Fi 6E products powered by Qualcomm.
The two new Wi-Fi 6E home gateway products are dubbed NEC Platforms Aterm WX7800T8 and Aterm WX11000T12, respectively (see the graphic below). The high-end WX11000T12 gateway is powered by Qualcomm's Networking Pro Series 1210 platform while the more modest WX7800T8 features Qualcomm's Immersive Home 318 platform.
Qualcomm says both new gateways are available in Japan immediately although there is no word on which Japanese ISP – if any – might include the new gateways in their home broadband or enterprise offering. You can read more about  the specs of the two units here.
Qualcomm also says that leading end-user device makers Sony and NEC will be ready to launch a Sony smartphone and NEC's Personal Computer Windows 11 Notebook PC in second half of 2022 to early 2023 – all of these of course powered by Qualcomm's FastConnect™ 6900 Wi-Fi 6E platforms.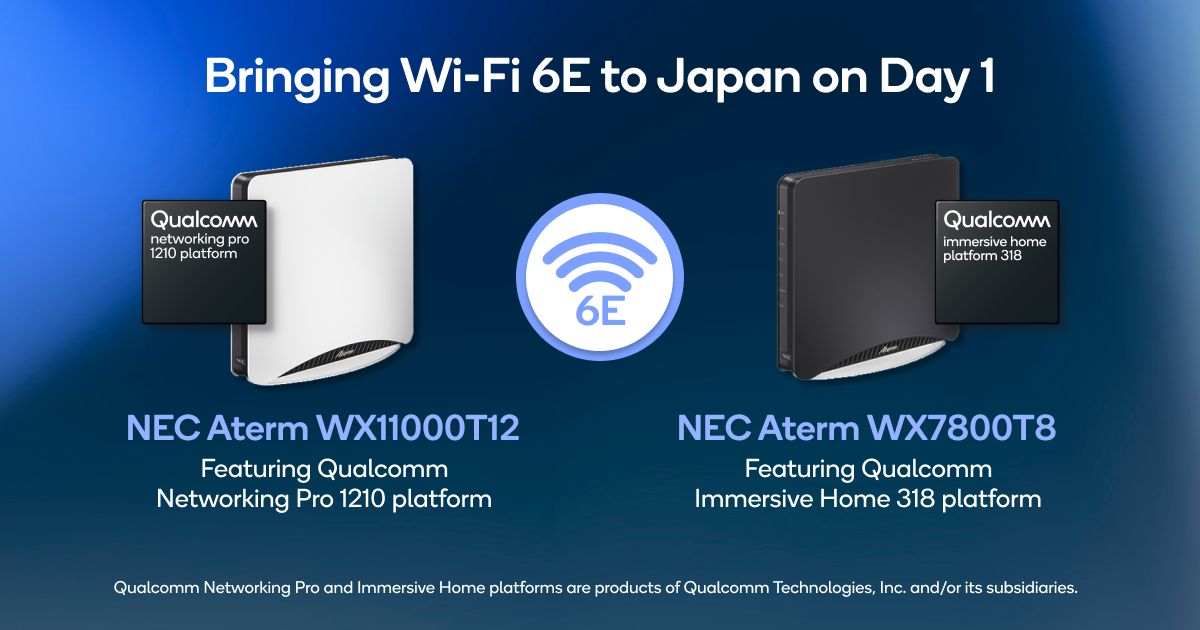 /Claus.