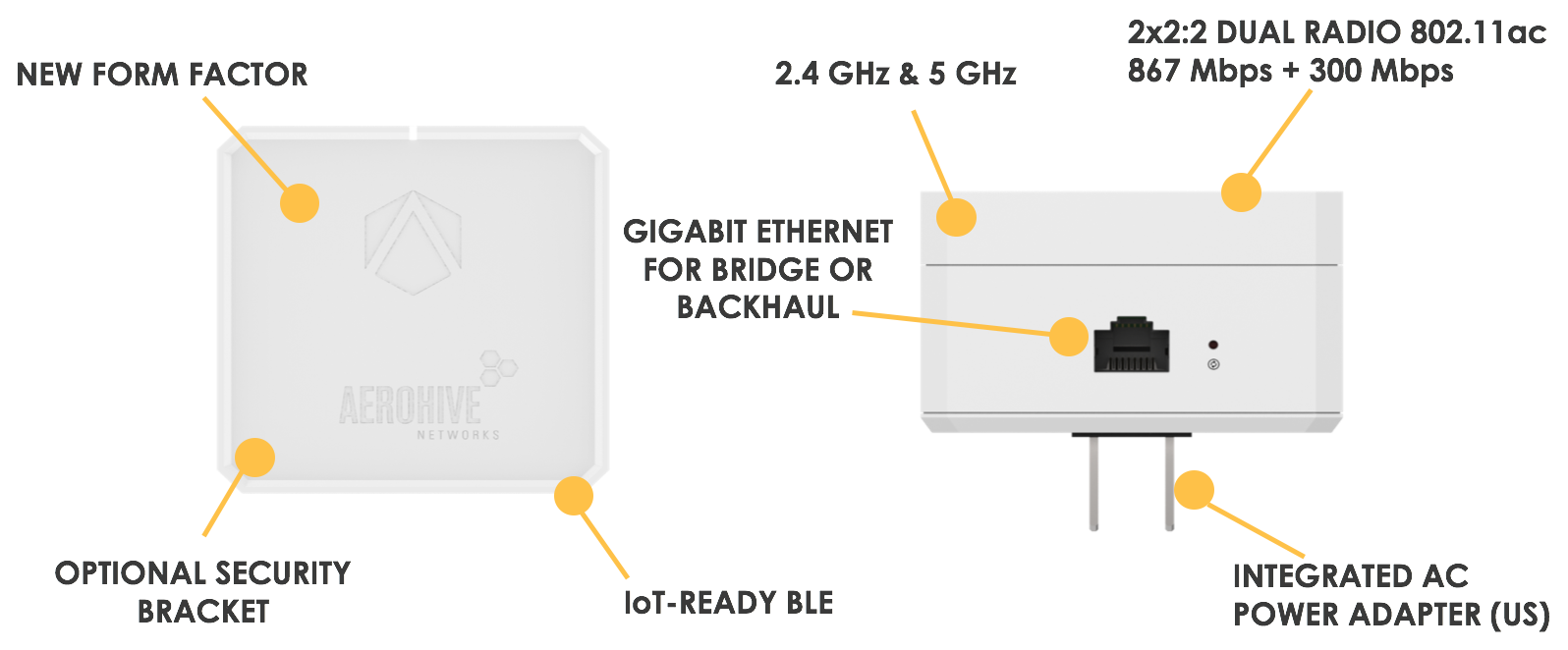 By Claus Hetting, Wi-Fi NOW Chairman & CEO
Top news items from this week's world of Wi-Fi include Aerohive's 'Atom' launch and a 802.11ax product launch in Japan. 
Aerohive goes plug-and-play (literally) for APs
This week, Wi-Fi solutions provider Aerohive continued to reinvent itself with the launch of Atom AP30 – a cube-shaped mini AP that plugs directly into an electrical wall socket and then – well – that's it. The rest is managed and configured in the Cloud, as they say.
The new AP is an obvious practical fix to quickly patching coverage holes or increasing capacity nearly on the fly. The unit backhauls either via mesh or cable, with the mesh option likely being the most attractive for quick-fix deployment. The Atom comes in a pack of three for $599 USD.
It's reasonable to speculate that Aerohive may have been inspired by Plume's in-home Wi-Fi 'pods' that are similarly designed to plug into electrical sockets, although Plume is mostly a consumer-grade (or service provider managed) home Wi-Fi product.
The Atom will be available in early Q2 for the US market. Just a couple of weeks ago Aerohive announced planned Q3 availability of a brand new family of 802.11ax APs. Aerohive is clearly on an innovation and investment spree as far as new products are concerned.
KDDI becomes the second tier-one SP to announce 802.11ax CPEs
KDDI issued this press release on February 8 citing March 1st availability of new 5 and 10 Gbps FTTH services including a 802.11ax-based home gateway. As far as we know this is only the second announcement by a tier-one telco on availability of 802.11ax Wi-Fi services.
KDDI is going with the 802.11ax draft release spec for their gateway since the final 802.11ax spec has yet to materialise. In October of last year, Korea's SK Telecom unveiled their plans to launch 802.11ax-based services. But they have yet to tell us when such services will be ready.
Late last year, KT – Korea's other very large telco – technically became the first carrier to announce 802.11ax services in the run-up to the Winter Olympics. Then – to instigate complete wireless standards confusion – KT went ahead and decided to name the service '5G Wi-Fi'.
/Claus.