By Claus Hetting, Wi-Fi NOW CEO & Chairman
Network services & connectivity experience pioneer Plume has signed a deal with India's Reliance Jio for the delivery of Plume's consumer and small business broadband services to approximately 200 million premises in India, the two companies announced in a joint statement today. Plume also this week announced major new feature additions to its HomePass® consumer app allowing prioritisation of connectivity at the application level.
According to the agreement Reliance Jio will deploy Plume's Cloud-based HomePass® suite of services including whole-home adaptive Wi-Fi, parental controls, Wi-Fi motion sensing, cyberthreat protection, performance optimisation, and more. The deal also includes the deployment of Plume's WorkPass®, a similar suite of services optimised for small businesses as well as Plume's Haystack® support and operations platform.
Reliance Jio is perhaps most well known for its role as one of the world's largest mobile service providers with a subscriber base approaching half a billion but the company has recently also expanded significantly into fibre-based fixed broadband and especially 5G FWA-based fixed services.
Reliance Jio's JioAirFiber FWA-based broadband service launched last month is aiming to reach more than 200 million households, Fierce Wireless reports here. Reliance Jio's JioFiber fixed broadband service stands at over 4 million premises served according to this source (numbers from 2022). Jio is Plume's second major ISP client in Asia following the company's early involvement in the Japanese market.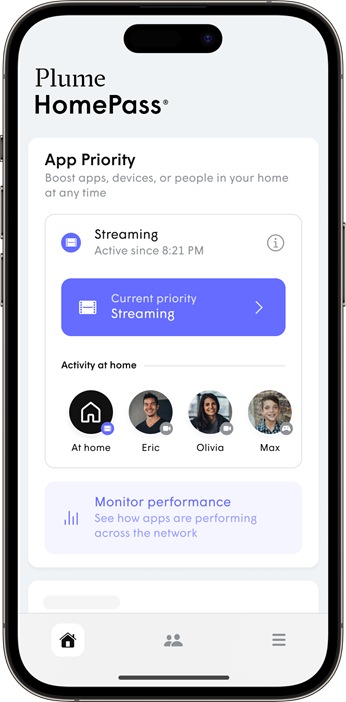 The linkup with Jio is probably the biggest but it is not the only announcement coming from Plume this week at NetworkX in Paris. Yesterday the company announced major improvements to its HomePass® app. The app is used by subscribers to set up and manage their home broadband experience and services – and now also includes AI-based personalisation features allowing users to prioritise traffic at the application layer.
HomePass users can now prioritise Wi-Fi traffic in the home according to category, individual device, and even according to individual user profiles, Plume says. Plume has even included a 'Home Security Boost' that uses Wi-Fi sensing to trigger a boost in throughput for home security devices when the home is empty and the service is set to 'Away Mode'. The solution also allows for monitoring of each app's performance as 'excellent', 'fair', or 'poor' to verify that traffic prioritisation is working.
The new features are the customer-facing versions of Plume's recently announced 'Full Stack Optimization' solution for service providers – read more here.
Also at NetworkX this week Plume announced the appointment of two new executives to its leadership team: Valerie Buckingham as Chief Marketing Officer and Adrian Fitzgerald as Chief Revenue Officer. 
/Claus.