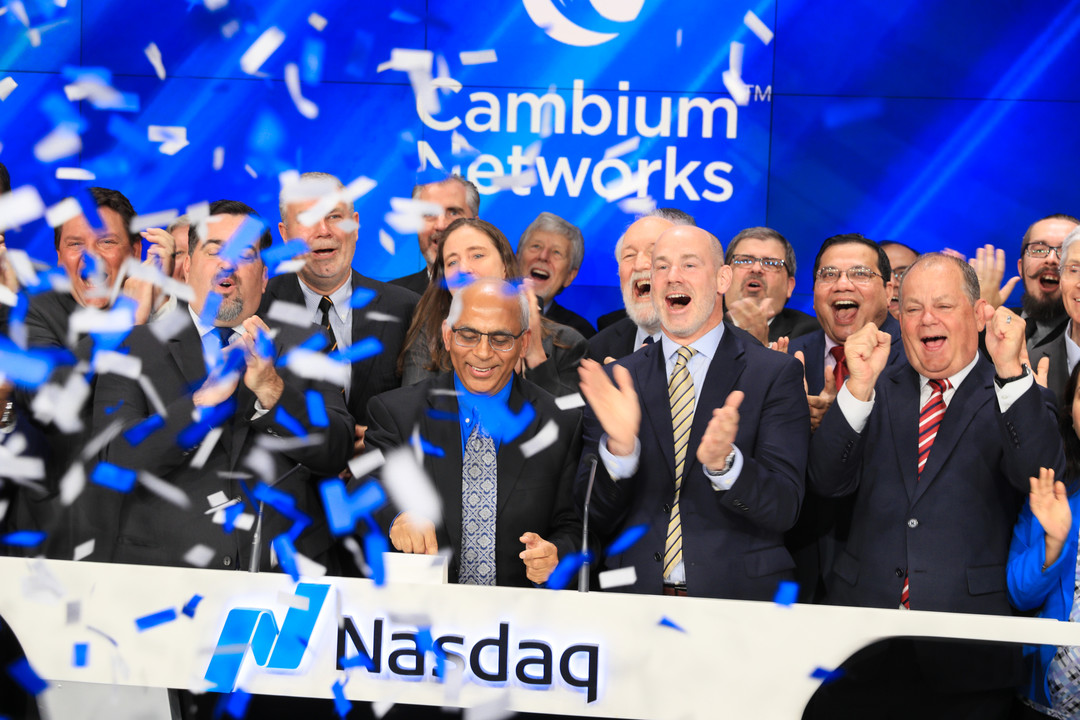 Above: Cambium Network CEO Atul Bhatnagar (centre, looking down) ringing the bell at the NASDAQ Stock Exchange in New York City last week.
By Claus Hetting, Wi-Fi NOW CEO & Chairman
Last week in Wi-Fi was eventful from a financial point of view with three successful Wi-Fi vendors making headlines. Here's how it all transpired.
Cambium Networks IPO raises $69.4MUSD
It has been rumoured for a while, announced in early June, and then finally last week (on June 26) it happened: Cambium Networks – in our view one of the world's most promising wireless vendors right now – raised close to US$70 million by selling 5.8 million shares on the NASDAQ stock exchange. The financial result of the IPO came in about US$10 million short of the targeted US$80M. Cambium's IPO was offered at US$12 per share and is currently trading at below US$10 under the CMBM symbol.
Cambium Networks was founded in late 2011 as a Motorola Solutions spinoff and the company is still headquartered in Rolling Meadows, Illinois. The company has a strong portfolio of unlicensed frequency radio network products and is a frequent sponsor and speaker at Wi-Fi NOW events all over the world including at our next scheduled event in London, UK on November 12-14.
Cambium Networks is also one of the few radio network vendors – dare we say it? – for the time being not engulfed by the 5G market frenzy. They have instead focused strongly on solutions for affordable connectivity (including Wi-Fi) using a combination of licensed and unlicensed bands. Among Cambium's many success stories are recently announced partnerships with Facebook for both Facebook's Express WiFi and Terragraph (60 GHz) programs.
Extreme Networks gobbles up Aerohive for $272MUSD
Last week Extreme Networks announced an agreement to acquire Wi-Fi network equipment vendor and competitor Aerohive for US$272M. Aerohive will become part of Extreme Networks by first quarter next year, said Extreme Networks in their official press release here.
The Aerohive deal is the latest in a buying spree that started with Extreme's US$55M acquisition of Zebra Technologies' WLAN business (formerly Motorola's WLAN division) in 2016. This was followed by Extreme's purchase of the networking pieces of Avaya and Brocade, respectively, in 2017.
We believe the Aerohive acquisition is good news for the Wi-Fi industry in that it will likely strengthen competition among the four top US Wi-Fi networking vendors Cisco, HPE/Aruba, CommScope (formerly Ruckus Wireless), and Extreme Networks. Extreme Networks is well known for its involvement in providing cutting-edge stadium Wi-Fi solutions for the NFL – read more here.
/Claus.