Above: CommScope's Charles Cheevers speaker at the Wi-Fi World Congress 2020.
By Claus Hetting, Wi-Fi NOW CEO & Chairman
As usual the world of Wi-Fi never stands still – here's the news we picked up on from the past week. Enjoy.
CommScope connects futuristic holographic light field TV with Wi-Fi 6E
CommScope (with partners Charter, CableLabs, Comcast, and the NCTA) used this year's SCTE ISBE Cable-Tec Expo to demonstrate the remarkable data rata capability of Wi-Fi 6E. The demo – which can be viewed here on registration – uses Wi-Fi 6E to deliver a staggering 43 layers of 8k video to at holographic light field TV, CommScope explains in their blog here. The video stream was delivered over DOCSIS 4.0 while using 160 MHz channel width and 1024 QAM Wi-Fi in the U-NII-5 sector of the new 6 GHz spectrum, CommScope says.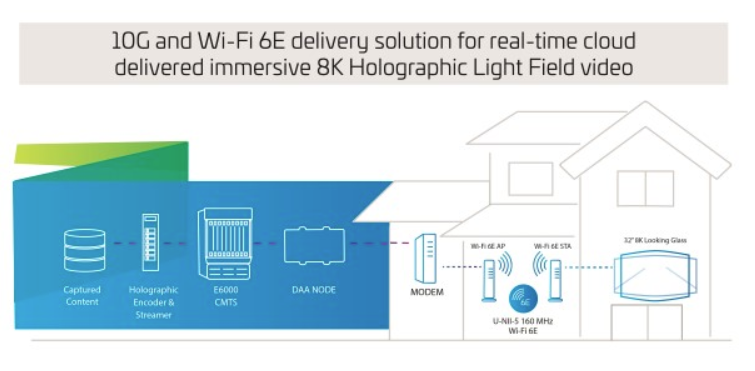 The demo – as viewed on a regular computer monitor – doesn't do much justice to light field holographic technology, however. For more on this new kind of 3D video rendering you get a slightly better idea of what it's all about on the Looking Glass Factory website.
The demonstration was part of a wider push by the US cable community towards '10G' or ten times faster home broadband speeds. For more on CommScope's groundbreaking work on residential Wi-Fi also see Charles Cheevers' presentation for the Virtual Wi-Fi World Congress above. Charles is CTO of Home Networks at CommScope.
Boingo launches world's (probably) first Wi-Fi 6 airport network in São Paulo Airport, Brazil
Wi-Fi service provider Boingo said Friday that it has deployed the world's first known Wi-Fi 6-capable airport network at São Paulo's Guarulhos Airport in Brazil. The new network supports Passpoint so that subscribers from AT&T as well as Brazilian operators Claro and Oi will auto-connect to the Wi-Fi service when entering the airport, Boingo said in their press release here.
Guarulhos (GRU) Airport is the busiest in Latin America serving more than 50 million passengers a year (or at least it used to). Boingo's service footprint in Brazil is one of the company's largest outside the US with Wi-Fi services offered at more than 5o airports in the country, Boingo says.
Travellers can now receive up to four hours of free Wi-Fi throughout all public spaces of the GRU airport, the company says. Last year Boingo deployed a back-office Wi-Fi 6 network at Orange County's John Wayne Airport in Southern California.
AirTies Cloud tops 25 million homes for managed Wi-Fi, company says
Turkey-based mesh Wi-Fi and Wi-Fi optimisation experts AirTies says they've now passed the 25 million mark for number of homes managed by the AirTies Cloud, the company's remote Wi-Fi management and optimisation platform. The press release came at this year's edition of the Broadband World Forum on October 13. The day after AirTies announced that the company's Air4960 Wi-Fi-6-capable extender AP has been certified for use in Malaysia, a market in which AirTies has been active for years.
/Claus.