By Claus Hetting, Wi-Fi NOW CEO & Chairman
Wi-Fi 6E update: Costa Rica and Peru release full 6 GHz band to Wi-Fi
This week the Republic of Costa Rica released its new national frequency allocation plan which now includes allocation of the full 6 GHz band to Wi-Fi. Martha Suarez – President of the Dynamic Spectrum Alliance, broke the news early this week with this LinkedIn post. The new Costa Rican regulation includes permission to operate Wi-Fi at both Low Power Indoor (LPI) and Very Low Power (VLP) levels, which means Costa Rica is essentially following in the footsteps of Brazilian regulator Anatel, who released a similar or identical framework in February.
Earlier in the week – exactly one day before the Costa Rican decision – the government of Peru announced their decision to also release the full 6 GHz band to unlicensed use. With the two decisions the Americas region now counts seven countries that have released the full 6 GHz band to Wi-Fi including the US and Brazil. For a full global regulatory overview on 6 GHz Wi-Fi regulation also see this Wi-Fi 6E tracker published and maintained by the Wi-Fi Alliance.
The EU and so-called CEPT region is thus far well on their way to allocation of the lower 480 MHz of 6 GHz spectrum. CEPT has no plans as of yet to study the upper 6 GHz for possible release to Wi-Fi – although we remain hopeful that this could happen soon.
Enjoying this story?
Leave your email here and we'll get you all the latest Wi-Fi news.
Plume releases Wi-Fi 6-capable SuperPods
Smart home service platform vendor Plume has – finally – released the Wi-Fi 6-capable version of their iconic SuperPod mesh Wi-Fi APs. As always, the units plug directly into your electrical socket and are as such indistinguishable from the SuperPod Wi-Fi 5 version. Consumers can now upgrade their HomePass subscription and service with the new Wi-Fi 6 SuperPods and of course get all the usual HomePass features – including optimised whole-home Wi-Fi, security, access control, and even motion detection – now with the benefit of Wi-Fi 6 high-density throughput performance and lower latency.
Currently, a two-SuperPod Wi-Fi 6 system and subscription sells for US$198 on Plume's website here and that's including a US$99 discount. The system is enough to cover a 1-2 bedroom house or apartment, Plume says. Plume was the first company to introduce remotely managed Wi-Fi optimised  through the Cloud and whole-home 'pluggable' mesh Wi-Fi APs. Plume is a Wi-Fi NOW Partner.
Boingo selected to deliver Wi-Fi 6 network to iconic Rockefeller Center complex in New York City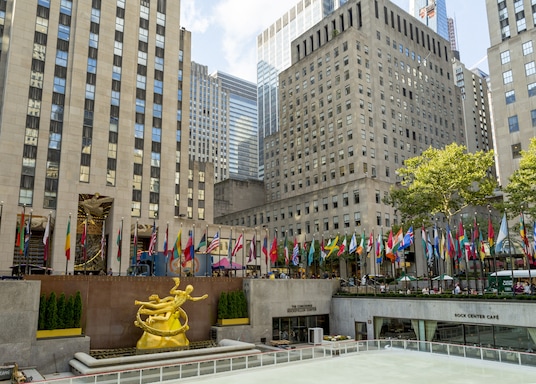 Wi-Fi and DAS service provider Boingo has been selected to deliver a Wi-Fi 6 network to New York City's iconic – and enormous – Rockefeller Center. The New York landmark complex spans 22 acres (more than 4,000 square meters) and is a popular tourist spot as well as home to big piece of New York's media and entertainment industry. Boingo says it will provide Wi-Fi 6 services for all of the complex's twelve building and outdoor areas. Boingo says the company will "deliver connectivity to the venue's daily visitors, enable enhanced business operations, and set the stage for a high-bandwidth experience for property tenant employees." Read more here.
/Claus.