By Claus Hetting, Wi-Fi NOW CEO & Chairman
Last week Swisscom became the fifth service provider in Europe to launch a Wi-Fi 6E (6 GHz Wi-Fi) home broadband service. The company's new Wi-Fi 6E extender is powered by software from Wi-Fi solution provider SoftAtHome, which means that SoftAtHome now serves two of five live Wi-Fi 6E networks in Europe. 
Wi-Fi 6E – meaning 6 GHz Wi-Fi – is expanding across Europe with leading Swiss telco Swisscom becoming the latest operator to launch a Wi-Fi 6E service: Last week the company introduced its new triple-band Wi-Fi 6E-capable 'WLAN-Box 3' powered by France-based home broadband software solution vendor SoftAtHome. European home broadband operators currently supporting Wi-Fi 6E now include Orange (France), Bouygues (France), Free (France), Deutsche Glasfaser (Germany)*, and Swisscom (Switzerland).
SoftAtHome announced its first Wi-Fi 6E deployment with Orange (France) in April, which means that the company is now powering two of five live Wi-Fi 6E networks in Europe. Broadband provider Free launched their Wi-Fi 6E 'Freebox Delta' in June of this year while Deutsche Glasfaser launched their solution including gateway and extender in May. The Deutsche Glasfaser Wi-Fi 6E network is powered by Plume with hardware from Sagemcom.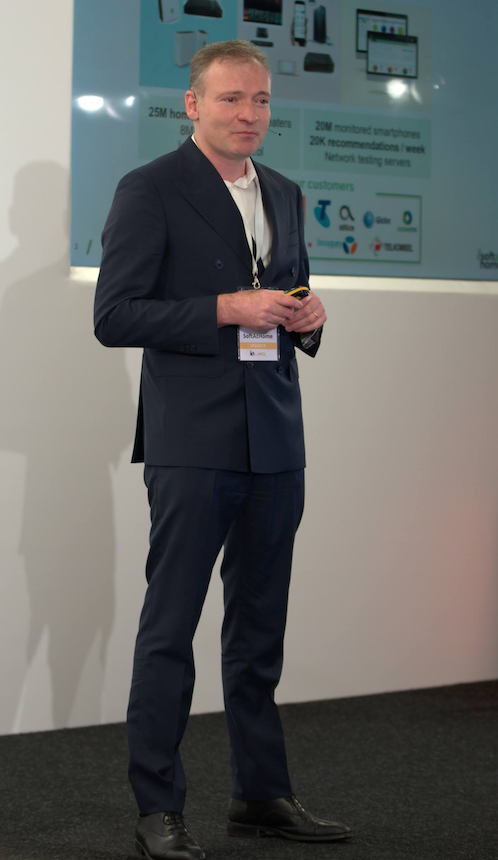 Swisscom's WLAN-Box 3 is a Wi-Fi 6E-capable extender that works seamlessly with existing equipment by pairing with Swisscom customers' already installed home gateway. "You can either onboard the new 6 GHz-capable tri-band extender with Swisscom's app or simply press a button to pair it with the gateway. After that all access points are managed dynamically as a full mesh network to deliver the best possible end-user Wi-Fi experience, including band steering, client steering and delivering a total of up to 4.8 Gbps of speed for Wi-Fi 6E devices," says Lionel Gremeau, Product & Marketing Director, SoftAtHome.
The Wi-Fi 6E capability and band is introduced seamlessly using existing SSIDs and home broadband configurations within the home, Lionel Gremeau says. The new unit is the third generation of Swisscom Wi-Fi extenders powered by the SoftAtHome's "WiFi'ON" solution.
During last week's Wi-Fi World Congress Europe in Stockholm, Sweden, Lionel Gremeau described 6 GHz Wi-Fi 'a new paradigm' in connectivity for Europe. He highlighted not just Wi-Fi 6E's increased Wi-Fi speeds in the home but the new technology's freedom from interference, inherent lower latency, and better security. "Europe now has access to nearly double the amount of Wi-Fi spectrum: With the new 6 GHz band we've increased the spectrum amount from 538 MHz to 1019 MHz – and the effect will be a paradigm shift in Wi-Fi connectivity for Wi-Fi within the home," he said.
The SmartAtHome platform relies on the distribution of intelligence between local algorithms (embedded in gateways, repeaters, and set top boxes) and AI-based algorithms residing the cloud. SoftAtHome primarily serves operators and is even owned by some of them: Orange, Swisscom, and Etisalat.
For more about SoftAtHome also see here.
/Claus.
*This story has been corrected: In our first version we had omitted Deutsche Glasfaser's Wi-Fi 6E launch in Germany. This is now included above.