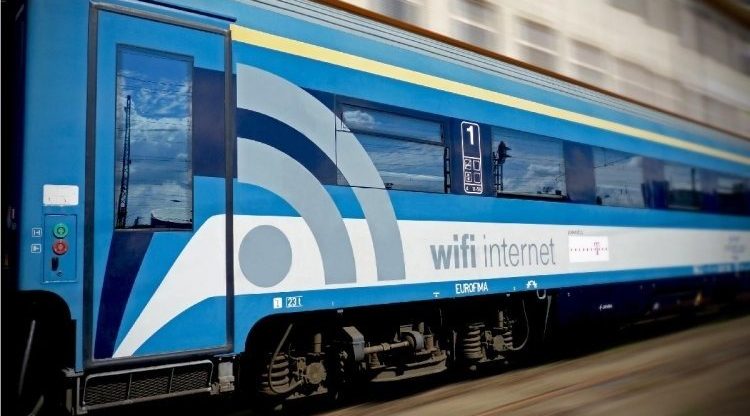 By Claus Hetting, Wi-Fi NOW CEO & Chairman
UK-based consultancy BWCS projects that the number of Europeans connecting to Wi-Fi on trains will grow to nearly five times current levels by 2028 to reach 5.3 billion connections per year. The surge is the result of customer demand, competition, and growth in train and commuter services, BWCS says.
Train and commuter rail Wi-Fi: Everybody wants it but it has thus far been hard to find – and even when available, speed and quality is often less than up to scratch. All of that is set to change in the coming decade, says UK-based infrastructure consultancy BWCS.
A new study and online research service offered by BWCS predicts that the number of European train passengers accessing onboard Wi-Fi will increase to 5.3 billion by 2028 representing about 43% of all rail passengers. Today only some 1.27 billion travellers – or about 12% of the total rail passenger market – connect to onboard Wi-Fi, says BWCS.
Competition and expectation driving demand
The remarkable growth trajectory will be driven by consumer demand, competition, and general growth in train and commuter services, says BWCS. The consultancy also says that onboard Wi-Fi 'has the potential' to generate new revenue streams, including on-train entertainment, advertising, and more. BWCS has not cited a figure to describe the size of this new revenue opportunity.
"These days access to Wi-Fi is treated nearly as a human right, and that includes on trains. At the same time, train Wi-Fi can be a double-edged sword. If you offer it and don't get speed and quality right, the repercussions including negative feedback and criticism on social media may be worse than if you hadn't done it at all," says Ross Parsons, Head of Transportation Practice at BWCS.
Train Wi-Fi needs trackside networks, experts say
Onboard train and commuter rail Wi-Fi services are provided either by using (usually aggregated) cellular networks for backhaul or by building technically sophisticated dedicated trackside networks that beam high-capacity broadband signals to moving trains.
The former solution is relatively low-cost but often suffers from inconsistent quality due to poor cellular coverage on parts of the journey. In contrast the latter solution requires substantial investment in new radio network infrastructure. Most experts believe that high-quality onboard train and commuter rail Wi-Fi will eventually require deployment of trackside networks.
BWCS says the percentage of trains offering Wi-Fi services varies very broadly across Europe. In Ireland, all trains offer Wi-Fi while the national rail operator in Belgium has effectively banned the service. Only last month, German rail giant Deutsche Bahn announced a decision to make free Wi-Fi available on all InterCity trains by end 2021.
For more information on train Wi-Fi go to BWCS's research and information website, www.internet4trains.com. Also be sure to take a look at BWCS' yearly train Wi-Fi conference TrainComms2019 taking place in London UK this June.
/Claus.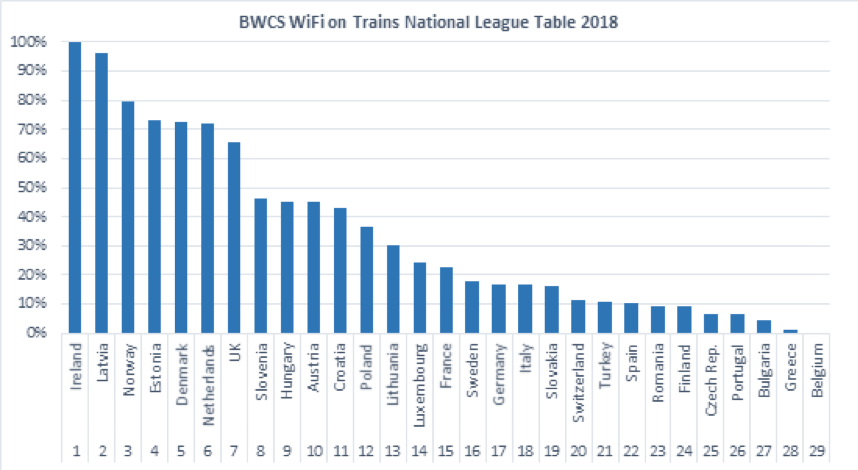 Above: Percentage of trains equipped with Wi-Fi across Europe. Chart courtesy BWCS.