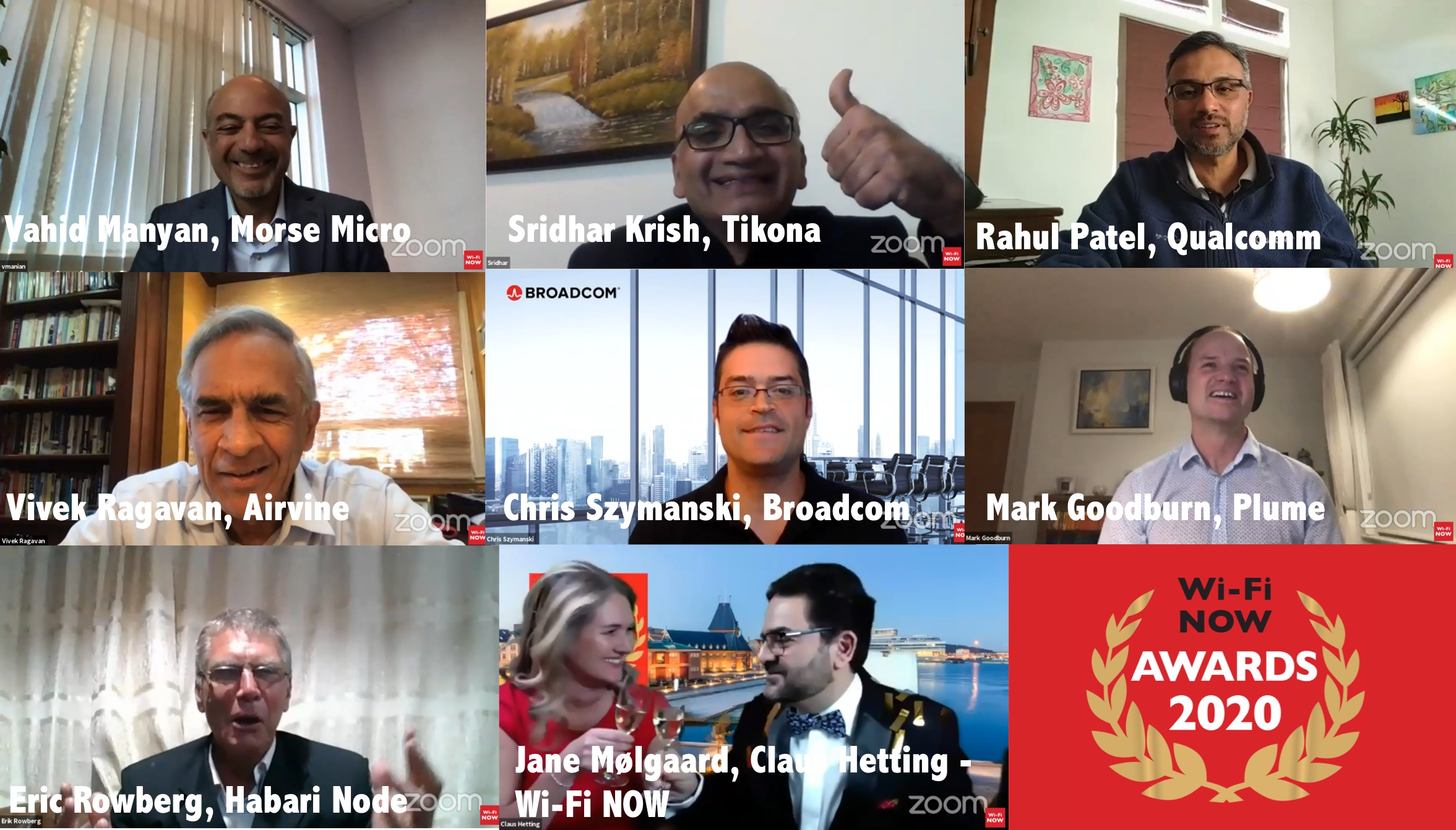 By Claus Hetting, Wi-Fi NOW CEO & Chairman
The winners of this year's Wi-Fi NOW Awards were revealed today at the virtual Wi-Fi NOW Awards GALA extravaganza. Plume and Morse Micro each won two awards, while Broadcom and Qualcomm shared the coveted Wi-Fi NOW Innovation Award. Other winners included Tikona of India – a Facebook Express Wi-Fi Partner – as well as 60 GHz startup Airvine and Tanzania's Habari Node.
After months of suspense the Wi-Fi NOW 2020 Award winners were finally revealed today during a two-hour virtual special gala event hosted by Wi-Fi NOW. Double award winners were smart home Wi-Fi and 'Consumer Experience Management Platform' provider Plume – in one instance together with Isle of Wight ISP WightFibre – as well as Wi-Fi HaLow IoT chipset vendor Morse Micro.
In the highly coveted Best Wi-Fi Innovation category two companies were tied for the win and hence both received the award: Broadcom and Qualcomm, both for Wi-Fi 6E (6 GHz) client-side chipset platforms. The Best Wi-Fi Enterprise Solution Award went to promising newcomer Airvine for their remarkable 60 GHz 'WaveTunnel' enterprise networking solution.
Enjoying this story?
Leave your email here and we'll get you all the latest Wi-Fi news.
The Wi-Fi NOW Award for Affordable Connectivity went to Indian newcomer – and one of the fastest growing wireless ISPs that we know of – Tikona. Tikona is also a Facebook Express WiFi partner. Last but not least – and surprisingly perhaps – Tanzania-based ISP Habari Node won the award for Best Wi-Fi Service Provider. The full virtual event is available for viewing here.
All of 54 companies entered the Wi-Fi NOW Awards 2020, which is close to double the number of participating companies in 2021. Finalists comprised companies from right across the globe including the UAE, Trinidad, Israel, and Nigeria. Big thanks from all of us at Wi-Fi NOW to all the participants at today's event and a special big thanks to our patient and hard-working judges.

Full Official Results:
/Claus.