By Claus Hetting, Wi-Fi NOW CEO & Chairman
We've been out for a little while so to catch up in the dynamic world of Wi-Fi here's a quick roundup of the most important Wi-Fi news of the last couple of weeks. Enjoy.
Aruba launches new 'Instant On' Wi-Fi product line for SMBs

Above: Five new Aruba/HPE 'Instant On' access points
Aruba Networks (a part of HPE) today launched a new family of Wi-Fi products – called 'Instant On' – aimed squarely at the small business segment. In an interview with CRN Aruba Co-founder and President Keerti Melkote said the new product line is a US$3 billion opportunity for Aruba's reseller and integrator partners and hence 'too big an opportunity for us [meaning Aruba] to ignore'.
The solution includes a family of five indoor and outdoor APs – all with meshing capability – plus an app for quick and easy network setup, configuration, and monitoring. It appears Aruba is bent on doing for SMBs what Google WiFi mesh has done for consumers. If that is the case the no-brainer network setup and always-on service will no doubt be attractive to a lot of SMBs out there.
Still the prospective success of Aruba's new SMB product in a crowded and notoriously tough SMB Wi-Fi equipment market is not a given. Ruckus Networks' XClaim SMB offering is about to shut down after only four years of operation. Aruba – and not least their resellers – may also be challenged in defining a clear market boundary between the usual Aruba kit and new 'Instant On' products. Somewhat surprisingly none of the new Aruba access points are Wi-Fi 6 capable.
NXP joins Wi-Fi chipset heavyweights by acquisition of Marvell Wi-Fi
On May 29 Netherlands-based NXP Semiconductor announced it intends to acquire the Wi-Fi and Bluetooth assets of US-based Marvell for US$1.76 billion. NXP says it expects to grow Marvell's current connectivity chipset revenues of US$300 million to twice that number in only three years.
In one stroke the deal has launched NXP as a new Wi-Fi chipset heavyweight with a total 2018 revenue of US$9.41 billion. NXP now joins the ranks of multi-billion-dollar Wi-Fi chipset makers Broadcom (2018 revenues of US$20.85B), Qualcomm (2018 revenues of US$22.73B), and Intel (2018 revenues of US$70.8B). Earlier this year Arizona-based ON Semiconductor (2018 revenues of US$5.9B) acquired Wi-Fi chipset specialists Quantenna for about US$1B.
Both Marvell and Quantenna acquisitions bode well for the medium and long term strengthening of competition, innovation, and investment in Wi-Fi semiconductor technology.
Quantenna & Tatung team up to deliver voice-command capable Wi-Fi extender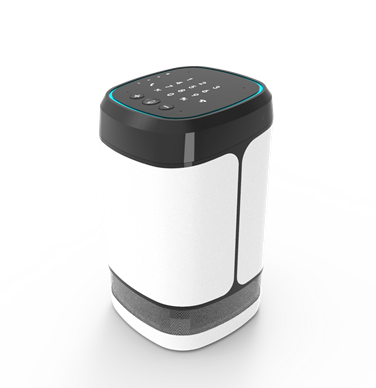 Last week Wi-Fi chipset leader Quantenna announced it has teamed up with Taiwan-based Tatung Technology to launch an all-in-one voice-controlled smart home hub, Bluetooth speaker, and meshed Wi-Fi extender. Tatung – a provider of IPTV products – has dubbed the unit IRIS. For more read here.
NEWRACOM claims first miniaturised Wi-Fi HaLow system release
Just two weeks ago Wi-Fi HaLow chipset startup Morse Micro landed Series A financing – and not to be outdone, last week US-based Wi-Fi HaLow competitor NEWRACOM announced what they claim is the first release of a complete miniaturised Wi-Fi HaLow solution based on the Raspberry Pie 3 platform. Morse Micro and NEWRACOM are part of a small but hopeful community of chipset startups aimed at bringing the new Wi-Fi HaLow sub-GHz IoT technology to the mass market.
At Mobile World Congress in Barcelona earlier this year NEWRACOM released a video (see below) documenting the 1.5 km range of the new Wi-Fi HaLow technology. Except for startups NEWRACOM, Morse Micro, and Netherlands-based Methods2Business none of the larger chipset providers have announced commitments to develop Wi-Fi HaLow technology.
Above: Testing Wi-Fi HaLow (802.11ah) technology for range compared to Wi-Fi 5 (802.11n).
/Claus.