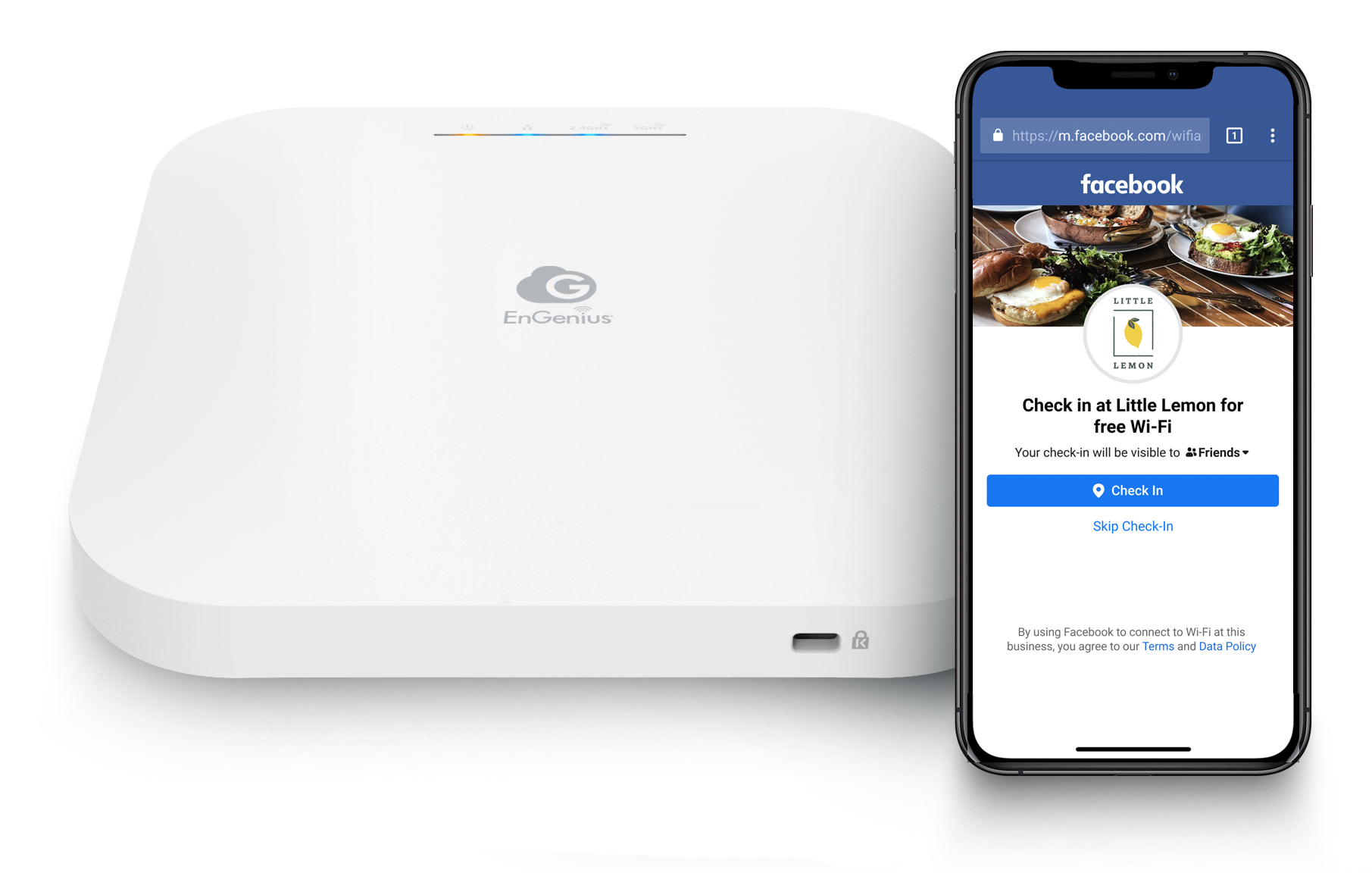 By Claus Hetting, Wi-Fi NOW CEO & Chairman
EnGenius' APs and license-free Cloud management has long been an attractive Wi-Fi networking option for small businesses and now the company is adding out-of-the-box integration with Instagram and Facebook Wi-Fi. This means EnGenius small business clients can now use Facebook or Instagram for guest login as well as to enhance customer engagement and marketing reach with likes and checkins, EnGenius says.
Enterprise-grade Wi-Fi vendor EnGenius Technologies is partnering with Facebook to incorporate both Facebook and Instagram login and marketing capabilities into their Wi-Fi solution as out-of-the box features and integral parts of the EnGenius Cloud management system, the company says.
Facebook Wi-Fi for small businesses – see more here – has been around for a few years as a simple way for SMBs to offer easy login to venue Wi-Fi while boosting engagement via posts and likes on the SMB's Facebook page. But the extension to enable similar capabilities on Instagram – which arguably also means reaching out to a younger demographic – is new for the just released EnGenius solution.
Enjoying this story?
Leave your email here and we'll get you all the latest Wi-Fi news.
The entire Facebook or Instagram-based guest Wi-Fi login and management system can be set up in minutes. EnGenius' customers can use the company's 'Cloud-to-Go' app to install the AP and enable Facebook or Instagram Wi-Fi features, which include a host of benefits to small business owners, such as reaching reams of potential new customers through checkins, likes, and shares.
Most importantly, guests – for example at EnGenius Wi-Fi equipped retail stores or restaurants – can now logon to Wi-Fi with their Facebook or Instagram account credentials, which are typically already on the phone. This means the Wi-Fi login experience is fast and convenient, EnGenius says.
"Our customers can now also manage for example the length of the offered free Wi-Fi connection via Facebook Wi-Fi. Add to this engagement with the business' Facebook or Instagram pages after logon, and we believe we have a winning solution for small business customer engagement and marketing via Wi-Fi," says Bryan Slayman, Product Line Manager at EnGenius Technologies.
Facebook Wi-Fi also allows the business' free Wi-Fi offering to be discovered via Facebook's searchable map of Wi-Fi services. Businesses can also use Facebook Wi-Fi's analytics features to gain a better understanding of Wi-Fi access statistics, return visits, and more.
First to market with highly ranked Wi-Fi 6 solutions for SMBs
Wi-Fi vendor EnGenius may not yet be a household name in Wi-Fi networks yet but the company has gained traction in recent years and has notably been fast in transitioning to Wi-Fi 6 technology. The company was first to release an affordable Wi-Fi 6 solution for SMBs in late 2018.
EnGenius' Wi-Fi 6 offering for SMBs has been excellently received more than once as reflected in this four-and-a-half-star review by TechRadar. The company's Wi-Fi 6 APs even won Networkworld's Wi-Fi 6 enterprise AP test early this year with EnGenius Wi-Fi 6 AP throughput measured against competitor APs from Cisco, Cisco Meraki, and Extreme Networks – which is no small feat.
EnGenius offers license-free fully Cloud-managed or on-premise enterprise Wi-Fi and counts among its clients anything from hotels, libraries, and ski resorts to wineries, nursing homes, schools, and more. Also see EnGenius' impressive list of references and case stories here.
/Claus.