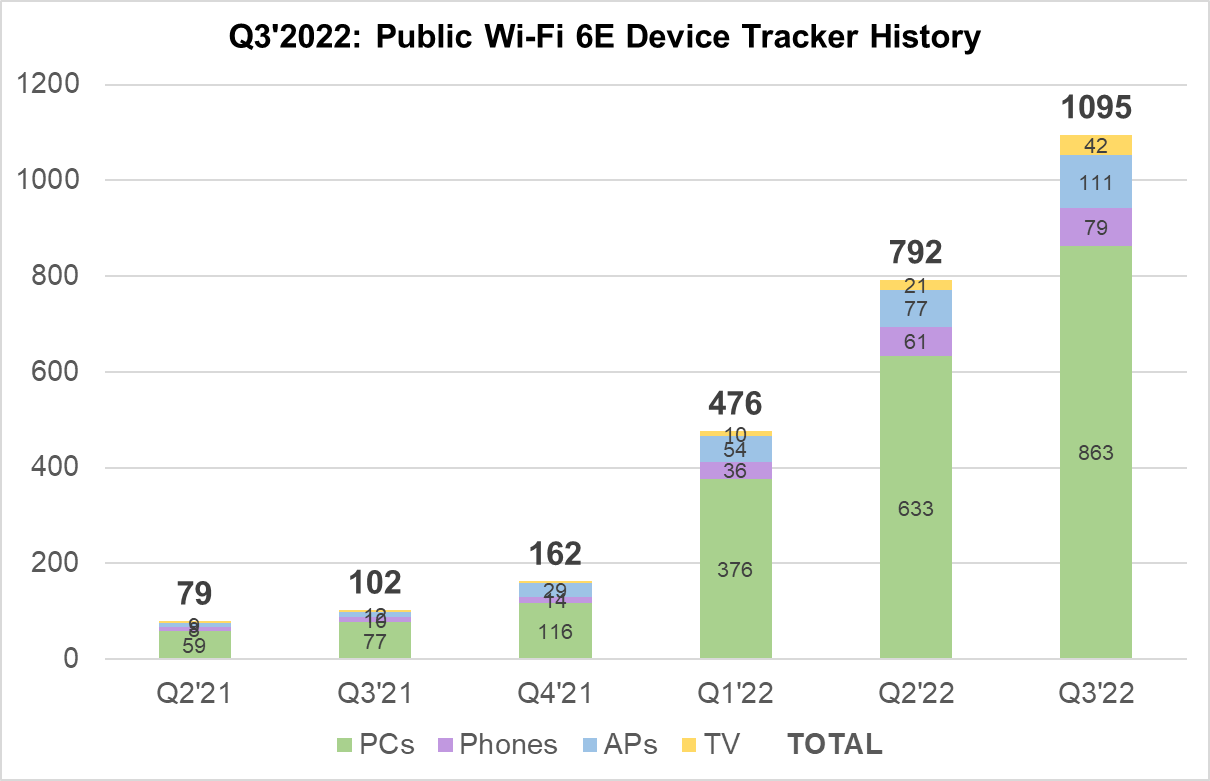 By Claus Hetting, Wi-Fi NOW CEO & Chairman
Good news all around for the fast market adoption of Wi-Fi 6E and now also for standard power 6 GHz Wi-Fi: More than 1,000 Wi-Fi 6E devices are commercially available as of end of Q3 2022. Meanwhile the Federal Communications Commission last week conditionally approved 13 organisations to operate AFC services.
The number of commercially available Wi-Fi 6E-capable devices continues to grow like a perfect S-curve (see graphic above) – and has now reached more than 1,000. The latest information provided to us by Intel shows that the number as of end of Q3 2022 has reached 1,095 of which the vast majority are PCs. Close to 80 smartphones are now available as are more than 100 Wi-Fi 6E access points.
Meanwhile the process towards making standard power 6 GHz available indoors and outdoors took a leap ahead this week as the FCC conditionally approved 13 organisations to operate AFCs. The organisations include Broadcom, Kyrio, Wi-Fi Alliance, Qualcomm, Plume, and more. The FCC says that "next step in the approval process will entail testing to verify that they operate in accordance with the Commission's rules," although test procedures are not yet defined. Read the full statement from the FCC here.
The eventual approval of AFC systems will allow operation of standard power 6 GHz Wi-Fi across 850 MHz in the U-NII-5 and U-NII-7 bands although the exact channels that an AP is permitted to use will be determined by the AFC and depend on its location. Standard power operation is expected to deliver a huge boost to the quality and range of both outdoor and indoor Wi-Fi and open up for the use of the 6 GHz band for fixed wireless access.
Smart home platform provider Plume also commented on the FCC's statement in a blog: "For consumers, this change has the potential to deliver more reliable and robust Wi-Fi connections in the home. For CSPs, Wi-Fi 6E may offer the opportunity to improve subscribers' Quality of Experience (QoE) and deliver the most sophisticated smart home services," Plume said.
To understand what AFC and standard power 6 GHz Wi-Fi is all about don't miss our Special Event on AFC broadcasting LIVE November 22 and featuring Cambium Networks, Nextlink, Qualcomm, and more – for registration and viewing go here.
/Claus.