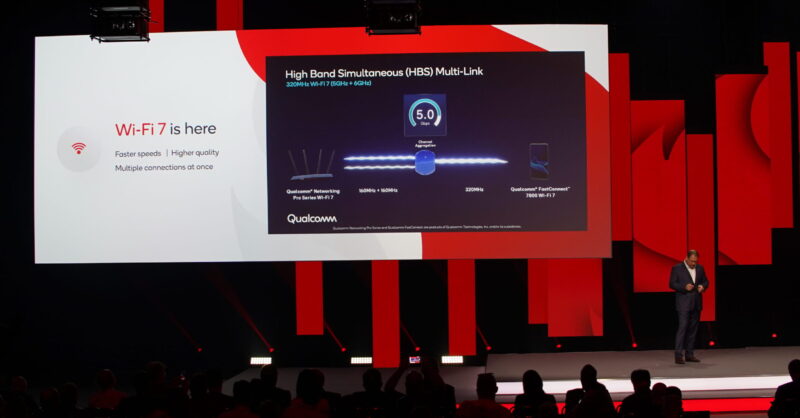 By Claus Hetting, Wi-Fi NOW CEO & Chairman
Enjoying this story?
Leave your email here and we'll get you all the latest Wi-Fi news.
Last week Qualcomm became the first Wi-Fi technology provider to demonstrate 'high band simultaneous multi-link' (HBS Multi-Link) connectivity at a European industry event. HBS Multi-Link is a key feature of the new Wi-Fi 7 standard and Qualcomm says the feature is 'the only way to experience the full potential of Wi-Fi 7 globally.' The over-the-air demonstration took place at the IFA Berlin consumer electronics trade show on September 2.
Most Wi-Fi vendors will tell you that the benefits of the new 6 GHz band will come to full fruition with the advent of the Wi-Fi 7 standard and in particular as a consequence of the speed boost delivered by the new 320 MHz channels. But what will happen in countries where 6 GHz spectrum is less plentiful than for example in the US or perhaps not available at all? Qualcomm says high band simultaneous multilink – or HBS Multi-Link – is the answer.
Last week at IFA Berlin Qualcomm President and CEO Cristiano Amon demonstrated a Wi-Fi 7 connection based on the new HBS Multi-Link feature. The feature is fairly simple to explain but has all kinds of implications for connectivity speed and not least reliability: For starters it is able to aggregate two 160 MHz Wi-Fi 7 channels from two radios for a total of four streams of high band – meaning 5 GHz and 6 GHz – connectivity reaching a peak data rate of 5 Gbps.
And of course it was no accident that this demonstration took place in Germany: Europe has thus far only released 490 MHz of 6 GHz spectrum to Wi-Fi, which means that full 320 MHz Wi-Fi 7 channels may not always be available in the 6 GHz band. Instead the HBS Multi-Link feature brings two 160 MHz channels from the 5 GHz and 6 GHz bands together to deliver the same result.
Some may even argue that two 160 MHz channels will deliver a more resilient – meaning less interference-prone – result compared to a single 320 MHz channel and hence ensure higher quality connectivity. Meanwhile in countries (such as China) where no 6 GHz spectrum is available at all the HBS Multi-Link feature will allow the aggregation of one 160 MHz and one 80 MHz channel in the 5 GHz band to deliver 50% higher data rates on Wi-Fi 7 compared to Wi-Fi 6, Qualcomm says.
As a result Qualcomm says the HBS Multi-Link is 'the only way to experience the full potential of Wi-Fi 7 globally'. The demonstration used Qualcomm's Networking Pro Series Wi-Fi 7 platform on the AP side and the FastConnect™ 7800 Wi-Fi 7 chipset on the smartphone side.
A spokesperson for Qualcomm points out that HBS Multi-Link is a feature that smartphone manufacturers can incorporate into end-user devices as a market differentiator. All indications are that Wi-Fi 7 certification for APs will require support for of all MLO (multi-link operation Wi-Fi 7) modes, which will not be the case for certification of end-user devices. This means that a key point of differentiation for end-user devices (smartphones, PC's, tablets, VR headsets, and more) will be support of the most advanced high-performance MLO mode – meaning HBS Multi-Link, Qualcomm says.
China is an increasingly important market for Qualcomm's Snapdragon processors, which typically also include Qualcomm's FastConnect™ Wi-Fi platform. Indeed the first Wi-Fi 7 end-to-end HBS Multi-Link demonstration and the first Wi-Fi 7 access point showcase was held at the Snapdragon Festival in Chengdu, China on August 26-28 this year in front of more than 100 ecosystem partners, a spokesperson from Qualcomm says.
For more also see this link. Also: Don't miss Qualcomm SVP Rahul Patel speaking at the Wi-Fi World Congress Europe in Stockholm on September 28 – for more information and registration click here.
/Claus.