By Claus Hetting, Wi-Fi NOW CEO & Chairman
Yes, it is true that infrastructure (AP) chipsets for Wi-Fi 7 have been available for a few months now but who – if anyone – expected the first Wi-Fi 7 router to be announced this month? Not us. But here it is – the world's first Wi-Fi 7 home router dubbed the H3C Magic BE18000 Tri-band Wi-Fi 7 router. The unit is powered by Qualcomm.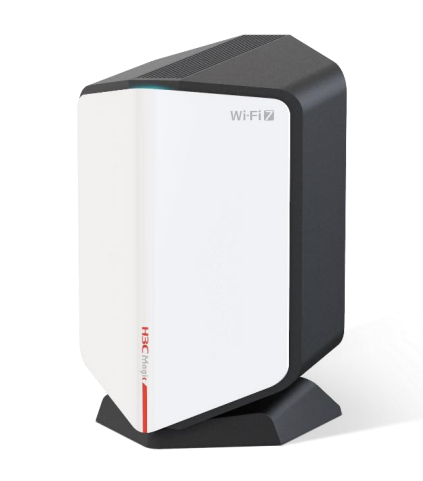 Detailed information is still a little scarce but the world's first Wi-Fi 7 router was officially announced yesterday by China-based network technology vendor H3C. The just released AP delivers a whopping 18.443 Gbps of peak data rate (hence the name 'BE18000') on three bands and is powered by Qualcomm's Networking Pro 1220 platform. No word yet on the unit's availability.
Given the Qualcomm platform the new Wi-Fi 7 router as expected supports all the standard Wi-Fi 7 features including 320 MHz channels, 4kQAM modulation, MLO, and more. The tri-band unit is configured for 4×4 MU-MIMO on each of the 2.4 GHz, 5 GHz, and 6 GHz bands.
As of last month three major chipset vendors – including Qualcomm – offer both device and network side Wi-Fi 7 chipsets. Qualcomm released their new Wi-Fi 7-capable Network Pro Series platform on May 4. To our knowledge no Wi-Fi 7 device has yet been released although the judging from the availability of platforms (aka chipsets) the first Wi-Fi 7 phones and laptops could already see the light of day by the end of the year or perhaps early next year. We're guessing the first Wi-Fi 7 device could be released at CES 2023.
Finally a disclaimer: Wi-Fi 7 certification is not yet available from Wi-Fi Alliance, which means that the new H3C unit is not certified for Wi-Fi 7. Therefore the unit has strictly speaking not yet earned its Wi-Fi 7 stripes. Instead it would more formally correct to say that the unit is designed according to IEEE 802.11be standard. But yes, we are nitpicking a bit here – and we are as guilty as anyone of using the Wi-Fi 7 designation perhaps a little prematurely 🙂
/Claus.