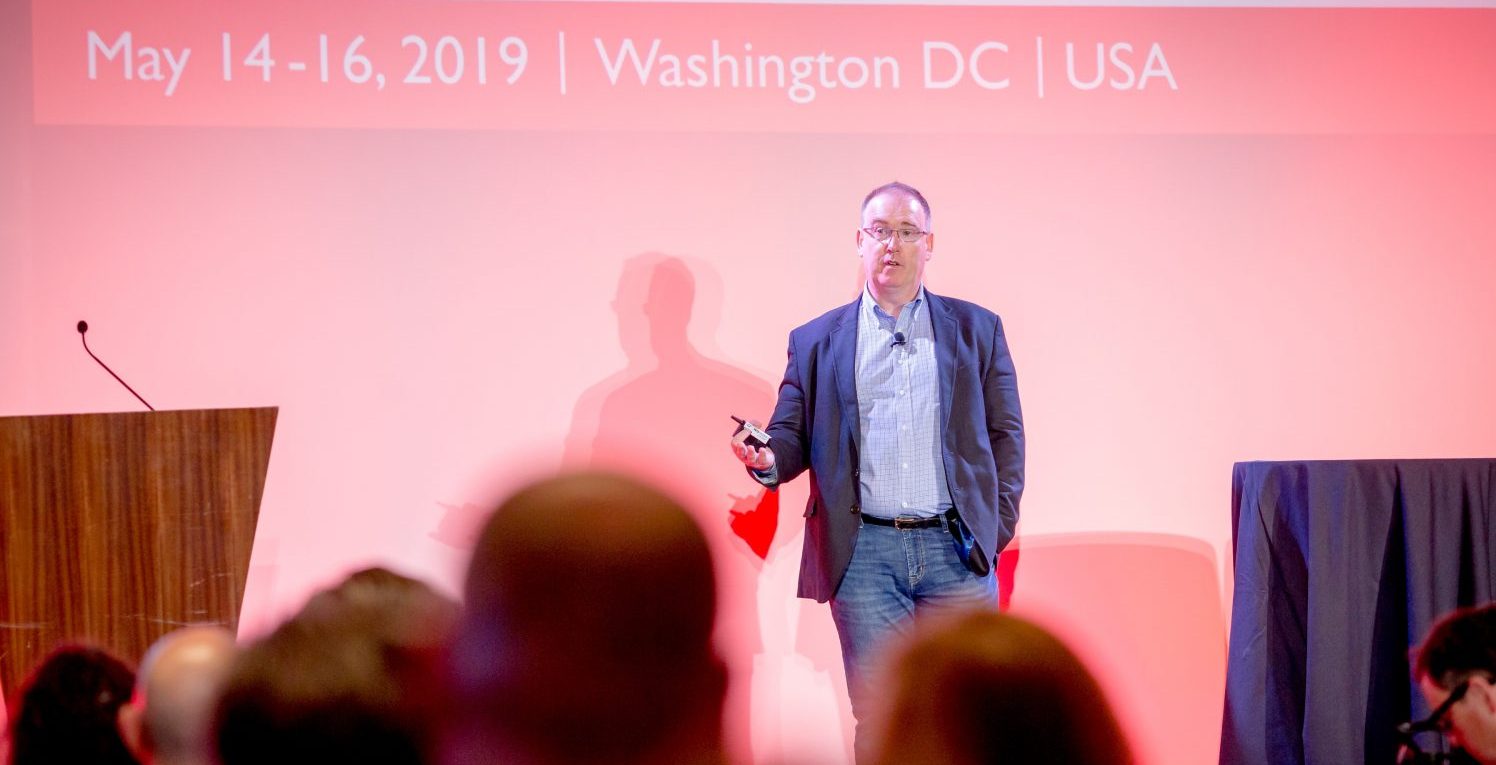 Above: ARRIS CPE CTO Charles Cheevers speaking at Wi-Fi NOW USA in DC on May 14.
By Claus Hetting, Wi-Fi NOW CEO & Chairman
How might new 6 GHz spectrum drive new opportunities in Wi-Fi home networking? That's the billion-dollar question the Wi-Fi industry is asking itself right now as regulators in the US and Europe creep closer to releasing wide swaths of pristine Wi-Fi band. At Wi-Fi NOW DC in May ARRIS (now a part of CommScope) CTO Charles Cheevers mapped out what home networking might look like in a 6 GHz-powered future.
Nothing less than the future of the Wi-Fi industry – and the connectivity future of billions of consumers and businesses worldwide – hangs in the balance as new regulation for the 6 GHz band gradually takes form on both sides of the Atlantic and even across the globe.
In the US arguably the most important Wi-Fi industry request for changes to the FCC's current 6 GHz NPRM (Notice of Proposed Rule Making) is allowing for operation of the so-called Low-Power Indoor (LPI) Mode across the full 1.2 GHz of 6 GHz spectrum without the use of the proposed AFC database lookup function. The benefits of such a rule would be far-reaching, says ARRIS.
Speeding up 6 GHz time to market
The first benefit is a shortened time to market: Not requiring AFC lookups for low-power Wi-Fi operations would speed up the introduction of 6 GHz spectrum into the home and enterprise. With such new rules 6 GHz Wi-Fi could perhaps arrive as early as 2H of 2020 in the US and 2021 in the UK with other parts of the world to follow suit, ARRIS says.
Then at a later time – when AFC-based solutions become available – this would further unlock the 6 GHz band's huge potential to power an even wider range of new applications, said Charles Cheevers, ARRIS CTO Customer Premises Equipment, at Wi-Fi NOW DC last month.
New rules would unlock seven new 160 MHz channels
And it gets better: LPI Mode (and AFC-free) Wi-Fi across the entire 1.2 GHz band would make for a staggering seven new 160 MHz channels for low-power Wi-Fi and – as a consequence – an entirely new paradigm in home networking would emerge. Add to that myriads of new enterprise Wi-Fi use cases and equipment solutions, said Charles Cheevers.
Enjoying this story?
Leave your email here and we'll get you all the latest Wi-Fi news.
"6 GHz would allow us for the first time to create a wireless connectivity backbone for the home at a capacity far greater than 1 Gbps – a backbone that could then feed each individual room with connectivity using its own 160 MHz Wi-Fi 6 channel," said Charles Cheevers. With seven channels available there would be no co-channel interference within the home and each node (AP) would deliver hundreds of Mbps to devices in each room, he said.
Ceiling-mount micronode APs and low-latency gaming
He also said that 6 GHz Wi-Fi spectrum for the first time would allow service providers to offer quality of service guarantees on 4k and even 8k video delivered via Wi-Fi to set top boxes. "At the same time 6 GHz could deliver low-latency gaming streams to Wi-Fi 6-capable devices making use of the predictable performance of OFDMA-based radio," Cheevers said.
Add to this the emergence of new types of APs designed for optimum room placement. "In an idealised scenario we could imagine a 320 MHz-wide backbone channel delivered over the next evolution of the 802.11 standard called 802.11be. The backbone would then feed 'room micronode APs' designed to allow for best possible room placement including ceiling mounts," he said.
More than a Gbps per room becomes the norm
"More importantly, 6 GHz gives us an architecture to deliver more than a Gbps to each room for new high-capacity applications like untethered AR and VR. Even before adding additional room coverage clean 6 GHz channels will deliver better whole home coverage from a single AP," he said.
At CES in Las Vegas earlier this year ARRIS launched the world's first Wi-Fi 6 capable multi-AP mesh platform. Even with only a few Wi-Fi 6 end-user devices on the market Wi-Fi 6 can be used effectively to create high-performance and spectrum-efficient connections between mesh units, explained Cheevers at the time.
/Claus.