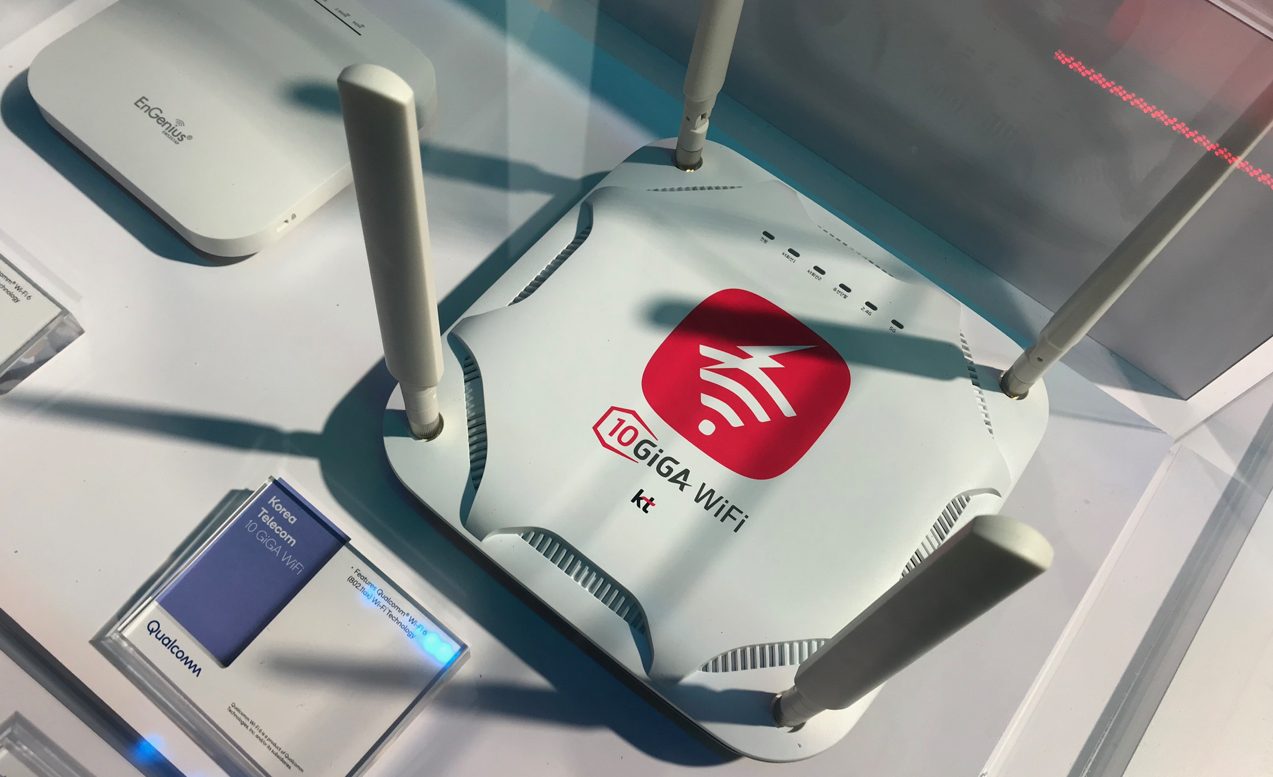 Above: Sampling Qualcomm's Wi-Fi 6 successes at CES (left to right): EnGenius and KT Korea.
By Claus Hetting, Wi-Fi NOW CEO & Chairman
CES is without a doubt the world's oddest mix of extreme gadgetry, fake venetian opulence, and gigantic crowds – and this year was no exception. This year's Wi-Fi news headlines came from ARRIS, TP-Link,  NETGEAR, and the Wi-Fi Alliance, among others. And the big Wi-Fi message from CES 2019 was simply this: Wi-Fi 6 has arrived. Now go buy the new routers and mesh systems – and prepare to enjoy.
Wi-Fi 6 certification is coming in 3Q2019
What is a new Wi-Fi standard without a certification program? Well – not much, really. So to remedy that shortcoming the Wi-Fi Alliance picked CES to announce that the certification program for Wi-Fi 6 – aptly named Wi-Fi CERTIFIED 6™ – will be ready by 3Q2019. We will likely see Wi-Fi 6-capable phones and other devices hit the markets well before that time (and in case anyone is wondering, yes – that is a completely normal sequence of events for introducing new Wi-Fi standards).
If you have been in Wi-Fi for a while you will know that a great deal of standards evolution is driven by large chipset vendors. While Qualcomm has taken an aggressive stance on Wi-Fi 6 from the get go, Broadcom and partners appear to have picked CES to play catch-up.
Broadcom & partners step up their game
Perhaps the most notable product launch was the new Broadcom-powered Wi-Fi 6 platform from ARRIS called SURFboard (we've covered it here). We still believe that this platform has set the gold standard for Wi-Fi 6 mesh. Although ARRIS typically delivers home Wi-Fi networking solutions in partnership with service providers, ARRIS says they will be selling this product directly to consumers.
On the consumer front TP-Link beat everyone and launched no less than six new Wi-Fi 6 products including four 'Archer'-family futuristic-looking gaming routers plus its new Deco X10 Wi-Fi 6 mesh solution. The Deco X10 is the world's first (or second) consumer-grade Wi-Fi 6 mesh system. TP-Link claims to be the world's no. 1 provider of Wi-Fi products by units shipped for eight consecutive years.
Qualcomm Wi-Fi 6 chipsets to power NETGEAR Orbi
All of these new routers are powered by Broadcom. Not to be outdone Qualcomm made sure – in this press release – to list its considerable achievements in getting Wi-Fi 6 to market including its bid for the first (or second) ever Wi-Fi 6 mesh product: NETGEAR Orbi Mesh – now with Wi-Fi 6.
We will not be the judge of which of the big Wi-Fi chipset vendors are ahead in the race to Wi-Fi 6 but instead rejoice that excellent competition still exists in the world of Wi-Fi and conclude that Wi-Fi 6 is here today. All we need now are Wi-Fi 6-capable smartphones, tablets, and laptops.
/Claus.