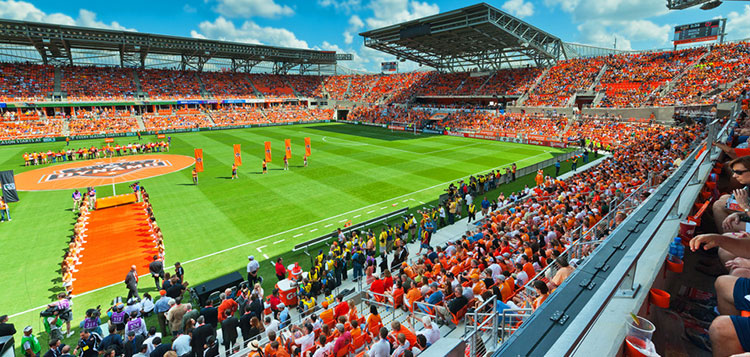 Above: Probably the world's first soccer stadium with Wi-Fi 6, the BBVA Stadium in Houston, Texas.
By Claus Hetting, Wi-Fi NOW CEO &  Chairman
Probably the first live Wi-Fi 6 service in world soccer history has been switched on at the BBVA Stadium in Houston, Texas, home to US Major League Soccer's Houston Dynamo and the National Women's Soccer League's Houston Dash. The new Wi-Fi 6 network is supplied by Extreme Networks. 
The race to deliver high-density Wi-Fi 6 connectivity at stadiums across the globe is underway and among the leading vendors is Extreme Networks. Last week Extreme – already responsible for Wi-Fi at more than a dozen NFL stadiums – announced they've switched on the first live Wi-Fi 6 network at a major league soccer stadium in the US. The network is also very likely the first public Wi-Fi 6 service at any soccer stadium anywhere across the globe.
Mike Leibovitz, Senior Director of Product Management at Extreme Networks, says 282 Wi-Fi 6 APs have been installed at the 22,000-seat stadium. One of the keys to great stadium Wi-Fi performance is deploying APs specifically designed for the purpose, Mike Leibovitz says.
Enjoying this story?
Leave your email here and we'll get you all the latest Wi-Fi news.
"Getting the mechanical designs right for both under seat and overhead AP installations is a big part of our secret to success. We've deployed demanding stadium Wi-Fi networks for eight years and all the experience we've collected is what's gone into our new AP560 product line," Mike Leibovitz says.
Getting fans to use the service is the next step. The two home teams have invited local artists to design 'Instagram-worthy' artwork at the stadium to encourage real-time social sharing using the new Wi-Fi 6 service. Right now the service is being used to provide mobile ticketing, ordering of food at the venue, and of course Internet access, Extreme Networks says.
NFL: Probably the world's first public Wi-Fi 6 network
Not officially announced by Extreme (nor anyone else that we know of) is that the NFL season is well underway and that at least two NFL stadiums kicked off the season with live Wi-Fi 6 services. We've been asked not to disclose the name of the first stadium just yet. But the second is the Indianapolis Colts' Lucas Oil Stadium. In both cases, Extreme Networks has supplied the Wi-Fi 6 networks.
One of those two NFL stadiums likely serves up the world's first live Wi-Fi 6 service. The only other announced Wi-Fi 6 deployments we know of are a trial Cisco Meraki installation at the US Open golf championship at Pebble Beach, California in June and a trial administrative network delivered by Boingo at John Wayne Airport in Orange County, California.
Mike Leibovitz says Extreme's stadium Wi-Fi analytics show that about 80% of NFL ticket holders are Apple iPhone users. "Now that new Wi-Fi 6-capable iPhones are about to hit stores, we'll soon be able to directly measure how well our Wi-Fi 6 networks perform with thousands of Wi-Fi 6 phones active in the stadium at game time," Mike Leibovitz says.
And while 5G network vendors are already eyeing the stadium connectivity market, Mike Leibovitz is clear on what he believes their prospects are. "We've seen time and time again that mobile simply cannot deliver the right connectivity for stadiums. Only Wi-Fi can do that," Mike Leibovitz says.
/Claus.
For all the insights on Wi-Fi 6 performance don't miss Extreme Networks' Perry Correll speaking at Wi-Fi NOW London on November 12-14 – for more see this link.