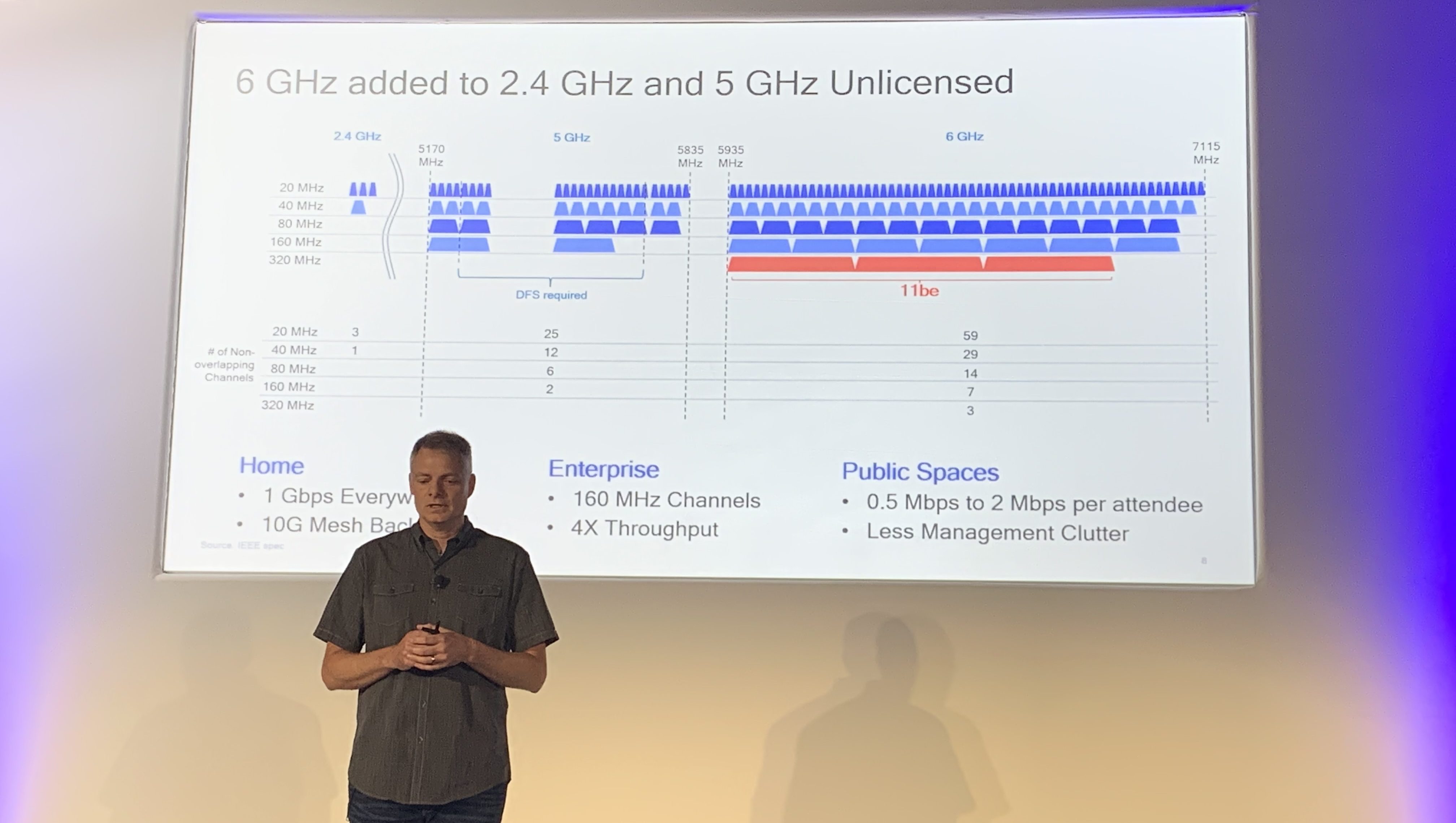 Above: Qualcomm VP V.K. Jones speaking at a Wi-Fi 6 launch event in San Francisco on August 27.
By Claus Hetting, Wi-Fi NOW CEO & Chairman
A new paradigm in connectivity is approaching fast: The prospects of securing very large amounts of new unlicensed (Wi-Fi) spectrum in the 6 GHz band are so good that vendors all over the world are getting ready to release the technology. One senior industry insider we spoke to (who shall for now remain nameless) confidently told us that 6 GHz-capable Wi-Fi phones will be available by fall of next year.
The Wi-Fi industry is gathering huge momentum these days with two big developments looming large on the horizon: Wi-Fi 6 (for more on this also see our report from Qualcomm's Wi-Fi 6 chipset launch event last week) and – perhaps even more importantly – the prospect of very large amounts of new unlicensed spectrum in the 6 GHz band.
In fact, the prospects of securing this band – which would nearly triple the amount of spectrum available to Wi-Fi in the US, for example – are so good that Wi-Fi technology vendors are embracing the opportunity now. One senior industry insider (anonymous for the time being) we spoke to said he is confident that the first phone with 6 GHz Wi-Fi will be ready to ship by fall 2020.
Enjoying this story?
Leave your email here and we'll get you all the latest Wi-Fi news.
And it is indeed still hard to comprehend – from a sheer spectrum size point of view – how Wi-Fi-based connectivity will be transformed by the new bands. At Wi-Fi NOW we believe 6 GHz Wi-Fi is the biggest connectivity opportunity in a generation (the comment was even picked up and retweeted by FCC Chairman Ajit Pai earlier this year).
Said Qualcomm VP V.K. Jones at Qualcomm's Wi-Fi 6 launch event last week: "20 years ago – and for a long time – we thought that 2.4 GHz bands were just fine for connecting with Wi-Fi. Now look at the comparatively enormous size of the 6 new GHz bands." V.K. Jones showed a slide (see top photo) clearly illustrating how Wi-Fi spectrum is evolving from three tiny blue 20 MHz blots to multiple contiguous 160 GHz and even future 320 MHz channels (shown as a red bar in the photo above).
Also important for all involved in Wi-Fi is a recent IEEE decision on how Wi-Fi 6 will be used in relation to new 6 GHz bands: 6 GHz will be only for Wi-Fi 6-capable devices, meaning that legacy devices (Wi-Fi 5 and below) will be barred from operating in 6 GHz. The combined boost in quality and capacity with 6 GHz and Wi-Fi 6 only will be – well – a new paradigm in wireless connectivity.
We can't say this enough: If you are in Wi-Fi – vendor, service provider, municipality, IT managed services, etc. etc. – your chance to embrace the Wi-Fi 6 + 6 GHz opportunity is now and you will get all the right information at Wi-Fi NOW London on November 12-14. Get your ticket now while spaces remain.
/Claus.