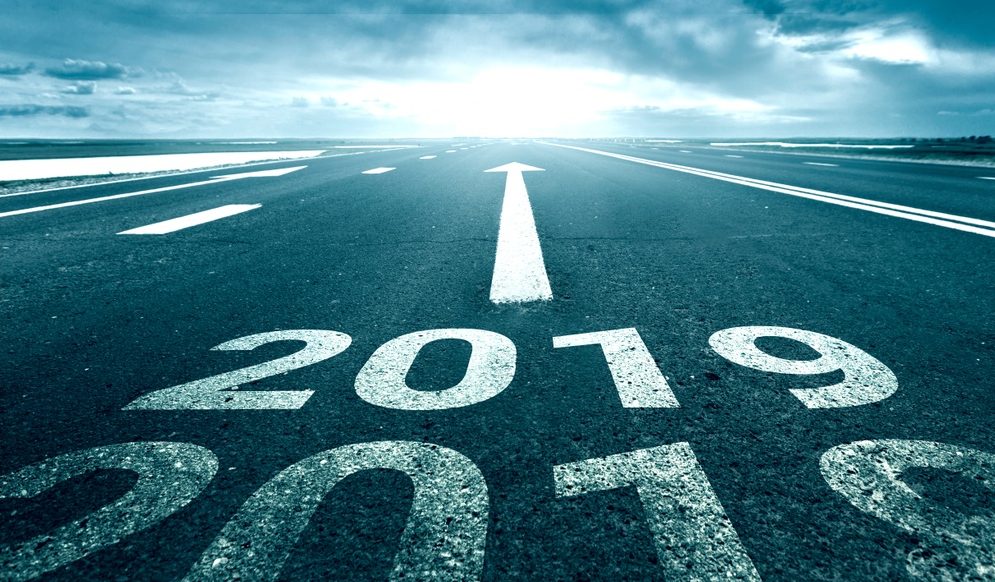 By Claus Hetting, Wi-Fi NOW CEO & Chairman
The latest update of Cisco's famed and often-quoted Virtual Networking Index (VNI) was released on February 18 and Cisco continues to divine a bright future for Wi-Fi. Cisco says Wi-Fi's 'expanding role' will include much more offload – including from future 5G networks – and a staggering four times as many Wi-Fi hotspots across the globe in 2022 as compared to 2017. 
As the world's largest vendor of enterprise-grade Wi-Fi solutions, Cisco may not exactly be an unbiased source when it comes to Wi-Fi predictions. That said the Cisco VNI has arguably earned its stripes as perhaps the industry's most reliable source of IP traffic predictions and trends for more than a decade. Hence taking a concerted look at the Cisco VNI's latest divinations is usually well worth it.
Global Wi-Fi offload climbs to 59%, says Cisco
So here are most of the salient Wi-Fi points from Cisco's latest update: Cisco says that the percentage of traffic offloaded by mobile devices to Wi-Fi (from cellular) will rise from 54% in 2017 to 59% in 2022. That may not sound like much but keep in mind Cisco expects total traffic to grow by 47% CAGR during the period without any signs of letting up. In total Cisco says smartphone traffic (Wi-Fi plus cellular) will grow from 2 GB/month in 2017 to 11 GB/month in 2022.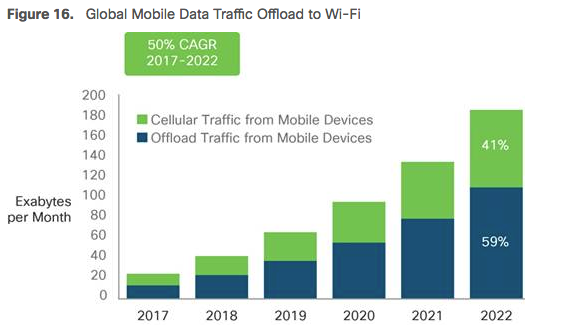 Above illustration courtesy Cisco VNI, February 18
Interestingly, Cisco says that 4G will offload 59% of its traffic while 5G will offload a whopping 71% of its traffic to Wi-Fi by 2022. The company does not explain why the offload percentage for 5G would be so much higher than for 4G. Whatever the reason: Wi-Fi networks will have their work cut out for them in continuing to carry the brunt of mobile traffic for the next many years.
Note that in some countries – such as in Germany and Japan – offload rates today are much higher than the global average rate documented and predicted here by Cisco VNI. German and Japanese rates in fact exceed 80% as measured and reported by Netradar.
Wi-Fi hotspots climb to 549 million by 2022
A staggering – and to some extent confusing – prediction by Cisco says the number of Wi-Fi hotspots will climb to 549 million in 2022 from 124 million in 2017. That is a growth rate of more than 400% over five years. Cisco's definition of 'hotspot' includes homespots – and 'homespots' constitute by far the biggest proportion of the 549 million. In fact, commercial (non-homespot) Wi-Fi hotspots are 'only' predicted to grow from 9.8 million in 2017 to 17.2 million in 2022.
At Wi-Fi NOW we are not completely convinced that the predicted gigantic growth in number of 'homespots' is viable. Although it is true that large cablecos have rolled out homespots in bulk, the homespot strategy and approach – after market backlash especially in the US – today seems less in vogue among service providers than for example 2-3 years ago.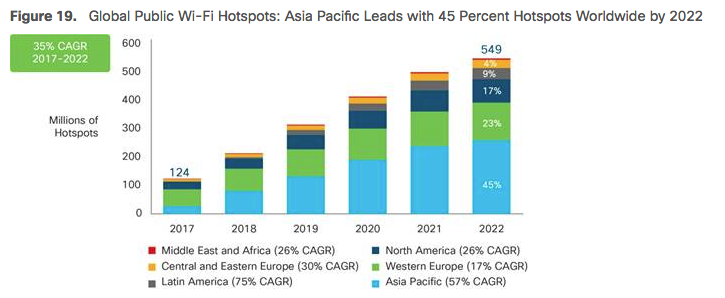 Above illustration courtesy Cisco VNI, February 18
/Claus.