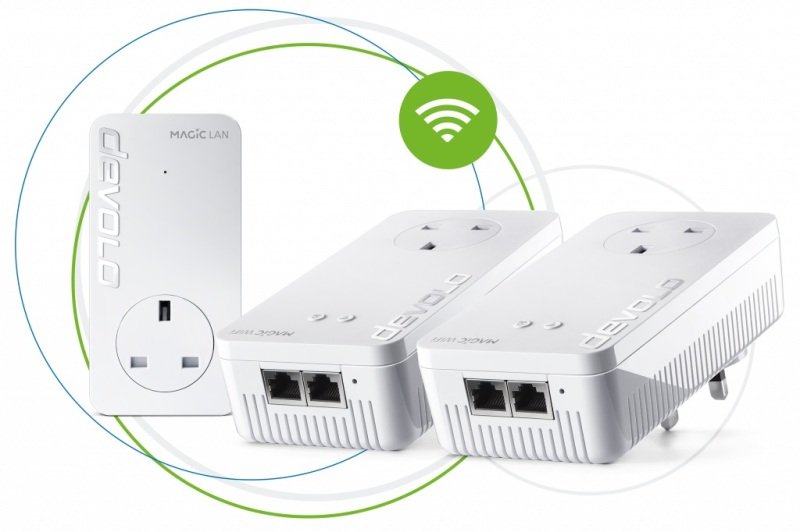 Above: Devolo's MAGIC LAN home Wi-Fi units released in August of last year.
By Claus Hetting, Wi-Fi NOW CEO & Chairman
A new study by powerline communications (PLC) Wi-Fi leader devolo shows that the new G.hn power-line communications standard will deliver a big boost to PLC-based home Wi-Fi. Test results – which were revealed exclusively to Wi-Fi NOW – show that G.hn PLC units are capable of delivering 80 Mbps streams on close to 85% of all PLC-based network connections*, devolo says. 
PLC-based home Wi-Fi systems have been popular with consumers and ISPs for years, especially because they are reasonably priced and easy to install. Now consumers and ISPs alike can look forward to a big boost in PLC Wi-Fi performance, too.
New PLC-backed Wi-Fi delivers 4k VR in close to 90% of cases
According to a new study by PLC leader devolo, nearly nine out of ten PLC-based network connections will be able to run a high-speed 4k VR (80 Mbps) video device on PLC-backed Wi-Fi using the new G.hn Wave 2-based units launched by devolo in August of last year. That is an improvement of nearly 20 percentage points relative to previous generation PLC units, which typically employ the HomePlugAV2 standard, says Joachim Thelen, VP of Product Management at devolo.
"Our tests confirm that new G.hn-based Wi-Fi will be effective in delivering the high-speed Wi-Fi performance that consumers increasingly expect, even all the way up to delivering 80 Mbps data rates to for example 4k VR devices. This is big leap forward and it means that PLC-based Wi-Fi is again highly competitive and will meet real home Wi-Fi needs well into the future," Joachim Thelen says.
The tests also show that G.hn will deliver at least single 8k video stream (equivalent to an average data rate of 50 Mbps) on 95% of all PLC network connections*, meaning practically speaking to the vast majority of devices connected to a G.hn-powered PLC home data network, devolo says.
Testing based on typical powerline noise signals
For the study devolo assumed that a series of certain well-known average data rates (and variances) are required to deliver various types of video services in the home. For example: 4k VR video requires a data rate of 80 Mbps within a variance of +/- 20 Mbps, while 8k video requires a 50 Mbps data rate with a +/- 15 Mbps of variance. Devolo then determined how frequently PLC-based network connections (using G.hn Wave 2) would be able to deliver such rates.
"To determine how well G.hn Wave 2 performs we emulate the typical noise signals on a power line and then inject the G.hn data signal. We are confident that this method reflects the real case for typical German and most European homes. The results of the testing and analysis are probably even a little bit on the conservative side," says Joachim Thelen.
PLC is becoming the home Wi-Fi solution of choice for many ISPs
The use of PLC to deliver residential Wi-Fi is right now experiencing a resurgence. The combination of affordability, ease of use, and now also much-improved performance has lead several large European ISPs to employ PLC as their preferred means of extending Wi-Fi coverage to the entire home. Both KPN and Ziggo-Vodafone of the Netherlands are today giving away free PLC-based Wi-Fi units to customers who are unhappy about their in-home Wi-Fi coverage.
"There is no doubt that PLC-based Wi-Fi is today experiencing a new surge in interest and applicability. We are gaining new ground in particular because of the new G.hn standard and simply because PLC is still a practical and highly user friendly solution to a tricky and persistent home Wi-Fi coverage problem that nearly everyone experiences," Joachim Thelen says.
/Claus.
*Explanatory note: A PLC-based home network forms a mesh topology so that three PLC units create three two-way connections (a total of 6 connections) and four PLC units create six two-way connections (a total of 12 connections). With an average of four PLC devices used per home this means that approximately 10 out of 12 connections (85%) will deliver the 80 Mbps data rate. Also see the figure below.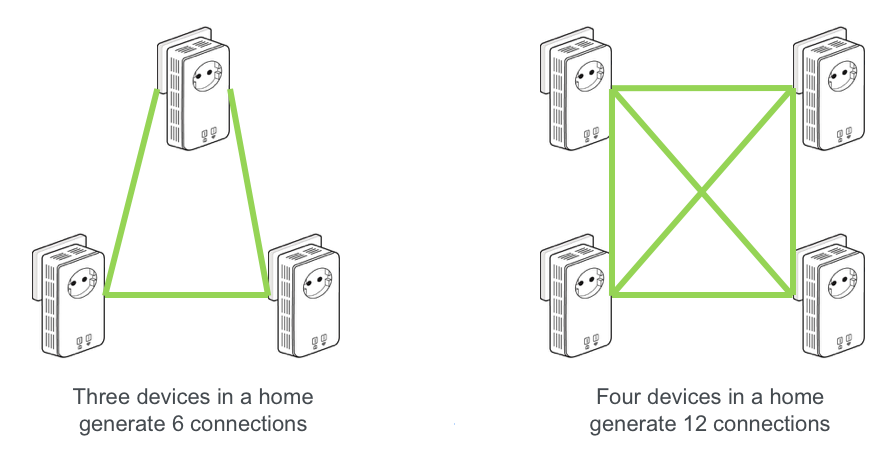 Above: Illustration courtesy devolo. This blog post sponsored by devolo.