By Claus Hetting, Wi-Fi NOW CEO & Chairman
Ruckus Networks' first AX product is an ultra-feature-rich wireless capacity & high-density beast that reinforces the Wi-Fi industry's massive lead over anything else indoor wireless. The new AX solution will be ready for general delivery 'later this quarter', the company says. 
Last week Ruckus Networks – an division of ARRIS – released their first 802.11ax AP product dubbed R730 and also launched what they call their 'ultra-high density technology suite'. Together, this hard-to-beat hardware/software combo could propel the company to AX market leadership in short order.
Applying AX where it matters
Ruckus' strategy is clearly to apply AX technology to use cases where the new standard's performance features will matter most. "Wi-Fi is now going to places that we never expected, and many of the toughest challenges in Wi-Fi are linked to very high-density scenarios, such as stadiums or busy trains stations and airports. So we're addressing that with the R730 and plenty of new features," said Dennis Huang, Ruckus' Director of Enterprise Wi-Fi Product Marketing to Wi-Fi NOW.
Boatloads of SW enhancements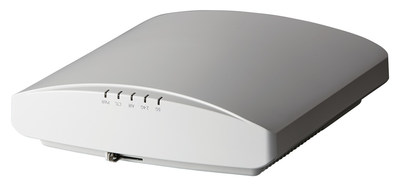 Despite close to 6 Gbps of total PHY bitrate for the R730, raw bitrate is likely not the most important innovation in AX. AX technology includes performance leaps in nearly every category, including lowered batter consumption, cellular-style OFDMA scheduling, and up to 160 MHz channel support. Add to this Ruckus' high-density software suite with adaptive cell size, airtime decongestion, management of transient clients, and more.
Ruckus' also proudly declares the unit 'IoT and LTE-ready' – the IoT readiness referring to embedded Zigbee and BLE capability, while the 'LTE-ready' refers to the unit's ability to accommodate LTE-based CBRS radio units. Last but not least Ruckus' new AP supports WPA3.
The R730 is also the first 8×8 MIMO enterprise-grade AP that we know of. For more about the impact of 8×8 on capacity and coverage, read this Wi-Fi NOW event report.
Analyst: AX to drive industry growth
According to this recent study by 650 Group, AX and IoT is expected drive Wi-Fi industry growth rates higher towards 2022. Some of Ruckus' competitors are not far behind even though both Cisco and Aruba/HPE have yet to announce AX products at this time.
Huawei launched their first 802.11ax AP product in September of last year, although it is not known whether units have already been delivered. Aerohive announced 802.11ax products in January of this year and also expect deliveries to start this quarter.
For the Ruckus Networks full press release on R730 click here.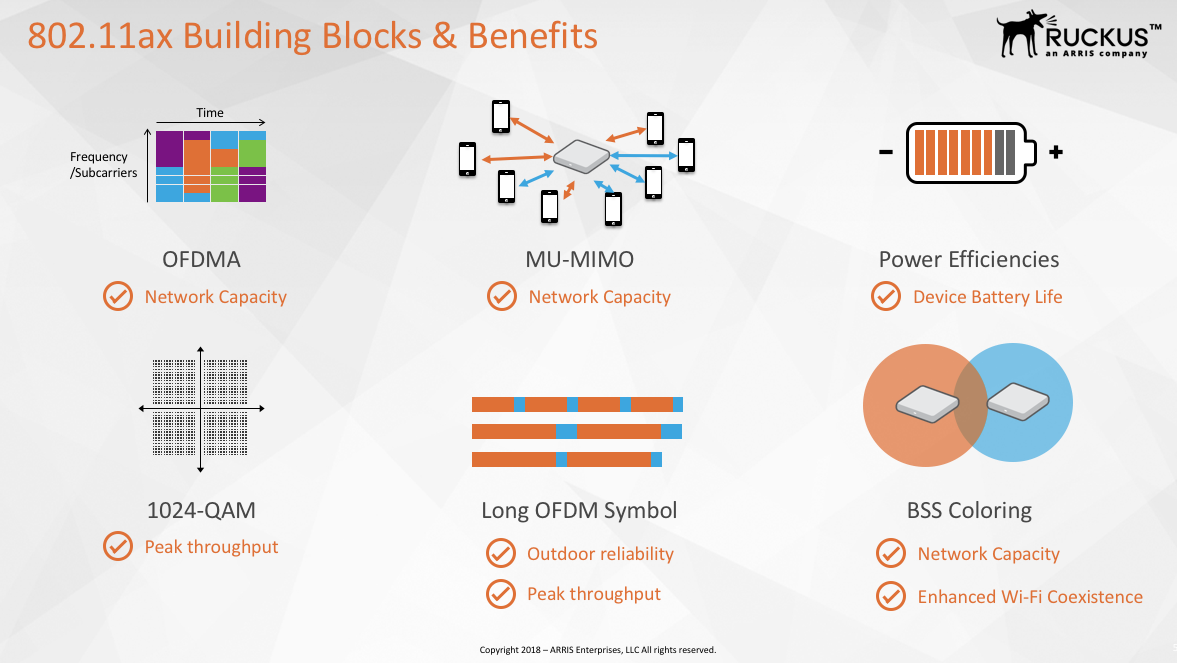 Above: Source Ruckus Networks
/Claus.