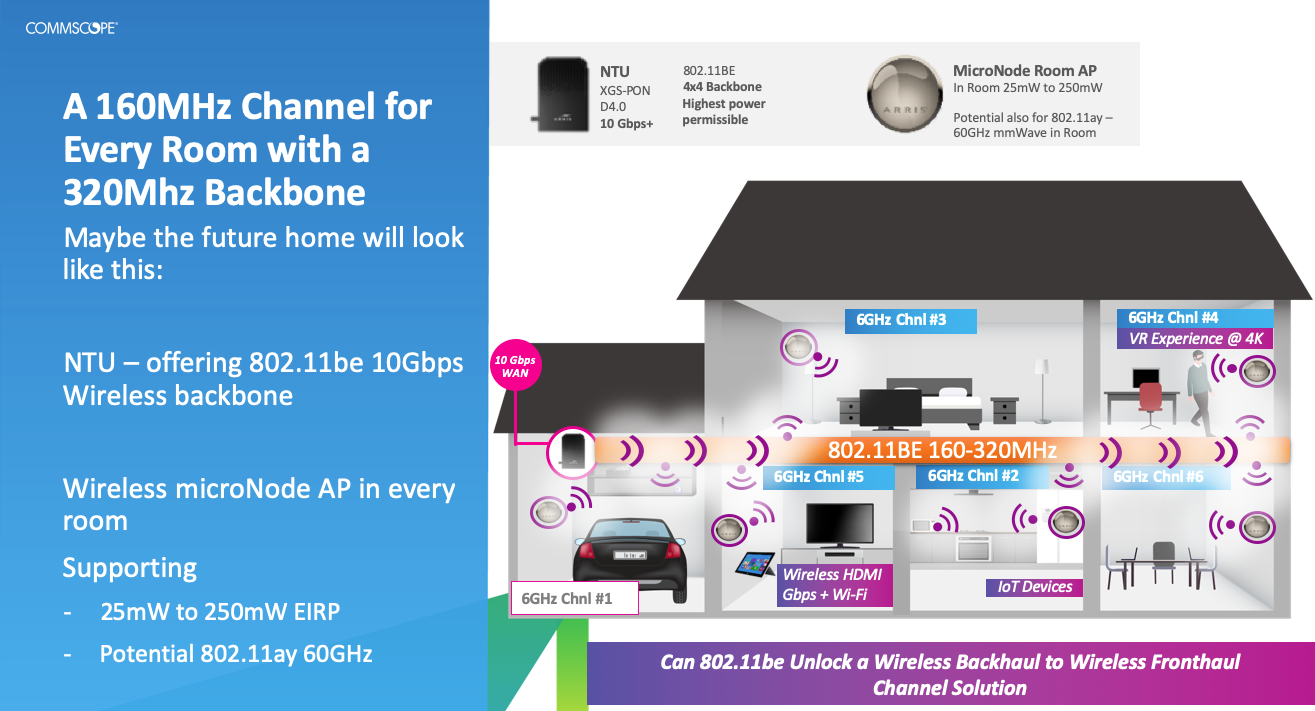 By Claus Hetting, Wi-Fi NOW CEO & Chairman
So what kinds of new architectures and connectivity designs can be built with 1.2 GHz of pristine Wi-Fi spectrum? That's the multi-billion dollar question the tech world is asking itself right now as FCC's the final vote on 6 GHz Wi-Fi nears. We asked CommScope CTO of home networks and Wi-Fi veteran Charles Cheevers about the challenges and opportunities facing the industry with 6 GHz Wi-Fi. 
As the FCC's final vote on 6 GHz Wi-Fi nears – slated for Thursday April 23 – the Wi-Fi industry is already working overtime on developing new ways of putting this giant swath of pristine spectrum to good use. Wi-Fi 6E services will mean an unprecedented hike in performance and capacity – that's a given – but getting to the goal of gigabit Wi-Fi in every room and across the enterprise still requires a compelling evolutionary path, says CommScope.
6 GHz backbone and gigabits of Wi-Fi for each room
CommScope's Charles Cheevers suggests the Holy Grail of home Wi-Fi could look something like this: One 160 MHz channel for every room (there are seven within the new 6 GHz band) interconnected by a couple of 160 MHz channels forming a residential Wi-Fi-powered multi-gigabit backbone. The backbone could use the future 802.11be (presumably Wi-Fi 7) standard, he says.
"One idea is to furnish each room with a wireless micronode to serve all entertainment and mobile devices in that space, and IoT, of course. The new spectrum is ideal for low latency applications like gaming, AR, and VR. We also expect the Wi-Fi 6E KPIs to be highly stable, since interference on the band will be minimal," says Charles Cheevers.
Cost of another radio – and perhaps new boxes
But getting to this goal will require a few intermediate evolutionary steps, each of which will need to support their own compelling business cases. More device radios and more (or new) APs and gateways will be needed and that of course means higher costs for service providers and consumers, Cheevers says. The industry will need to work out exactly what Wi-Fi 6E products and configurations will make sense where – and how to bring these to market.
"One obvious and immediate application area is MDUs and for example campus networks. Today, such Wi-Fi network often overlap with dozens of other SSIDs and are hampered by high interference levels on 5 GHz. New Wi-Fi 6E solutions would deliver a big performance boost there," Cheevers says.
Enjoying this story?
Leave your email here and we'll get you all the latest Wi-Fi news.
Another option is to begin developing the Wi-Fi 6E market by creating so-called 'bookended' 6 GHz devices and applications – for example to form high-speed backbones for meshing and the like. One of the benefits of current Wi-Fi 6 mesh systems is that using Wi-Fi 6 for backbone links between mesh units already delivers significant whole-home Wi-Fi performance benefits, even if consumers have yet to upgrade to Wi-Fi 6 phones and TVs.
Switchable radios for Wi-Fi 6E in the enterprise
To extract benefit from the new 6 GHz band as soon as possible – and the benefits are potentially huge in performance and capacity also for the enterprise – the industry will also need to come up with a way of configuring and managing three-radio AP systems. Initially – and perhaps for a couple of years – the number of Wi-Fi 6E devices will be low but enterprise networks need to be prepared to serve them as the Wi-Fi 6E market for devices develops.
One way of doing this without exploding AP costs would be to make APs switch automatically – or based on some algorithm – between serving devices in the 5 GHz and 6 GHz bands, Cheevers says. "Such switchable designs would need to come up with a way of intelligently triggering the switchover, perhaps based on load and interference in the 5 GHz band," Cheevers says.
Charles Cheevers says the first consumer-grade Wi-Fi 6E products are likely to hit the markets already by Q4 of this year while service providers will have 6 GHz services ready by first half of next year. Broadcom and Celeno have already announced Wi-Fi 6E chipset availability while Qualcomm had indicated that their Wi-Fi 6E chipset solutions are in the pipeline.
/Claus.