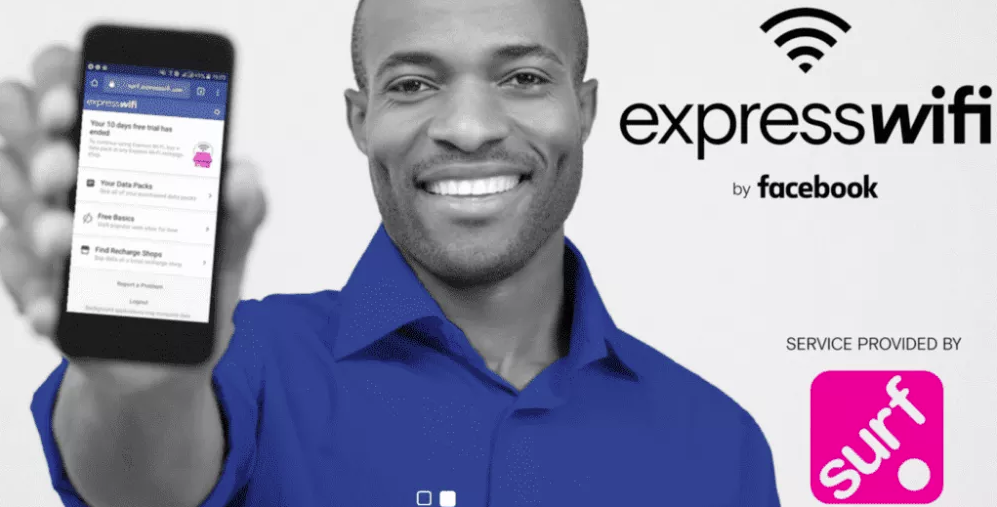 Above: Facebook Express Wi-Fi as delivered by operating partner Surf in Kenya.
By Claus Hetting, Wi-Fi NOW CEO & Chairman
Facebook is ramping up its public Wi-Fi activities with a new Wi-Fi access point certification program that aims at making the Facebook Express Wi-Fi experience better for users and easier to manage for operating partners, the company said in this statement released Tuesday August 28. 
More than a billion people on Earth are still unconnected and Facebook is now ramping up its Wi-Fi activities to address the challenge. Tuesday this week Facebook announced the creation of a 'new partner ecosystem' for the company's public Wi-Fi program known as Facebook Express Wi-Fi.
Facebook has thus far certified Arista (formerly Mojo Networks), Ruckus Networks (an ARRIS Company), and Cambium Networks access points for use with Facebook Express Wi-Fi.
The idea – says Facebook's Guy Mordecai in this blog entry – is to smoothly and consistently enable user authentication and account for data consumption. "These new access points help devices better detect the registration pages, which helps more people successfully connect to Wi-Fi networks. They also more accurately account for the amount of Wi-Fi data consumed," says Guy Mordecai.
The new Express Wi-Fi-certified APs will also allow partnering operators to assign classes to Wi-Fi services, for example for the purposes of offering certain kinds of content for free, Facebook says. Contrary to Google Station Wi-Fi – which is monetised via advertising – Facebook Express Wi-Fi is generally not a free service but relies on the sale of prepaid data bundles via operating partners.
Current Facebook Express Wi-Fi operating partners include Tizeti of Nigeria and Air Jaldi of India.
/Claus.